Health
Could there be a link between vaping and coronavirus complications?
"You have some underlying injury to start with, then you get infected with a virus. Now, much worse things can happen."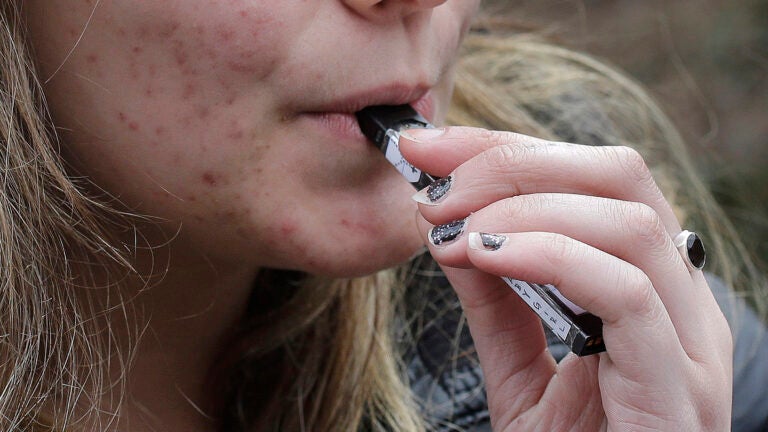 Another public health crisis may be contributing to the ongoing coronavirus pandemic, some experts say.
Vaping fueled a health emergency last year after an onslaught of hospitalized patients were diagnosed with e-cigarette, or vaping, product use-associated lung injury, or EVALI.
Cases peaked in September and are now declining across the country, according to the federal Centers for Disease Control and Prevention. The additive Vitamin E acetate is "strongly linked" to the outbreak, the CDC says.
In Massachusetts, at least five people have died from vaping-related lung injuries.
As the country now grapples with the coronavirus pandemic, doctors say people who smoke and vape are more susceptible to the health impacts and complications brought on by the contagious respiratory illness.
"It's an additive problem," cardiologist Dr. James Flynn, of Catholic Medical Center in Manchester, New Hampshire, told WBZ about vaping. "Now, you have some underlying injury to start with, then you get infected with a virus. Now, much worse things can happen."
Experts have long said that people with underlying medical conditions are at higher risk for severe illness from coronavirus. According to the CDC, that includes people with moderate to severe asthma and chronic lung disease, and who are immunocompromised, which can be brought on by smoking.
A recent study published in the New England Journal of Medicine found that out of 1,099 confirmed COVID-19 patients in China surveyed in January, nearly 17 percent of those with severe cases were current smokers, and 5 percent were previously smokers.
And while experts have said those at high-risk for severe COVID-19 illness are generally people ages 65 and older, Flynn told WBZ there could be many young people with underlying conditions brought on by vaping.
The CDC says one in every four high school students reported they used an e-cigarette within the past 30 days in 2019.
"There's the lung injury that we see that gets into the hospital that's severe, but that's probably just the tip of the iceberg," Flynn told the news station. "There's probably 95 percent of kids doing that who have some lung injury."
The lung injuries also pose a challenge for doctors trying to determine whether a patient could have COVID-19, according to Flynn. Chest x-rays and CT scans for both medical issues "can look exactly the same," he said.
"One you might treat with steroids," Flynn said. "The other one you don't want to treat with steroids. There's different ways you treat these problems."
According to the American Lung Association, the mucus layer and "fine thin hairs or cilia" found on the airways within the human body help the respiratory system move bacteria out of the lungs.
But tobacco smoke and vape emissions can disrupt that process, causing inflammation that in turn makes it more difficult for the body to be able to fight off a virus.
"We have long known that quitting smoking is the single best thing you can do for your health. And it's especially important now," Dr. Albert Rizzo, the association's chief medical officer, said in a blog post published Wednesday. "Quitting smoking and vaping can better equip your body to fight off this disease and reduce the chance of the most severe symptoms.
"As a physician, I know how hard it can be for many people to quit smoking," he added. "And it may take several quit attempts to be successful. Right now, as many people are sitting at home or even in quarantine, it may be the perfect opportunity to make that quit attempt."