Health
Massachusetts' EEE-carrying mosquito population appears to be 'robust.' Here's what that means for this summer.
The Department of Public Health will begin alerting residents about precautions they can take for EEE starting around mid-June.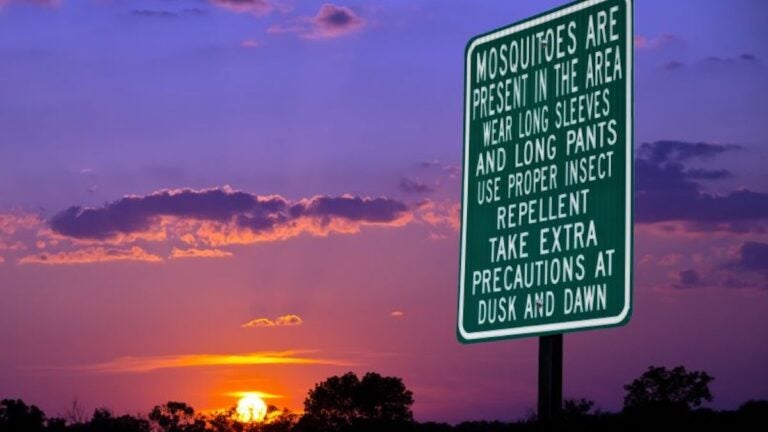 While Massachusetts remains fiercely engaged in battling the coronavirus pandemic, there's another health risk on the radar for Bay Staters this summer.
The mosquito-borne Eastern Equine Encephalitis virus, known as EEE, is expected to come back, and state officials are already tracking the commonwealth's "relatively robust" larvae population as they try to size-up what the second year of the outbreak could look like, Dr. Catherine Brown, state epidemiologist, told Boston.com recently.
And while it's impossible for experts to provide exact and specific predictions for what kind of mosquito season is in store, there are signs showing the region can expect another "busy" summer for EEE, Brown said.
The rare, potentially fatal infection re-emerged last year in Massachusetts for the first time since 2012. Outbreaks typically occur every 10 to 20 years and can last between two and three years.
The illness triggers brain swelling, fever, and coma, and kills approximately a third of the people who contract it. Those who survive are often left with severe neurological disabilities and complications. There is no cure for EEE.
Last year, a dozen people across the state were diagnosed and three patients died from EEE. The virus was also found in nine animals — eight horses and one goat — and put 35 communities at critical risk, while 53 and 121 others hit high and moderate risk warnings, respectively, at the outbreak's peak.
State officials began monitoring last fall the factors that could contribute to this year's outbreak, predominantly the presence of water pockets underneath tree roots in red maple and white cedar swamps — the prime nurseries where mosquitos lay their eggs.
"What we know from history is that if we have a lot of rain in the fall and then rain in the spring, that that is one of the factors that can contribute to a larger mosquito population, at least ones we're talking about," Brown said.
The region received "quite a bit of precipitation" last fall, followed by a pretty mild winter and a cool, rainy spring this year, which means many juvenile mosquitos likely survived the colder months and those tree roots "are full of water," Brown said.
Mosquito surveillance experts can't produce an exact number for population estimates, but Brown said the signs indicate there are "plenty" of mosquito larvae that made it through.
"Those are sort of two strong factors suggesting that we really need to think hard this year and assume that we're going to have EEE activities," she said.
But there are a few other things to consider when looking at how exactly those mosquitos will venture out into a backyard, park, lake, or forest near you.
Experts say the spring has been so cool that it may have slowed down the mosquito reproductive cycle. That means the rate at which juvenile mosquitos mature could be delayed by a couple of weeks, and the impact of that short amount of time should not be underestimated, according to Brown.
"In a EEE cycle it actually can make a difference, so the later those mosquitos actually turn into adults, the better it is for us," Brown said. "It sort of shortens the mosquito season."
Something else experts are chewing over is just how many birds out there are still susceptible to EEE.
Essentially, birds, who serve as reservoir hosts of the virus, transmit EEE to mosquitos through their bloodstreams, and then the insects pass it on to humans. That process, which amplifies the virus's spread, typically starts in June.
Once a bird comes in contact with the virus, however, it can be immune for the rest of its life, according to Brown.
So officials know that with such a large outbreak last year, many birds have already been exposed.
"This year, we're starting with a lot more birds that are already immune so they won't contribute to the EEE cycle," she said. "So I don't know if that's going to help us out, but it's another factor that might impact what we see this year."
Brown said there's enough historical information for officials to be concerned about the scope and impact of this year's outbreak, although there is still work to be done.
Next month, the state's mosquito surveillance program will begin gathering standardized data to help monitor the evolving season, which will help give the Department of Public Health a better sense of what's to come.
For anyone wondering what they can do now to prepare for the return of EEE, Brown said there's no need for immediate action. (And for anyone concerned about the Asian giant hornet, better known as the "murder hornets" that have just reached the United States for the first time, there's no indication folks need to be worried about that around here at this point, she said.)
For now the public should continue its effort to help slow the spread of coronavirus, and the DPH will begin alerting residents about precautions they can take for EEE starting around mid-June, she said.
"It's been a tough kind of winter and spring for everyone," Brown said. "I think people are only just getting the opportunity now to go outdoors. I want to make sure people can still enjoy that …. Don't think about the mosquitos yet, but certainly we will let you know when it's time to start."