Health
Maura Healey announces $1.5 million grant program to support opioid treatment for communities of color
"It's important that we remove barriers to treatment that have systemically and disproportionately harmed communities of color."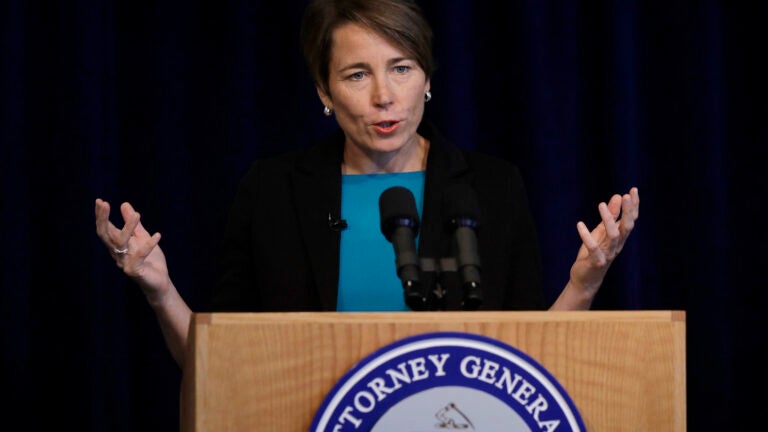 Massachusetts Attorney General Maura Healey is launching a new grant program that aims to promote equity for treatment of opioid use disorder by supporting recovery programs in communities of color, her office announced Thursday.
The $1.5 million program — Promoting Cultural Humility in Opioid Use Disorder Treatment — is being funded by the recent settlement reached by the AG's Office with an Andover mail-order pharmacy that allegedly failed to implement safeguards against illegitimate prescriptions and ultimately dispensed potentially thousands of illegal prescriptions, including opioids like fentanyl, across the country, Healey's office said in a statement. 
The grant program will fund recovery and behavioral health services that are "committed to standards that serve Black, Indigenous, and People of Color (BIPOC) communities in Massachusetts," with organizations based in the communities they serve getting priority, her office said. 
With the COVID-19 pandemic's disproportionate impact on communities of color, the focus on racial equity in access to health care is especially urgent, the attorney general said. 
"It's important that we remove barriers to treatment that have systemically and disproportionately harmed communities of color – especially during this pandemic where accessing critical behavioral health care services is needed more than ever before," Healey said in a statement. "We look forward to this grant program providing opportunities for innovative solutions that will promote recovery in racially, ethnically, and socioeconomically diverse communities."
Eligible services include peer recovery coaching, abstinence, substance use counseling, and medication-assisted treatment, but the grant program will prioritize applications from treatment programs that "demonstrate an understanding of providers' biases and the barriers to care for diverse patients" or offer innovative solutions. Program applicants can be run by municipalities, nonprofit organizations, and quasi-public entities and can request up to $100,000 over a two-year period to support or create opioid use disorder treatment programs that incorporate cultural humility in the state. 
Healey's office pointed to a recent report from the Substance Abuse and Mental Health Services Administration that demonstrated Black and Latinx people have "substantially lower access" to both behavioral health and substance use treatment services, as part of the "deep-seated inequities in health care" communities of color face that "amplifies social and economic factors that contribute to poor health outcomes."
"Systemic issues, including health care provider biases, limited public health research, and inadequate news coverage have mischaracterized the opioid epidemic as chiefly impacting white suburban and rural communities," Healey's office wrote in the grant program announcement. 
But communities of color are being increasingly affected by opioid use disorder, with opioid-related overdose deaths increasing for Hispanic and Black non-Hispanic communities in the state between 2018 and 2019, during which time overdose deaths decreased for white individuals and other racial and ethnic groups, according to Healey's office. 
"Nationally, between 2015 and 2017, opioid-related overdose deaths increased for people of color across the country, including a 100 percent increase for Black populations," the attorney general's office wrote. 
Advocates and elected officials applauded the new grant program in a series of statements released by the attorney general's office. 
"Over the last several decades, Black people and people of color have been disproportionately affected by the war on drugs compared to other communities," Derrick Johnson, president and CEO of the NAACP, said. "We've seen our loved ones and family members suffer higher incarceration and mortality rates with little to no treatment or rehabilitation alternatives available. In an effort to reimagine how we approach substance abuse for the betterment of our nation, this new grant program will promote equity among treatment options and realize the complexity of these issues within our communities."
Tanisha M. Sullivan, president of the NAACP Boston Branch, said the new program will support ongoing work in Massachusetts to provide equitable access to health care. 
"Addiction is impacting families across the Commonwealth and we have made strides to meet the treatment needs of all who need help; however, racial disparities and biases persist in both treatment and recovery services," she said. "All too often the attention around this health crisis has been disproportionately focused on the suburbs and rural communities, while those impacted in the urban core, faced with increases in opioid-related overdose deaths, have continued to struggle to access behavioral health care."
Michael Curry, deputy CEO of the Massachusetts League of Community Health Centers, said community health centers have seen "firsthand" the toll of the opioid epidemic on communities of color in the Bay State. 
"This grant program will go far in supporting the work of community-based organizations that are focused on addressing the substance use and mental health needs of individuals who have been long ignored and subject to the trauma associated with structural racism," he said. 
Jon Santiago, who serves as both an ER doctor at Boston Medical Center and as a state representative, said the grant program is a "bold step in the right direction."
"COVID-19 has exposed and exacerbated health inequities in communities of color," he said. "Now more than ever, we must double down on our commitment to address health inequity wherever it exists – including an opioid epidemic that continues to harm the Commonwealth. This grant program and the AG's efforts are a bold step in the right direction."
In her statement, Congresswoman Ayanna Pressley thanked Healey for the push for health care justice. 
"For too long, our response to substance use has criminalized people of color, rather than providing them the care they need," the Massachusetts Democrat said. "We must ensure Black, brown, and Indigenous people struggling with opioid use have access to culturally-responsive healthcare and support they need to overcome this disease and thrive in recovery."
Applications for the program must be submitted by 7 p.m. on October 23, 2020.
Get Boston.com's browser alerts:
Enable breaking news notifications straight to your internet browser.