Health
These local initiatives are expanding birth control access in Mass. during the pandemic
"We're really supporting providers in pivoting, and doing what we call keeping the contraceptive care lights on."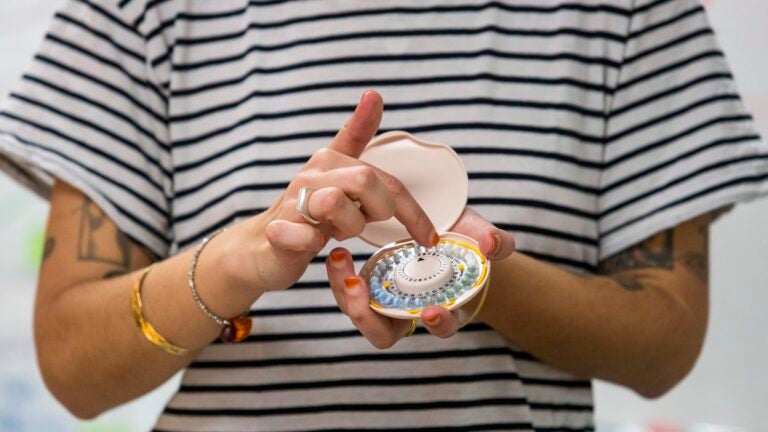 Cambridge Health Alliance family medicine doctor Amy Tressan said a patient she had seen many times was forced to stop receiving birth control during the pandemic, as she was worried about continuing her insurance because of finances.
But after doing so, another worry surfaced: what if she had an unintended pregnancy?
It was still too early to take a test and be sure, but since the patient had paused her normal prescription, she was concerned. 
"It turned out that she wasn't pregnant, and she was very relieved, but she really wanted to make sure that she did not become pregnant," Tressan said, adding how the patient was hoping for a 12-month prescription to minimize her visits to the pharmacy during the COVID-19 pandemic, but they were having a hard time finding a location that would cover it. 
After bouncing between pharmacies, Tressan finally found one that would prescribe the full year's supply. 
"She was just so immensely grateful to be able to only have that one touch point with the pharmacy," Tressan said. "She lives in a house full of other people and really wanted to limit her exposure to COVID as much as possible and so that was just such a great moment for her and it felt really good for me to be able to figure out how to do that."
Up until December, hundreds of thousands of MassHealth patients did not have access to the same 12-month supplies of birth control despite the state's ACCESS Act, which was signed into law in 2017. 
For the first time, the state allowed access to a full year's supply of birth control, but a barrier in MassHealth's regulations prevented pharmacies from dispensing those 12-month prescriptions.
So a coalition of providers and reproductive health organizations, including NARAL Pro-Choice Massachusetts and Upstream Massachusetts, set out to overhaul the pharmacy regulations and give access back to more than 400,000 Massachusetts residents of reproductive age.
The development comes as COVID-19 has made it harder for people nationwide to access birth control when they need it.  
A June report from the Guttmacher Institute discovered that because of the pandemic, a quarter of women have faced increased worry about their ability to pay for and receive contraception, while a third of women have had to delay or cancel their visits to reproductive health care providers. 
These barriers were reported to be more common among Black and Latinx women than among white women. Similarly, queer women were reported more likely to face those same hurdles compared to straight women. 
The study found that women with a lower-income were also more likely than those with a higher income to experience delays or be unable to receive contraceptive care because of the pandemic. 
Locally, the national non-profit Upstream USA is aiming to treat contraceptive care as primary care, enabling patients to access their desired method whenever and wherever they need — especially as the public health crisis continues. 
"The concept of patients getting their method on the day they want it wherever they go for care has become a bit more complicated in the time of COVID," said Siobhan Shand, the chief program officer who oversees all the organization's national and state-based operations. "It's harder to get an in-person visit, and patients are really thinking twice about whether they really need that appointment — if they even have time to think about whether or not they need an appointment — with everything that is going on in people's lives right now."
The Bay State's access law, she added, served as the perfect policy to leverage during a pandemic, though it wasn't working in the most supportive way for all patients. 
"What we're doing in this moment is we're really supporting providers in pivoting, and doing what we call keeping the contraceptive care lights on," Shand said.
Director of policy and strategic initiatives for the Upstream Massachusetts branch, Hong Van Pham said a working group naturally came together and began investigating the barriers at play. 
They called patients and pharmacists, who said they were unfamiliar with the access law itself, and detailed how MassHealth was only covering two to three packs of birth control at a time. 
Pham said community feedback emphasized the urgency in seeking a solution, and the team soon elevated the issue in a meeting with MassHealth officials. 
"We didn't want any solution that could delay implementation," she said. That's when they realized that "MassHealth had actually already created new guidelines that allow for a 90-day supply of most other drugs during the pandemic. We thought, let's just basically turn this 90-day supply guideline and extend it to 365-days for specifically family planning drugs and supplies."
The entire process, from zoom conferences to implementation, happened within a few weeks. MassHealth quickly issued new guidelines, which went into effect retroactively in December, immediately expanding access for hundreds of thousands of patients. 
A family physician and reproductive health and advocacy fellow at Cambridge Health Alliance, Tressan said she joined the working group when she realized the access law was not truly being implemented. 
"As a provider, I was trying to reduce unnecessary return visits just for refills, as this was just an additional barrier on top of other barriers that my patients were already facing during the pandemic, and so I kind of saw how this played out on the ground," she said. "When a patient can access long term supplies of birth control, they're much more likely to continue using that method without interruption, and that reduces the likelihood of unintended pregnancies. So I felt it was really important that they be able to fill a 12-months prescription."
She pointed to studies supporting longer-term prescriptions in place of three-month refills that outlined the multiple benefits in expanding Mass. Health's regulations: It lowers the risk for in-person contact with less frequently required visits, it helps people retain long-term access if they're at risk of income or health coverage loss, it reduces the overall likelihood of unintended pregnancy, creates fewer gaps in method use, lowers out-of-pockets costs, and frees up space for providers who need to see patients for more urgent visits. 
Pham said one of the next steps is making sure this updated policy remains permanent beyond the expiration date of Massachusetts' state of emergency. Increasing awareness, she said, is also key to making reproductive care more accessible in the state. 
The Mass. Access law is still new, and many people don't know what it provides, Pham added. 
"A big part of what our working group is also focused on right now is ensuring outreach and education widely to providers and patients," she said. 
Without widespread understanding that the 12-month prescription exists, Tressan said providers might not even suggest it to their patients. 
As a provider herself, Tressan said she's witnessed issues within the system prevent necessary care when a patient calls requesting a 12-month prescription, but they're talking to someone in the healthcare system who is not a prescriber, and instead, runs the scheduling. 
"Then the appointment might be scheduled for two weeks out and the provider is not notified at all that the person needs a pill prescription that's just a continuation of what they're already taking," she said. "If a patient is already known to a provider, most providers would just be happy to prescribe that without waiting two weeks to see the patient."
Integrating contraceptive care into the new world of tele-health has also been a challenge in the COVID-19 era. Yet Pham said the digital realm has simultaneously opened up access to reproductive care, especially for patients located in more rural and remote areas of Mass.  
Having the ability to hold a contraceptive counseling visit over video call, Shand said, and then have that preferred method sent into a nearby pharmacy once a year to pick it up, is powerful. 
"One of the big barriers that patients experience all over the country is transportation and just availability to come into the health center," Shand said. But "one of the bright spots of telehealth is that stress is reduced just a bit for patients … and I think that we see with this access law, the more we can reduce that barrier for patients the better."
It works around the individual and clinic-level blockades, she added. Going forward, part of their team's work will be finding the opportunities to sustain that in a post-pandemic society. 
"I think that people and health care providers really are prioritizing reproductive health care even in this moment," Shand said. "Of course the priority is saving people's lives and addressing COVID and the vaccine rollout, and at the same time, I don't think people have lost sight of how important contraceptive care is to people and people's lives."