Health
Dr. Megan Ranney studies gun violence. What she had to say about Biden's steps toward firearm violence prevention.
"We need to talk about the ways in which gun violence affects literally all of us."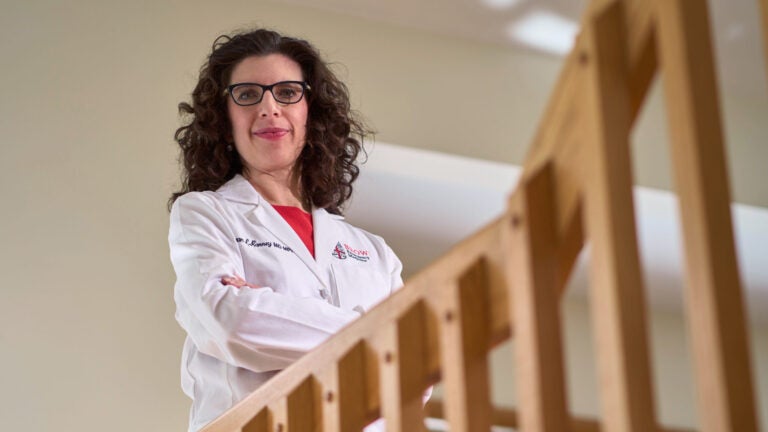 Standing in the White House Rose Garden last week, President Joe Biden called gun violence in the United States a "public health epidemic" and announced a series of executive actions to address the crisis.
The moment was nothing short of tremendous for those who have been working to address gun deaths in the United States for years, according Dr. Megan Ranney, an emergency room physician and director of the Brown Lifespan Center for Digital Health. The Rhode Island doctor has been leading national efforts to conduct gun safety research and pushing for more federal funding for years. 
"It felt huge … Those of us who work in health care and public health have been saying this for years, and it's been increasingly loud and listened to," Ranney said. "But to have the president say it — and then put actions behind it — was just amazing." 
The president's announcement came the day after a former NFL player fatally shot five people before killing himself. It was one of a string of recent mass shootings that have claimed lives across the U.S. Last month, eight people were killed at massage businesses in the Atlanta area, and 10 people were fatally shot at a supermarket in Boulder.
And eight people were shot and killed at a FedEx facility in Indianapolis late Thursday night, less than a week after Biden's remarks.
Ranney began working on violence prevention efforts as a teenager, but it was when she became an emergency room physician that she saw first-hand the degree to which gun violence was different from other forms of violence.
Patients rarely got a second chance at life if they'd been shot and injured by a gun, she said. 
At the same time, Ranney was discouraged by people across emergency medicine and science from researching gun violence and its effects. She was told it was too risky a subject for study since no one would provide funding, and it would get her "labeled."
"I was dissuaded from studying the topic," Ranney told Boston.com. 
But then she had a few patients whom she treated that affected her deeply. A gun suicide, and a young woman who had been shot and killed by her partner. 
She decided she couldn't be silent anymore.
Starting just over a decade ago, Ranney became active in trying to depoliticize discussions about gun violence and re-center the issue as a health problem — not a political debate between gun rights and gun control. 
"Policy is certainly important but it is never sufficient for public health," Ranney said. "You can look at COVID as a great example for where masks matter, mask mandates help. But as we're seeing in Michigan right now, mask mandates without community adherence doesn't matter."
Since starting her work around 2010, Ranney has received a grant from the Centers for Disease Control and Prevention for her research into firearm injury prevention and she is also a co-founder of AFFIRM, the American Foundation for Firearm Injury Reduction in Medicine. In her research, she is focused on not just investigating ways to prevent firearm violence but also the interventions for "all the stuff" that leads to it. 
"The gunshot wound itself is usually the end of the series of bad things," she said. 
The steps Biden announced to address gun violence ranged from a crackdown on "ghost guns," having the Justice Department publish model Extreme Risk Protection Order or "red flag" legislation, and investing in evidence-based community violence interventions. 
Ranney said she believes all of the actions being taken by the Biden Administration on gun violence are significant and important, all for different reasons. But the investment in community violence programs is key, she said. 
"We know that it works and that it is going to work in a way that doesn't require politicians on one side or the other to get on board," she said. 
The action on ghost guns, homemade firearms that have no serial numbers to trace them and are typically bought without a background check, may not have a huge impact on the number of gunshot wounds on a day-to-day basis, but the measures will be important from the perspective of domestic terrorism and public safety, she said. 
Meanwhile, ERPOs or red flag laws are a measure individuals on both sides of the debate can get behind. The legislation, already in place in some states including Massachusetts, allows family members or law enforcement to petition a court to temporarily bar individuals in crisis from accessing a firearm, or suspend their license to possess and carry a gun if they are a danger to themselves or others. 
"They are one of only a few policies that have some level of evidence that they make a difference," Ranney said. "And they particularly make a difference for gun suicide, which I will remind readers is the most common cause of gun death or the most common kind of gun death — two-thirds of gun deaths in this country are suicides. And those ERPO laws help to decrease the rate of gun suicide."
Mass shootings in the United States represent well under 1 percent of gun deaths in a year, but more than a hundred people die and more than 200 are injured daily by firearms in the United States, according to Ranney. The majority of the gun deaths are suicides, and most of the injuries are assaults. 
"To effectively reduce the rates of gun deaths in this country, we have to address both," Ranney said. "We need to talk about the ways in which gun violence affects literally all of us. Not just because we're parents who fear putting our kids back in school because of shootings, never mind COVID … Chances are most of us know someone who kills themself or was killed by a firearm. And the more that we can think about this as a health problem with real ripple effects in communities and as something preventable, the same way we decreased the rate of car crash deaths without taking cars away from people, we can do this effectively."
It's the framing that has to be changed, she said. 
That's why Biden's speech from the White House, talking about gun violence as an epidemic that can be addressed with public health tools, was so significant to her and others watching last week. 
"People on both sides of the aisle often think that reducing gun violence is just about passing laws," Ranney said. "It isn't. And Biden's statements and actions show that. He's putting billions of dollars into community violence prevention programs, which have been shown to be effective at reducing gun violence in urban areas. That is not a law, that is an investment decision. He's also said that he's going to put more money into federally funded research, which is the only way that we make forward progress."
She said those actions are just as, if not more, important to her than some of the policy suggestions and changes made by the president. 
But most significant were just the words spoken at the podium, Ranney said. 
"It's just so encouraging, because when we talk about gun violence as a public health problem and when we address it as a public health problem, that then gives us hope of moving beyond this political stalemate that we've been stuck in," she said.
Information from the Associated Press was used in this report.
Get Boston.com's browser alerts:
Enable breaking news notifications straight to your internet browser.