Health
Here's how many Boston.com readers said they'd still wear a mask post-pandemic
"If you want to never have any risk again, stay home."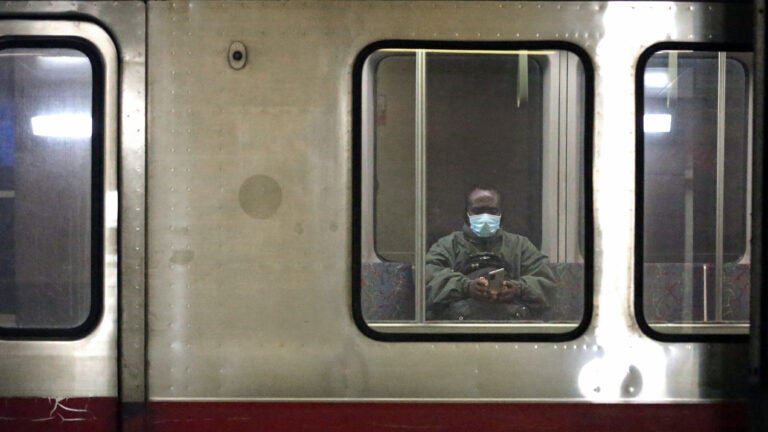 One thing's for sure: The people who don't like wearing masks really don't like wearing masks.
With some health care professionals starting to suggest face coverings will continue to be appropriate in some situations post-pandemic, we asked Boston.com readers whether they'd keep their mask supply handy for those cases once coronavirus is behind us. And their responses were vociferous, to say the least.
"The possibility of eternal masking shows just how much our society has lost its mind due to this pandemic," said Sherman of Warwick, R.I. "Have we become such delicate flowers that we are willing to endure lifetimes of muffled voices and no smiles just so that no one ever has a cold again?"
As to Dr. Megan Ranney's assertion in an NBC News op-ed that "Mask-wearing can simply signal that we care about others' health," Jim in Winchester responded, "Your health has always been your own responsibility. Why did this change? Because 'we're in this together'? America has never been about being in this together. Capitalism is built on providing for yourself based on what you put in."
And another respondent pointed out, "The idea of 'protecting others' wasn't a thing before the pandemic," insinuating that those were apparently the good old days. Several readers also raised concerns that continued mask wearing would inhibit our bodies' ability to fight off germs, but fortunately, according to MIT, that's not how immune systems work, at least for adults.
Interestingly, though, despite the adamant nature of the anti-mask respondents, of the more than 3,200 people who answered the Boston.com survey, a fairly wide majority actually said they'd be willing to keep wearing masks in some situations. A total of 36% said they had no problem continuing to wear masks wherever appropriate, and another 27% said they would do so under certain specific circumstances. Only 37% said they'd never wear a mask again, short of another global pandemic.
"I can't imagine being packed in with other people on a plane or train going forward and NOT wearing one. People are gross," commented Kate from Walpole, while another reader noted, "The bottom line is that mask wearing is not about government control, it's about being considerate and not getting people sick unnecessarily."
Almost 500 people offered up individual comments about whether they'd keep face coverings as part of their lives — here's a small sampling of what they had to say.
Comments have been edited for length and clarity.
Yes, definitely
"I would wear one at all times in public if it means saving even one life. I'm not sure when we stopped caring about human lives but it's really a shame and says a lot about us as a country." — Rachael, Beverly
"I plan on wearing a mask indoors and on planes in public places during the flu season going forward. Why was the flu season so tame this year? (Along with all other colds, virus, etc.) One word — masks, they 100% work!" — Alex, Lexington
"I think we have all learned a lot about the value of masking in certain times, for the good of those around us, our community, and ourselves. In close quarters and around people who may be vulnerable, it is an act of caring. Thanks for asking!" — Eva, Flagler Beach, Florida
"I would wear one for two reasons: 1) Prevent myself from contracting something as simple as the common cold. 2) To annoy maniacs who think wearing a mask is a violation of their freedom."
"I don't find the mask bothersome. I like it especially in winter as it keeps my nose warm. Also, no one has told me to smile which is another plus."
"I can't imagine being packed in with other people on a plane or train going forward and NOT wearing one. People are gross." — Kate, Walpole
"I've wanted to wear a mask during flu season for years and have been jealous of those countries where such behavior wouldn't elicit stares. I hope this might be considered acceptable behavior into the future." — Ben, Roxbury
"My husband had a heart transplant in 2010. The reason he needed the transplant is that a respiratory infection attacked his heart. As you can imagine, this has been a pretty scary year for us. If we can do something to protect his health, and to protect others in case we get ill, we will do it in a heartbeat." — Erica, Waltham
"Refusal to wear a mask is just selfishness. However, it's legal to be selfish, so I would only support a government mandate under compelling circumstances, like a COVID resurgence or bad flu season. Otherwise, I would have no problem with private businesses requiring masks and would respect individuals who wear them voluntarily." — Joe, Rockland
"I am immune compromised and at high risk for COVID, even with vaccination. My ability to work in an office again, go to the dentist, get a haircut, etc. will come down to other people's willingness to continue to mask and social distance. It's a frustrating, helpless situation to be in. Unfortunately, based on people's actions during the pandemic, I'm not hopeful that I'll be able to resume a normal life anytime in the near future." — Laura, Barnstable
"I never liked having to smell other people's bad breath to begin with."
"Wearing a mask is so easy and it has cut my number of sick days off from work down from the maximum allowed to zero." — Elaine, Lincoln
"I can't believe I used to just go around letting strangers breathe on me before this pandemic. I'm a mask convert for sure, especially as the designs keep getting better. I'm not saying we need to keep them 100% of the time, but in large crowds or small spaces I will definitely hold onto mine." — Shea, Boston
"Flu and Cold Season Checklist:
1. Flu Shot ✔️
2. Covid-19 Booster ✔️
3. Don't Shake Hands with Others ✔️
4. Wash Hands ✔️
5. Wear the Damn Mask ✔️
At nearly 60 years old, I want 30 more years. Five simple steps to buy more time with the ones I love." — Charlie, the Fenway
"Masks make facial recognition tracking more difficult." — Jed, Concord
"We have a culture that promotes showing up to work no matter what, coupled with no paid sick time. We should mask up if we're feeling under the weather — unless there is a change in employment benefits for ALL."
"It's a great fashion option. Some people look way better with a mask on, myself included."
In some circumstances
"If there's a great reason to wear a mask (another pandemic, horrible flu season and visiting elderly family, etc.) then that's fine, but beyond that I just don't see a good reason to continue wearing them. The pandemic was a terribly traumatic event for many and I think masks have become synonymous with negative emotional connotations, particularly those of fear and loss. While most masks practically weigh nothing, I think that many people, myself included, will feel a tremendous sense of mental relief when we can stop wearing them everywhere." — Alex, Cambridge
"I will likely continue to wear one when I'm traveling by plane, train or perhaps even the subway during a bad flu season. That said I can't wait not to NEED one to walk around town." — William, Brookline
"Very specifically, I would like to see mask-wearing normalized for anyone with respiratory illness (cough, sneezing, runny nose). I would do it and it would be nice if others did too. I will not miss wearing my mask on morning runs or when getting photos taken in public places."
"I will definitely keep a handful of them for if I have to go out when I have a cold or to ride the T in the winter months. Looking at photos of rush hour at Government Center a few years ago, I can't fathom being so comfortable around hordes of strangers like that again. My office downtown has closed, and we'll be working remotely for the foreseeable future, which I imagine is the case for many. I wonder if we'll ever see our trains that full again. Oddly, I will miss it." — Emylee, Cambridge
"Only on the Red Line."
"I would wear it in places like nursing homes, if asked. If I knew there were kids or people that were immunocompromised at public events and there was a mask request I'd comply. If my local grocery store (especially during flu season) had senior or masked hours I wouldn't complain about that. I would want to know that it was making a true difference and not just to make people feel safer." — Eric, Vineyard Haven
"Can't wait to walk into a bank with a mask and sunglasses post pandemic and explain I'm protecting their health and safety … I bet that will go over real well." — Joe, Kingston
"Hopefully staying home when sick and masking up in crowded spaces during bad flu outbreaks becomes more a part of the culture. I don't expect to be wearing them every day or on normal trips to the supermarket or mall as part of a signaling exercise, as suggested in the referenced article."
"Airplane for sure. Tubes of disease!!!"
"I don't like people on the T coughing directly into my trachea during flu season." — Chris, Boston
"We just need to push mask wearing at its bare minimum. Not feeling great? Wear a mask. That's that. That is the agenda that we need to push if we want mass mask adoption. Destigmatize." — Sarah, Northbridge
"People are gross, but so is being told what to do."
"The problem here is that it is a 'signal' and an empty virtue signal. Thus it has no place outside a pandemic/bad flu season." — Karen, Wells, Maine
"There's risk with everything in life. I'm not going to stop driving because I might get in an accident. I'm not going to wear a mask post pandemic unless I know I'm sick and I have to go out." — Chris, West Roxbury
"The Chinese have been doing it here in the U.S. for years. I used to wonder why. Now I know. Yes, I would wear a mask when on public transport or in crowded stores etc. I doubt I would wear one at the movies."
"I would be willing to wear one in crowded public environments when I was sick myself (after all, what else am I going to do with all these masks I've accumulated over the past year?), but I am firmly opposed to it becoming an expectation for non-sick people under normal circumstances." — Ryan, Newton
Never again
"Dr. Ranney should read Kurt Vonnegut's short story 'Harrison Bergeron.' It's a tale of a dystopian future in which everyone is forcibly handicapped so that no one is superior to anyone else in any way. It includes all sorts of horrors, including the widespread use of masks." — Trimson, Providence
"If masks work, and you are wearing one, why do I need to wear one? If vaccines work and you get one, why do I need to get one? It comes down to personal choice and freedom."
"If you want to wear a mask, great, go ahead and do so. But it is not the responsibility of anyone else who chooses not to wear a mask to make someone who does wear a mask feel more comfortable." — Rich, Tewksbury
"The possibility of eternal masking shows just how much our society has lost its mind due to this pandemic. Have we become such delicate flowers that we are willing to endure lifetimes of muffled voices and no smiles just so that no one ever has a cold again? And, yes, I know some people die from the flu. Let's address that by increasing flu vaccination rather than dehumanizing our society by hiding our faces." — Sherman, Warwick, R.I.
"It 'signal(s) that we care about others' health' … Please, enough with the moral grandstanding. We shouldn't shame people for not wearing a mask, the same way we shouldn't shame someone for being overweight or in poor shape. Respect personal choice and support community health and wellbeing by encouraging a healthier lifestyle rather than continuing efforts to separate us from each other." — Seth, Ipswich
"No thanks! I'm happy if the paranoid wish to keep doing so forever, but given that we still live in a nominally free country, I'm going to continue to live in a way consistent with how humans have lived forever. The fresh air smells great!" — Pat, Wrentham
"I worry that we start to lose our humanity when all we can see are a person's eyes. The smile toward a child in the grocery store. The acknowledgement of your neighbor on a walk. These moments matter for human existence." — Drew, Hingham
"I followed and will always follow all protocols necessary to end a worldwide pandemic. But unless that's absolutely necessary, I just want to go back to normal life. I certainly don't enjoy smelling my own hot breath so it will be a welcome return to normalcy. I'd rather find another mode of transportation than wear a mask on the T."
"I see no need to wear a mask once this is over. If others want to wear one that is their choice. If businesses such as retail stores, restaurants or gyms want people to continue to wear masks I'll spend my dollars elsewhere."
"ARE YOU KIDDING? I'm laughing as I type. Get those things into the trash!" — Dominic, Stoughton
"This absurd proposal is just one more instance of public health officials moving the goalposts and destroying the credibility of their profession. Now that we have highly effective vaccines, we're being told to wear masks in perpetuity? The world has truly gone mad." — Tom, Foxborough
"If we do something as stupid as making masks eternal, then we will have allowed the most high-maintenance and risk-averse among us to set standards for our entire society. Shouldn't we instead show courage and a willingness to accept the reality that life can never be entirely free of risk?"
"Your health has always been your own responsibility. Why did this change? Because 'we're in this together'? America has never been about being in this together. Capitalism is built on providing for yourself based on what you put in. Do what is right for you — don't mandate me to do what is right for you." — Jim, Winchester
"There will be people who will wear a mask for the rest of their lives after this. I will not because it is my personal choice. The idea of 'protecting others' wasn't a thing before the pandemic."
"When I'm sick I either stay home from work, or keep far away from others. You can still be courteous yet have the freedom to not wear a mask." — Morden, Fall River
"Masks make connecting with others a little more difficult. It's harder to see a warm smile, it's harder to hear each other, it's harder to have a conversation. I think we need more connection with our fellow humans, not less." — Hannah, Pepperell
Boston.com occasionally interacts with readers by conducting informal polls and surveys. These results should be read as an unscientific gauge of readers' opinion.
Get Boston.com's browser alerts:
Enable breaking news notifications straight to your internet browser.