Politics
'It's really distressing what's going on': Maura Healey says 'urgent' action is needed by state, city to address Mass. and Cass
"You cannot let this continue."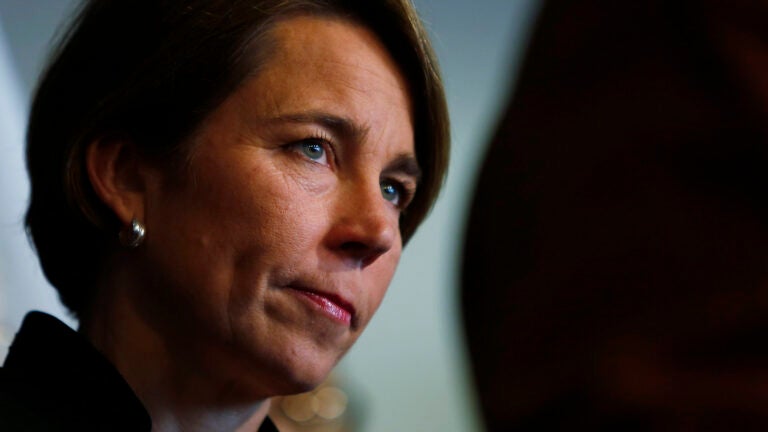 Massachusetts Attorney General Maura Healey said Tuesday 'urgent action' is needed from both state and city leaders to address the opioid crisis and its impacts in the area of Boston known as "Mass. and Cass."
The streets bordering the South End and Roxbury have become the epicenter of the opioid epidemic's impacts, and conditions in the area have worsened over the last year, exacerbated by the coronavirus pandemic. As programs across the state shut down to prevent spread of the virus, more people navigating substance use disorder, mental illness, and homelessness gathered around Massachusetts Avenue and Melnea Cass Boulevard to seek assistance from the providers concentrated in the area.
After meeting Tuesday morning with students and staff at St. Stephan's Youth Programs in Roxbury, Healey said the teens expressed concerns about the opioid crisis and its impact on their neighborhoods. She said the young people told her about finding discarded needles in Ramsay Park, where the attorney general played basketball with the teens during her visit.
"We were just a few steps away from Mass. and Cass, and it's really distressing what's going on there," Healey said. "We need urgent action over in that area, and really, we need leadership from both the city and the state — convening public safety officials with public health officials, with people on the ground."
Healey said her team is continuing to "fight hard" on the issue of the opioid epidemic. She said she plans to see "every penny" from her settlement with Purdue Pharma and members of the Sackler family over their involvement in the crisis — about half a billion dollars — go to treatment and recovery programs in Massachusetts. Under the overall settlement, the involved members of the Sackler family and Purdue are required to make a payment of more than $4.3 billion over the next nine years for prevention, treatment, and recovery efforts in communities across the country.
The Democrat said she gives credit to the people working on the ground in the area to do what they can to help.
"But look, we need to do a better job," she said. "And I think we need leadership big time from the city and the state on that issue. And that would start by bringing all those people together, as I said, public safety with public health — what's the game plan, what's the approach? Because you cannot let this continue."
The crisis around Mass. and Cass and the opioid epidemic have become one of the urgent issues in Boston's 2021 mayoral race. Most of the candidates have put forward plans for tackling the overlapping crises of substance use, homelessness, and mental health, proposing steps ranging from decentralizing services in the area to rebuilding a recovery campus on Long Island.
Newsletter Signup
Stay up to date on all the latest news from Boston.com