Health
First they ran short of PPE, then ventilators. Now, the shortage is hospital staff.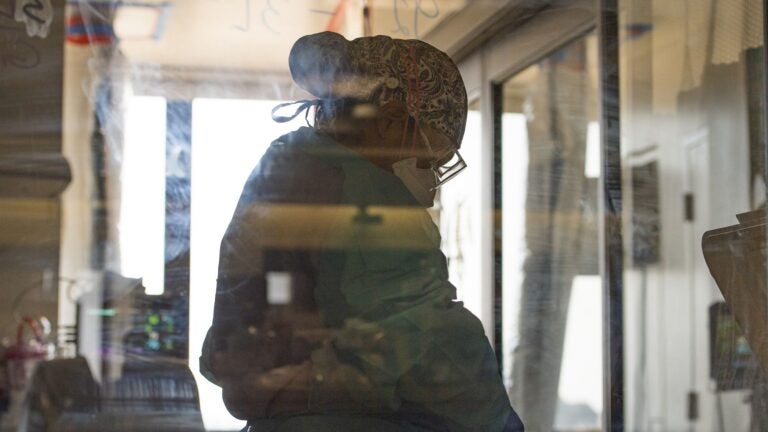 ROCHESTER, Minn. – Craig Daniels trained for this moment. For nearly two decades, he has worked as a critical care physician at the Mayo Clinic, one of the world's leading hospitals. His team in the intensive care unit has helped save the lives of hundreds of coronavirus patients.
But amid a seemingly endless pandemic, he admits to some discouraging days.
"There's this assumption that two years into the pandemic, health care somehow should have hired more people," Daniels said as patients trickled into Mayo's snow-dappled campus on Wednesday. "But the truth is that we are at the limit. . . . The people who draw blood. The people who work night shifts. The people who sit in rooms with patients who are delirious. They're tired. We're all tired."
Doctors at this elite institution are confronting the same challenges as their colleagues everywhere: exhaustion, burnout and exasperation at patients who still refuse to mask up and get vaccinated. And that was before the arrival of omicron, the most transmissible variant yet, which is sickening staffers as well as patients and fueling workforce shortages.
As a result, health-care systems nationwide are canceling elective procedures, turning away requests to take emergency medical services patients and grappling with workers calling in sick. Multiple states have deployed the National Guard to help support stressed hospitals, often by simply managing administrative tasks such as helping deliver food or cleaning dirty rooms.
"Frankly, between postponing elective surgeries, delaying surgeries, transferring patients, EMS bypass, and now the National Guard coming in . . . it's going to be approaching a breaking point if we don't turn the tide on these hospitalizations very soon," said John Palmer, a spokesperson for the Ohio Hospital Association.
The worsening situation has left some doctors fearing that patient care is at risk.
"Our level one trauma hospital – the state's only one – will be performing ONLY emergency surgical procedures, starting today, to try to preserve our ability to provide high-quality care to acutely ill patients," Megan Ranney, an emergency physician at Brown University in Rhode Island, wrote in a text message on Wednesday.
"Our absences are through the roof. And the patients are so sick – not just with covid but with everything. It's so, so bad," Ranney added. "The next few weeks are going to be terrifying for patients and families and providers."
Omicron appears to cause relatively mild symptoms in many vaccinated people, and while the fast-spreading variant is driving record infections, hospitalizations have lagged behind. But the variant is already exacting a toll on hospitals and their exhausted staff, some of whom are suffering breakthrough infections themselves – and being told they may need to rush back to the front lines.
Worsening staffing shortages prompted the Centers for Disease Control and Prevention last week to loosen its guidance for health-care personnel, allowing hospitals to immediately call back infected or exposed workers who have no symptoms, if necessary. The agency had previously recommended that infected health workers isolate for 10 days to reduce the risk of viral spread. Now it says they can return after seven days if they test negative and are asymptomatic – and sooner, if need be, in a "crisis."
That staff flexibility could be essential given the uncertainties of omicron, said CDC Director Rochelle Walensky, who served as chief of infectious disease at Massachusetts General Hospital for the pandemic's first year.
"Having been among the health-care workforce . . . this was something in prior surges that has been really important," Walensky said in an interview. "While in prior waves, we'd seen ventilators being scarce, supply of dialysis machines, ICU beds, so much of what's happening with omicron is actually the scarcity of . . . the health-care workforce itself."
Hospital associations called the measure necessary and proactive, given the possibility that hospitalizations will spike as omicron moves through the country.
The CDC's announcement "will help to alleviate the severe workforce shortage crisis facing hospitals across the country," Nancy Foster, vice president of quality and patient safety policy at the American Hospital Association, said in a statement. "Safely caring for our workforce, patients and communities continues to be our top priority."
But some health care workers worry that rushing infected colleagues back to their jobs could pose new risks, such as spreading the virus to uninfected workers and patients.
"Having people come back sick, I don't agree with that at all," said Joannie Yeh, a pediatrician who practices outside Philadelphia.
Yeh said she's particularly worried if providers aren't given a choice about working alongside infected colleagues. "Would I rather have help from a willing, asymptomatic, covid-positive co-worker who's going to see covid-positive patients for me, so I can take care of the other patients . . . than cover everything myself?" Yeh asked. "I don't think there's a one-size-fits-all [approach] – I think it has to be a [decision] on the floor level."
'There's no more words'
In Minnesota, local doctors have painted a grim portrait of the worsening pandemic. Cases this month are setting records. More workers are calling in sick. Even Gov. Tim Walz, D, reported a breakthrough infection.
The state's hospitals issued a full-page plea in local newspapers on Dec. 12, warning residents that "overwhelmed" facilities couldn't promise patients timely care.
"All the medical-surgical units, beds and spaces are full. Many patients are lined up in the hallways there as well," said Rahul Koranne, president of the Minnesota Hospital Association. "There's no more words. I've called it a crisis, I've called it a catastrophe . . . calling it a perfect storm is an understatement, but that's what it is."
At Mayo, about 100 patients were hospitalized for coronavirus infections or related complications as of Tuesday morning, down from a peak of about 140 hospitalizations earlier in December, but still among the highest levels of the pandemic. Internal Mayo models project that omicron-related hospitalizations will spike in mid-January, although leaders are bracing for the prospect that the new wave will crest sooner.
Daniels, a pulmonologist who helps set the hospital's coronavirus policies, said he's particularly worried about omicron's ability to evade antibodies and infect the vaccinated – including the doctors and nurses whom Mayo desperately needs to deliver care. "Those breakthrough infections almost certainly will include the health-care workforce, which is already strained and already tired and already short-staffed," he said.
Those concerns are echoed in Rhode Island, where hospital leaders are warning of an "unprecedented crisis" as cases climb amid significant staff shortages. In New York City, health workers say improvements in caring for covid patients matter little if caregivers themselves are spread too thin.
"It's not March 2020 – we have the testing and treatments and extensive experience treating this disease," said Craig Spencer, director of global health in emergency medicine at New York-Presbyterian/Columbia University Irving Medical Center. "But if we don't have the space to treat you, or if we don't have the providers to give that high quality of care, it might not make a difference if it takes us three times as long to see you in the emergency room."
Some doctors say they are fighting to fend off feelings of hopelessness.
"It's difficult trying to remain optimistic," said Ashley Stantz, a second-year family medicine resident at Mayo. "But I think it's critical to maintain that optimism because as soon as we lose hope . . . I don't know how to recover from that."
Stantz described a recent covid case involving a middle-aged father with respiratory failure who spent weeks in the ICU, hovering between life and death.
"He told me that I saved his life. And the weight of that was profound," Stantz said, adding that she has held on to that moment to spur her on.
'Still reeling from delta'
All through December, hospital leaders have nervously eyed the nearly vertical increase in omicron infections, worried they will translate into new admissions when there's little slack in the system.
"Frankly, in many parts of the country, we're still reeling from delta not yet completing its course," said Chip Kahn, president and chief executive of the Federation of American Hospitals, which represents about 1,000 for-profit facilities.
While experts acknowledge that hospitals have been hard hit during the pandemic, they say claims about a mass exodus from the profession have likely been overstated, or are part of broader economic trends, such as workers leaving all industries.
"Bottom line is that all health employment is down only 2.7% compared to pre-pandemic, and most of that is in nursing homes," Ani Turner, an economist at the Altarum Institute, wrote in an email, saying there is no data to support an oft-repeated claim that one in five workers has quit the field.
"Hospital staffing has mostly recovered from the significant drops that happened at the beginning of the pandemic," said Cynthia Cox, a Kaiser Family Foundation vice president, who co-authored a study that found hospital employment is about 2% lower than February 2020 levels, and about 4% lower than prior projections for December 2021.
"I think the concern right now is, are we heading into a period where everyone comes back from their holiday travels with omicron infection?" Cox added.
Cox and others say they're looking overseas, to countries such as England where omicron spread earlier, for clues to how the variant disrupted health-care staffing.
But they're not finding reassurance there, as scores of U.K. health workers were sidelined with suspected omicron cases earlier this month. Naeema Ginwala-Hasan, an interventional cardiologist who works in London for the National Health Service, said that as her vaccinated colleagues began falling ill, staff were forced to shift more interactions online and additional demands fell on those left behind.
"There's patient-facing care that still has to happen but it falls on people who haven't gotten sick yet, unfortunately," Ginwala-Hasan said. She herself tested positive with a rapid test on Dec. 12, prompting her to isolate from her husband and two children, who she said did not contract the virus.
Federal officials say their new guidance for U.S. health workers is an effort to anticipate and avoid such disruptions, a message echoed by the CDC's Walensky and other senior Biden administration officials this week.
Brown's Ranney said she supports loosening restrictions on infected workers, so long as they take proper precautions when they return. But in an interview, she said she's concerned that protections for health-care workers have been consistently overlooked throughout the pandemic, which she suggested was helping to drive staff shortages.
"It's become very clear that we may care deeply about taking care of others, but folks don't actually care all that much about making sure that we're safe," Ranney said. "We were told to go to work with bandannas or garbage bags, at the height of the PPE crisis . . . And then you're told that you're expected to come to work sick, and put yourself and others at risk. It doesn't compute."
Daniels, the Mayo Clinic doctor, said he's disappointed that constant pleas to get vaccinated and take other precautions have failed to win over skeptics – the same people who are disproportionately crowding ICUs. And, as the son of a fireman, he keeps coming back to an analogy from firefighting he tries to understand why health-care workers' warnings are being shrugged off.
"I tend to be an optimistic person," Daniels said, but "it amazes me that people want to blame the fire department for the number of fires, rather than the people playing with matches."