Health
Boston's pediatric hospitals seeing high volumes as health officials encourage flu shots
Boston Children's Hospital said it is seeing high patient volume and longer waits, partly due to seasonal and respiratory illness.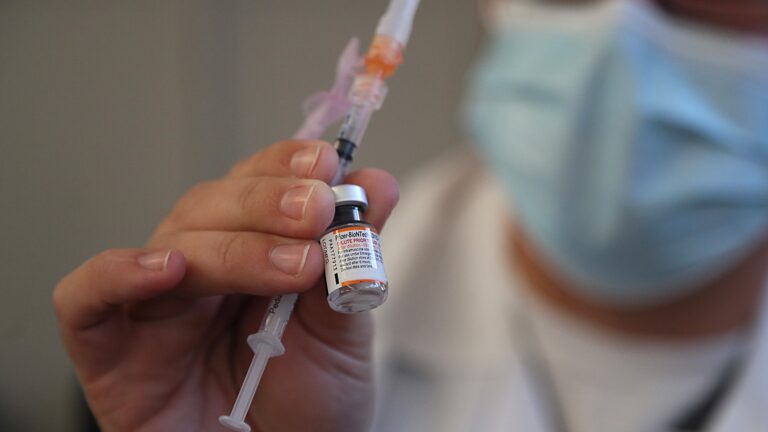 With school back in session and the weather turning colder, Boston's pediatric intensive care units and children's hospitals are seeing "noticeable increases" in patient volume, according to city health officials.
The Boston Public Health Commission on Tuesday encouraged residents — particularly children and families — to get their annual flu shots. Combined, high rates of COVID-19 and the flu could strain Boston's health care system, especially emergency care, BPHC said in a news release.
"Getting your annual flu shot is one of the best ways to stay healthy this winter as we prepare to spend more time indoors with friends and family," Dr. Bisola Ojikutu, commissioner of public health and executive director of the Boston Public Health Commission, said in a statement.
"Being vaccinated against the flu and staying up to date on COVID-19 vaccinations are essential for preventing severe illness," she added. "If you get the flu, remember to stay home to avoid spreading it to others and to get plenty of rest and hydration to support your recovery."
Nationwide spike hits close to home
The U.S. is seeing a significant spike in respiratory illness among children, NPR reported this week. The uptick in illness is largely due to viruses other than COVID-19, such as respiratory syncytial virus (RSV), enteroviruses, and rhinovirus, the news outlet reported.
Respiratory infections typically surge in the winter, though the season started much sooner this year, according to NPR.
Local hospitals are seeing the impacts firsthand.
"Like many hospitals across the country, Boston Children's Hospital is experiencing high patient volume and an increase in wait times," the hospital said in a statement provided to Boston.com.
Higher levels of seasonal and respiratory illness and the ongoing behavioral health crisis are driving high patient volumes, Boston Children's said.
"Where possible, we encourage families to first contact their primary care practitioners as they can help determine clinical care and treatment options that potentially avoid long wait times," the hospital said. "We will continue to monitor the situation and adjust our process as needed to ensure we are protecting the health, safety and well-being of our patients and families as well as our staff."
Similarly, Mass General for Children said its pediatric intensive care unit has seen a sharp increase in requests for beds this fall, with a significant portion of the higher demand due to younger children and infants with respiratory distress from common viruses.
Echoing NPR's report, MGfC said in an email to Boston.com that the viral season has started much earlier this year and appears to be more severe, with patients often presenting with not just one virus, but often two or even three.
"We think at least part of this trend is due to kids going back to school unmasked after 2 years of social distancing and masking," the hospital said. "They are catching colds and bringing them home to their younger siblings who may not be able to tolerate them as well."
The pediatric ICU bed situation may worsen as flu season approaches, as the flu can cause serious or life-threatening illness in infants and children, MGfC said.
"The good news is that we have a safe and effective influenza vaccine that can be administered to children as young as 6 months," the hospital said, also emphasizing frequent hand-washing.
How to get your flu shot
Boston has an upcoming free flu vaccination clinic in room 801 at City Hall from 1 to 5 p.m. on Monday. Walk-ins are welcome, and free COVID-19 vaccinations will also be available, according to BPHC.
Flu shot appointments can also be made at local pharmacies, community health centers, and primary care offices, among other locations.
More information on flu shots is available on the city's website, or by calling the Mayor's Health Line at 617-534-5050 (800-847-0710 for toll free).
Newsletter Signup
Stay up to date on all the latest news from Boston.com