Health
Baker opens 24/7 crisis helpline, 25 new community behavioral health centers
The initiative is part of Gov. Baker's Roadmap for Behavioral Health Reform.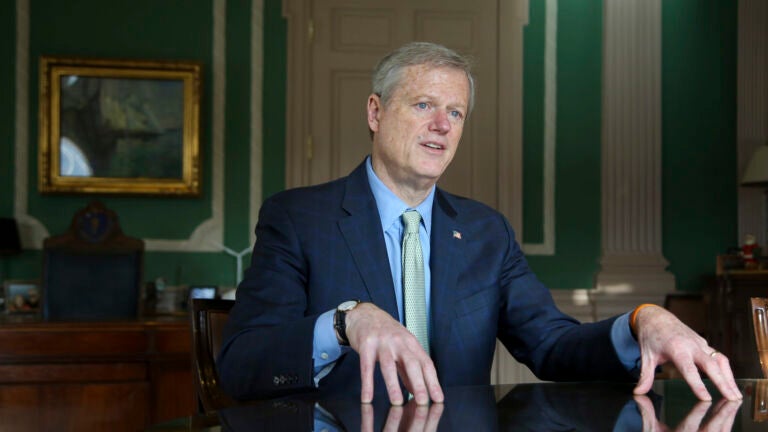 Outgoing Gov. Charlie Baker made a big step towards improving mental healthcare in Massachusetts as he prepares to leave office Thursday.
On Jan. 3, the Baker Administration launched the state's new 24/7 behavioral health helpline and opened 25 new community behavioral health centers (CBHCs) as part of his Roadmap for Behavioral Health Reform plan.
The initiative, which was announced in 2021, adopts a new "front door" approach to behavioral healthcare, the Baker administration said in a news release. This approach is meant to make it easier for residents to access behavioral health services, reduce reliance on emergency rooms for accessing such services, and increase the availability of these services.
"Over the past eight years, our administration has worked in partnership with providers, clinicians, and communities to strengthen capacity and access in the behavioral health system," Baker said in the release.
"With the implementation of these important initiatives from the Roadmap for Behavioral Health Reform, we are taking another important step to ensuring our residents can get the help they need, which is especially crucial given the continued need for behavioral health services as we emerge from the pandemic."
The roadmap is a multi-year blueprint for behavioral healthcare reform based on input from nearly 700 healthcare providers, legislators, and individuals from across Massachusetts, the release said. These stakeholders recommended the state work to improve access to treatment, offer more effective treatments to residents, and improve health equity.
"The Roadmap demonstrates the commitment the Commonwealth has made to making behavioral health just as much a priority as physical health," the Baker administration wrote in the release.
The cornerstone of the roadmap is the opening of 25 new CBHCs, which are specially-designated mental health clinics that provide a comprehensive range of mental health and substance abuse disorder services.
These clinics are meant to be an entry point for behavioral health services for residents of all income levels and legal status, the release said. To make this possible, they receive state funding and offer alternative payment models to make such services affordable.
According to the state, all CBHCs offer same-day evaluation and access to treatment, timely follow-up appointments, evening and weekend hours, behavioral health urgent care, 24/7 community-based and mobile crisis intervention services, and crisis stabilization beds.
For a directory of CBHCs, visit the state's website.
Additionally, the roadmap called for the just-launched Massachusetts Behavioral Health Help Line. The helpline, which is available 24/7 both online and over the phone, offers a single point of contact where residents can receive real-time support, initial clinical assessment, and connection to mental health and substance use disorder treatment.
The free helpline is available to all residents regardless of whether they have insurance or can pay for services. It is also offered in over 200 languages, and clinicians will follow-up with patients after every conversation, the release said.
The helpline's number is 833-773-2445, and you can find more information about it on its website, www.masshelpline.com.
Newsletter Signup
Stay up to date on all the latest news from Boston.com