Health
Yes, eggs are expensive. But are they good for you? A BU study could have some answers
Researchers found that people who eat five or more eggs per week were less at risk for high blood pressure and type 2 diabetes.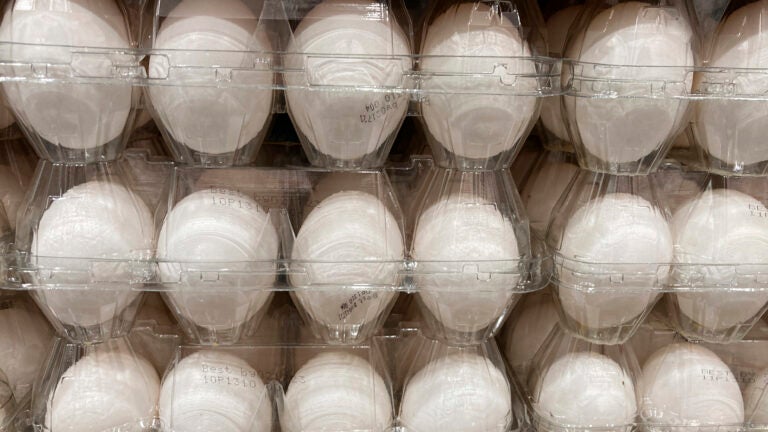 The price of eggs, once a cheap staple of commercial and home kitchens, has skyrocketed recently. While local restaurateurs rush to adapt their businesses, researchers at Boston University are asking another question: just how good are eggs for people anyway?
High in protein and nutrients like Vitamin D, eggs also are known to contain significant amounts of cholesterol, which can clog arteries and increase the risk of heart disease. The American Heart Association suggests that people who eat eggs should only consume one egg or two egg whites per day.
But in a recent study, researchers found that people who ate five or more eggs per week were less at risk for high blood pressure and type 2 diabetes. They also had lower blood sugar. Combined with other healthy dietary patterns, regular egg consumption was found to have long-term benefits.
For the study, researchers analyzed 2,349 adults between the ages of 30 and 64. These people were participants in an offspring cohort of the Framingham Heart Study, which tracks the factors that contribute to cardiovascular disease over decades.
Starting in 1971, members of this cohort started undergoing exams every four years that included questionnaires, interviews, and blood work. They were also asked to keep dietary records, which the BU researchers used in their work.
It should be noted that the recent study was funded in part by a grant from the American Egg Board's Egg Nutrition Center. The American Egg Board was created at the request of the country's egg farmers to pool marketing resources and increase demand for U.S. eggs and egg products.
Amber Core, a registered dietitian at The Ohio State University, told Healthline that the findings do not necessarily show that eating eggs protects against heart disease.
"While this study suggests that eggs may have a positive impact on blood pressure and fasting glucose levels, this is not indicative of protection against the development of heart disease. Heart disease development is more so determined by ​high cholesterol, high blood pressure, and genetic determinants," she told Healthline.
If people do want to increase their diet of eggs, it will cost more than it did a year ago. Egg prices rose almost 60% in December compared to a year before, according to data from the Bureau of Labor Statistics. The average price of a dozen eggs was $4.25 in December, up from $3.59 in November and $3.42 in October.
Newsletter Signup
Stay up to date on all the latest news from Boston.com