Health
Healey: 300,000 people will likely get dropped from MassHealth this year
More than 2.3 million Bay Staters currently receive state-sponsored health insurance through MassHealth, up 31% since before the pandemic.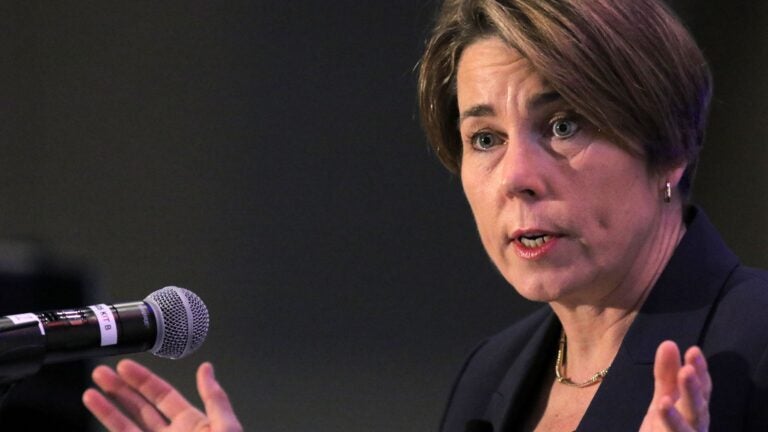 As the end of the federal COVID-19 emergency declaration draws near, millions of Massachusetts residents will soon need to re-enroll in MassHealth, a process that could see about 300,000 people dropped from the state-sponsored health insurance.
More than 2.3 million Bay Staters currently receive their health insurance through MassHealth, up 31% since February 2020, Gov. Maura Healey's office noted in a Wednesday press release. That higher figure comes partly as a result of federal continuous eligibility requirements that lasted throughout the COVID-19 public health emergency, according to the release.
However, with the emergency declaration set to expire on May 11, MassHealth is beginning to redetermine whether its members are still eligible. State officials project that enrollment will eventually shrink to around 1.9 million members during the 2024 fiscal year, the State House News Service reported.
"We know what we're facing right now this spring with redetermination. We know the work that we need to do," Healey said at a press conference Wednesday announcing the state's 2024 budget proposal.
Of the enrollment projections, she added: "I think those numbers reflect our best educated estimate of what is necessary and appropriate to meet this moment and the needs of folks who have been accessing MassHealth."
The state ultimately expects to spend $19.8 billion on MassHealth in the coming fiscal year, an 8.7% gross decrease from 2023.
How Massachusetts plans to help
As the redetermination process gets underway, the state is aiming to help those who lose their MassHealth coverage find insurance through their employer or the Massachusetts Health Connector, Healey's office noted in its press release.
There's a risk that even eligible members may lose their coverage because they fail to take necessary actions for renewal, the state's Executive Office of Health and Human Services acknowledged in a presentation outlining the redetermination process.
However, MassHealth has anticipated an uphill battle and has been working to prepare its systems and operations since 2021, according to the presentation.
To that end, the state has hired more than 150 additional permanent and temporary staff to increase capacity at MassHealth Enrollment Centers and has increased frontline customer service agents from 300 to nearly 500.
"What we've done as a state is to make sure that our health and human services, which is the agency responsible for this, is working very closely with a wonderful organization, … Health Care for All, to do really targeted outreach to people to let them know this is happening, and then to help them get on the right insurance product," Healey said during an appearance on GBH's "Boston Public Radio" Thursday.
She added: "It's not going to mean that people are not going to have insurance. It's going to mean though that some people will have a different kind of insurance."
Hannah Frigand, director of education and enrollment services with Health Care for All, shared a similar message in an interview with The Boston Globe.
"We want to make sure people end up in the programs they should be in," Frigand said. "At the end of the day, it's not about making sure MassHealth has the highest number, but that people are on the coverage they should be on."
Staff writer Christopher Gavin contributed to this report.
Newsletter Signup
Stay up to date on all the latest news from Boston.com