Health
Cases of tick-borne babesiosis increase significantly in New England
The disease is now considered endemic in Maine, New Hampshire, and Vermont.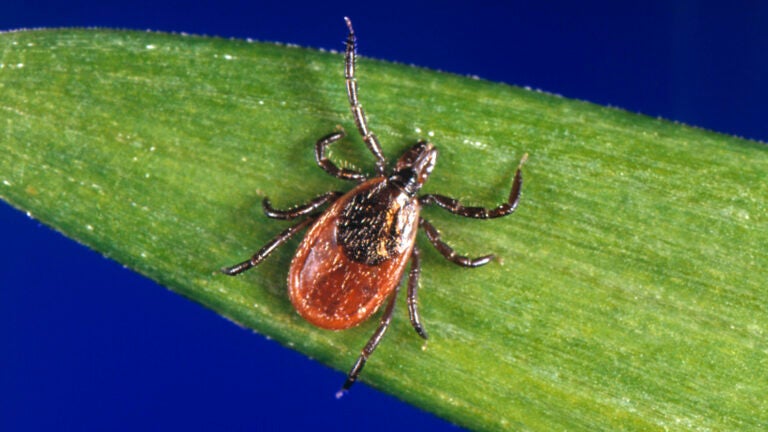 New research shows that the tick-borne disease babesiosis is becoming much more common in some New England states.
Research conducted from 2011 through 2019 shows that cases of babesiosis "significantly increased" in northeastern states, according to a recently published CDC report. In particular, the disease is now considered endemic in Maine, New Hampshire, and Vermont. Researchers found that the reported case counts in those states were similar to or higher than those in the seven states with known endemic transmission.
Babesiosis is caused by microscopic parasites that infect red blood cells. It is commonly spread to humans through deer ticks, also known as black-legged ticks.
While most people who are infected with the disease feel fine and do not have any symptoms, babesiosis can be very dangerous. Some people develop flu-like symptoms such as fever, chills, sweats, headache, body aches, loss of appetite, nausea, or fatigue, according to the CDC.
Babesiosis can be a severe, life-threatening disease for people who do not have a spleen, have a weakened immune system, or have another serious health condition like liver or kidney disease. The elderly are also particularly vulnerable to the disease.
From 2011 through 2019, incidence of babesiosis increased significantly in Connecticut, Maine, Massachusetts, New Hampshire, New Jersey, New York, Rhode Island, and Vermont. The largest increases were reported in Vermont, Maine, New Hampshire, and Connecticut.
Babesiosis was not considered endemic in Maine, New Hampshire, and Vermont until this point. The three states have consistently identified newly acquired cases every year during the time this research was conducted.
Until this point, the CDC considered babesiosis to be endemic only in Connecticut, Massachusetts, Minnesota, New Jersey, New York, Rhode Island, and Wisconsin.
The CDC is now recommending an emphasis on tick prevention messaging, provider education, and awareness of infection risk among people traveling to these states.
Peter J. Krause, a senior researcher at the Yale School of Public Health and Yale School of Medicine, called the new report a "milestone," according to The Boston Globe. He said that climate change could be a factor in how the disease is spreading.
"Global warming is one of several reasons for the increase," Krause told the Globe. "The disease is moving northward."
Edouard Vannier, an infectious disease researcher at Tufts Medical Center, told the Globe that milder winters are likely letting ticks survive longer, increasing the chances that they spread babesiosis to humans.
"We know that Lyme disease was already there in New Hampshire, Maine, and Vermont. It was only a matter of time until babesiosis would get there," Vannier told the paper.
In total, 16,456 cases of babesiosis were reported to CDC by 37 states from 2011 through 2019. New York reported 4,738 cases, the largest number of any state. Massachusetts reported 4,136 cases, the second highest during that time span.
Effective treatments do exist for babesiosis, but people who do not have symptoms of the disease usually do not need to be treated.
There is no vaccine for the disease. The CDC offers several tips on how to prevent tick-borne diseases like babesiosis. This includes limiting exposed skin and applying insect repellent.
Newsletter Signup
Stay up to date on all the latest news from Boston.com