Health
What to know about the eyedrops linked to deaths and vision loss
At least three people have died and 68 people have been infected through a bacterial outbreak linked to eyedrops. Since then, several eye drop products have been taken off shelves.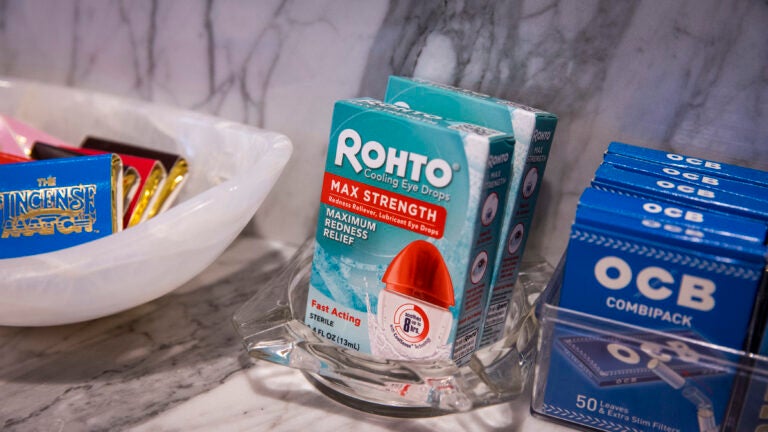 Two more people have died in the United States after being infected by Pseudomonas aeruginosa, a drug-resistant bacterium that has been linked to eyedrops, according to the Centers for Disease Control and Prevention, bringing the death count to three. The outbreak has also been connected to eight recent reports of vision loss and four reports of enucleation, or surgical removal of an eyeball.
The agency first warned of the outbreak, which has now infected at least 68 people in 16 states, in January. Shortly thereafter, EzriCare Artificial Tears, a preservative-free, over-the-counter product that many infected patients reported using, was recalled by its manufacturer.
Since then, several additional eye products have been taken off shelves, though not all are related to the bacterial infection. With millions of Americans turning to eyedrops everyday – the vast majority of them safely – news of the illness and recalls has sparked concern and confusion.
Here's what you should know.
Which eyedrops have been recalled?
At least four eyedrops have been recalled recently. They include EzriCare and Delsam Pharma's Artificial Tears, which have been associated with the bacterial infection.
Two other products – Pharmedica USA's Purely Soothing, 15% MSM Drops and Apotex Corporation's Brimonidine Tartrate Ophthalmic Solution, 0.15% – were also pulled by their makers, though they are not related to the outbreak.
Patients who suffered infections of Pseudomonas aeruginosa reported using more than 10 brands of artificial tears, but none as often as EzriCare, according to the CDC.
David Chen, an ophthalmologist at Singapore's National University Hospital, said in an email that he does not believe people should worry about other brands which have not been recalled. He advises exercising "general precaution when using artificial tears," such as avoiding contaminating them with fingers and disposing of them within the advised time frame.
Pharmedica USA in March recalled Purely Soothing, 15% MSM Drops out of concern that the product is not sterile. The drops have not been linked to illness, the company said, though it cautioned that using contaminated eye products can increase risk for infections that could result in blindness. Also in March, Apotex Corporation recalled Brimonidine Tartrate Ophthalmic Solution, 0.15% "out of an abundance of caution" due to cracks in some of the bottles' caps, which could affect the product's sterility, the company said.
Delsam Pharma's Artificial Eye Ointment, which has not been linked directly to illness but was produced by Global Pharma Healthcare, the same manufacturer behind the Delsam Pharma's artificial tears, has also been recalled.
What are the symptoms of eye infection to watch out for?
If you've used Ezricare and Delsam Pharma's Artificial Tears, look out for symptoms including yellow, green or clear discharge from the eye; eye pain or discomfort; redness of the eye or eyelid; a sensation that there is something in your eye; increased sensitivity to light; and blurry vision, according to the CDC.
The CDC instructs those who are experiencing such symptoms and have used either of the two eyedrops to seek medical care immediately. People not experiencing symptoms do not need to test for possible infection, it says.
A severe eye infection can feel similar to less threatening conditions such as dry eye disease and other autoimmune or inflammatory diseases of the eyes, experts caution.
"If it is truly bacterial, a direct eye exam will determine it, since there are certain clinical features we can see that would suggest bacteria and the degree of infection," Dave Patel, an ophthalmologist at the Mayo Clinic in Phoenix, told The Washington Post.
What is Pseudomonas aeruginosa?
Pseudomonas aeruginosa is an aggressive bacterium that is found all over the environment, including in water, soil and human waste. It can enter eye drops through contamination with environmental agents during handling, experts say. The bacterium is resistant to most antibiotics and is particularly dangerous in health-care settings and for people with weakened immune systems.
Elizabeth Connick, professor of medicine and immunobiology at the University of Arizona, said that the bacterium "secretes proteins that can destroy the clear tissue at the front of the eye – the cornea – and allows it to invade the eye. It can impair vision or even blind someone."
Pseudomonas aeruginosa tends to cause problems in places where "immune responses are blunted," Robert T. Schooley, distinguished professor of medicine in the division of infectious diseases and global public health at the University of California at San Diego, previously told The Post.
But when medical products such as eye drops become contaminated, "the concentration of bacteria – or viruses, or fungi – in the product can be extremely high and overwhelm local immune responses, even when people are not overtly immune compromised," he said.
Infections can present in ways such as keratitis, sepsis and respiratory and urinary tract infections. In 2017, the United States saw about 2,700 deaths related to Pseudomonas aeruginosa and 32,600 cases in hospitalized patients, according to CDC estimates. The eyedrop-related strain of Pseudomonasaeruginosa has not previously appeared in the United States, the CDC said.