Health
FDA approves over-the-counter Narcan. Here's what it means
Narcan is used to reverse overdoses, and advocates have been urging for an over-the-counter remedy for years.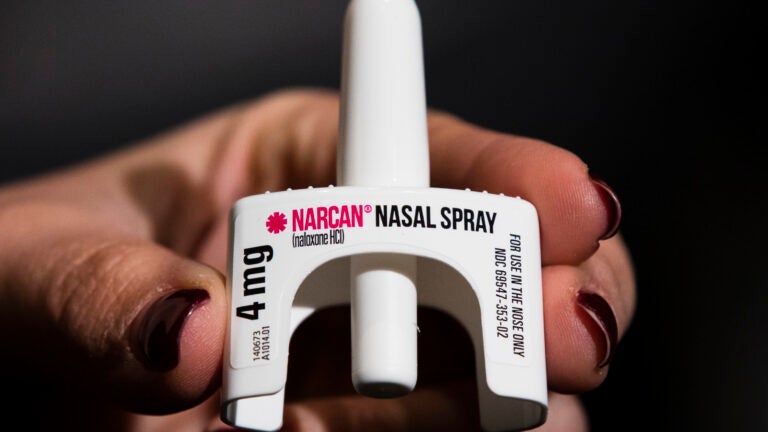 The U.S. Food and Drug Administration on Wednesday approved selling the leading version of naloxone without a prescription, setting the overdose-reversing drug on course to become the first opioid treatment drug to be sold over the counter.
It's a move that some advocates have long sought as a way to improve access to a life-saving drug, though the exact impact will not be clear immediately.
Here's a look at the issues involved.
What is Narcan?
The approved nasal spray from Gaithersburg, Maryland-based Emergent BioSolutions is the best-known form of naloxone.
It can reverse overdoses of opioids, including street drugs such as heroin and fentanyl and prescription versions including oxycodone.
Making naloxone available more widely is seen as a key strategy to control the nationwide overdose crisis, which has been linked to more than 100,000 U.S. deaths a year. The majority of those deaths are tied to opioids, primarily potent synthetic versions such as fentanyl that can take multiple doses of naloxone to reverse.
The drug has been distributed to police and other first responders nationwide.
Advocates believe it's important to get naloxone to the people who are most likely to be around overdoses, including people who use drugs and their relatives.
The decision "represents a decisive, practical and humane approach to help people and flatten the curve of overdose deaths," said Chuck Ingoglia of the National Council for Mental Wellbeing, in a statement.
What does the FDA approval mean?
Narcan will become available over-the-counter by late summer, the company said.
Other brands of naloxone and injectable forms will not yet be available over the counter, but they could be soon.
Several manufacturers of generic naloxone that's made similarly to Narcan will now be required to file applications to switch their drugs over the counter as part of a requirement by the FDA.
The nonprofit Harm Reduction Therapeutics Inc., which has funding from OxyContin maker Purdue Pharma, already has an application before the FDA to distribute its version of spray naloxone without a prescription.
How is Naloxone distributed now?
Even before the FDA's action, pharmacies could sell naloxone without a prescription because officials in every state have allowed it.
But not every pharmacy carries it. And buyers have to pay for the medication — either with an insurance co-pay or for the full retail price. The cost varies, but two doses of Narcan often go for around $50.
The drug is also distributed by community organizations that serve people who use drugs, though it's not easily accessible to everyone who needs it.
Emergent has not announced its price and it's not clear yet whether insurers will continue to cover it as a prescription drug if it's available over the counter.
FDA Commissioner Robert Califf in a statement encouraged Emergent to make the drug available "at an affordable price."
Does making Naloxone over-the-counter improve access?
It clears the way for Narcan to be made available in places without pharmacies — convenience stores, supermarkets and online retailers, for instance.
Jose Benitez, the lead executive officer at Prevention Point Philadelphia, an organization that tries to reduce risk for people who use drugs with services including handing out free naloxone, said it could help a lot for people who don't seek services — or who live in places where they're not available.
Now, he said, some people are concerned about getting naloxone at pharmacies because their insurers will know they're getting it.
"Putting it out on the shelves is going to allow people just to pick it up, not have stigma attached to it," he said.
But it remains to be seen how many stores will carry it and what the prices will be. The U.S. Centers for Medicare and Medicaid Services, which now cover prescription naloxone for people on the government insurance programs, says that coverage of over-the-counter naloxone would depend on the insurance program. The centers have not given any official guidance.
Maya Doe-Simkins, a co-director of Remedy Alliance/For The People, which launched last year to provide low-cost — and sometimes free — naloxone to community organizations, said her group will continue to distribute injectable naloxone.
Are there drawbacks to over-the-counter sales?
One concern is whether people who buy Narcan over-the-counter will know how to use it properly, said Keith Humphreys, a Stanford University addiction expert, though the manufacturer is responsible for clear directions and online videos on that.
One benefit of having pharmacists involved, he said, is that they can show buyers how to use it. One key thing people need to be reminded of: Call an ambulance for the person receiving naloxone after it's been administered.
He also said there are fears that if the drug isn't profitable as an over-the-counter option, the drugmaker could stop producing it.