Health
Narcan has been approved for over-the-counter sales. But concerns remain about access.
"There are some crucial next steps that need to happen."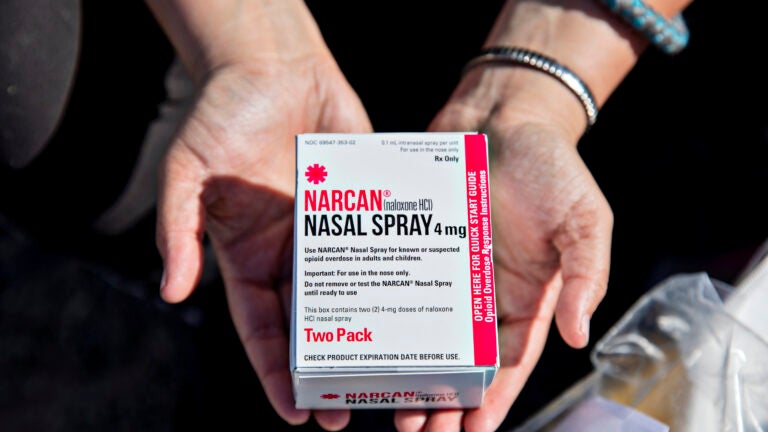 Doctors and providers working in harm reduction cheered the Food and Drug Administration's approval last week of Narcan, a widely known brand name for naloxone, for over-the-counter sales, freeing purchasers from needing a prescription to access the opioid overdose-reversal drug. But they say that essential steps still need to be taken to ensure that the life-saving drug remains truly accessible.
More on the overdose crisis:
Dr. Sarah Wakeman, medical director for substance use disorder at Mass. General Brigham, told Boston.com making Narcan available as an over-the-counter medication is "long overdue."
But she said the work to increase accessibility can't stop there.
"I think there are some crucial next steps that need to happen, in particular around pricing," she said. "And I think that's the next hurdle, to make sure that this is really accessible to those who need it most."
Emergent BioSolutions, the maker of Narcan, has said that the overdose-reversal drug could be available over the counter by late summer.
Before the over-the-counter approval, individuals needed a prescription to access the medication.
And while many states, including Massachusetts, had done work to minimize barriers through efforts like standing order prescriptions — which allowed pharmacists to dispense naloxone to people at risk of experiencing an opioid-related overdose or others who were in a position to assist someone at risk, rather than requiring a prescription from a physician — there remained barriers to access because of stigma toward drug use and people with substance use disorder, Wakeman said.
With prescriptions in Massachusetts, through a public interest discount, the state pays just under $50 for two-dose packages of the drug, which typically costs $150, according to WBUR. Insurance then covers most of the cost.
The concern is that when Narcan moves to the aisles of the pharmacy, people may be faced with the full price of the drug. (So far, Emergent BioSolutions, has not said how much it plans to charge for the over-the-counter version of the drug, according to The New York Times.)
In addition, if a higher price tag is associated with the drug, it would likely mean it would be kept behind the pharmacist's counter — another barrier to access, Wakeman said.
Having naloxone in front of the counter so individuals can access it without asking for help is essential, she said.
"That additional step of having to ask for it could be a barrier," Wakeman said
Not requiring a prescription, as long as the cost doesn't become a barrier, means that the many small, grassroots harm reduction organizations that are often the distributors and suppliers of naloxone to those at risk of overdose should have at least one path of better access to the overdose-reversal drug, she added.
But Wakeman said that in addition to ensuring physical and cost accessibility, as much as possible, individuals should still be allowed to access the medication through insurance.
"I think of other medications that are similar, like nicotine replacement therapy, for people who are trying to stop smoking, is something that's available over the counter, but it's also available in many states with a prescription and insurance companies cover it because they recognize the tremendous public health benefit of reducing the harms of tobacco use," she said. "So I would say this is an example of a similar medication where it should be available for people to buy themselves over the counter, and also, we should have insurance companies covering it so that people can continue to get it with their insurance if they prefer to go that route."
The more options, the better, she said, since the hope is that anyone should be able to access the medication — people who use drugs themselves, their family and friends, community members.
It should be an item that anyone can have in their handbag, backpack, or medicine cabinet as a safety measure, purchased for an affordable price without any hurdles, she said.
Greater accessibility means that the broader public can join the response to the crisis that has claimed more than 100,000 lives in each of the last two years.
"This is a totally safe, life-saving medication in the midst of the worst overdose crisis in history," Wakeman said. "So making sure that it's as easy to access in as many points as possible is really needed. I hope that this will allow it to become as common as anti-inflammatories or acetaminophen that you can buy in a convenience store or in a supermarket or a gas station or even a vending machine to make it really widely and broadly available so that we can all be a part of saving lives and importantly people at greatest risk can access this without barrier."
In Massachusetts alone, Wakeman said, six people will die each day from an overdose — "a preventable cause of death."
"No one should die from an opioid-related overdose in the year 2023 when we have an antidote that is effective and there are public health strategies that we know can reverse and save someone's life," she said.
The approval of Narcan for over-the-counter sales is just one small step forward, but Wakeman said it gives her hope that progress can be made on other measures where change is "desperately" needed to continue to address the overdose crisis.
Overdose prevention centers, which doctors and advocates have been pushing for years for in Massachusetts, are one such measure that Wakeman said is long overdue for change. The other focus she said she'd like to see is ensuring that medications or treatment of opioid use disorder, like buprenorphine and methadone, are more accessible.
Regulations limiting access to methadone haven't been changed in decades, she said.
"Methadone regulations in particular are an area that need change and advancement," Wakeman said. "There's also legislation around that that's been proposed at the federal level. And I'm hopeful that much like we've seen progress in this area of making naloxone more accessible, that we'll continue to push forward and see access to life-saving medication be made more accessible as well."
Information from the Associated Press was used in this report.
Newsletter Signup
Stay up to date on all the latest news from Boston.com