Health
You can now buy tickets for the Massachusetts Lottery through a 3rd-party app. Here's what you need to know.
Jackpocket allows you to participate in the Massachusetts Lottery from your phone and is meant to make playing the lottery more convenient.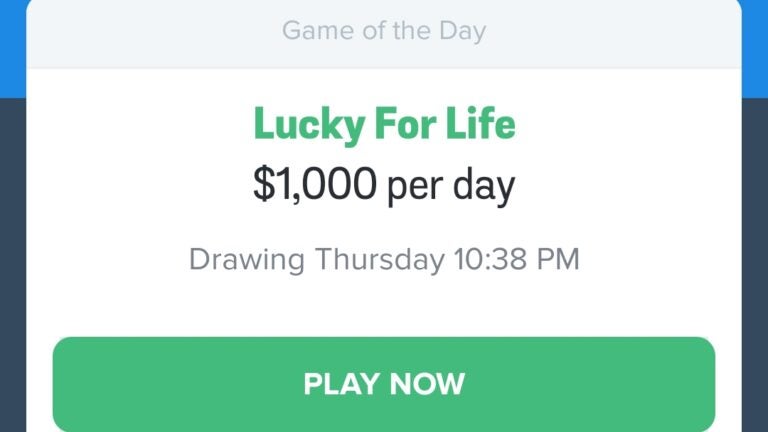 If you're a lottery fanatic, you'll want to check out Jackpocket – a third-party courier app which some have described as "Uber Eats for the lottery."
The app, which is now available in Massachusetts, allows you to buy lottery tickets, create pools, follow drawings, and collect prize money all from your phone – for a fee.
Jackpocket isn't affiliated with the lottery, it simply acts as a middleman that does the work of interacting with retailers and the lottery for you.
"We want to offer another form of convenience that's delivered through the same distribution network that's always been there," Jackpocket CEO Peter Sullivan said.
Jackpocket's roots
Sullivan said he got the idea for Jackpocket after years of watching his family play the lottery.
"I was born in Brooklyn, New York, and basically grew up in a family where lottery was part of our culture," he said. "I, for one, was never really a player, but my grandma … she was known as "the Lotto Queen of Brooklyn."
When she died, Sullivan said, people put lottery tickets in her coffin.
Part of what inspired Jackpocket, Sullivan said, was childhood memories of being late to sports practices and games because his dad always wanted to stop off at a convenience store to pick up a lottery ticket on the way.
"It was super embarrassing, growing up as a kid, that the whole team is ready to play, and the inconvenience of going to the store made us late to those games and practices," he said.
After working in the tech and finance industries for a number of years, in 2012, Sullivan noticed that start-ups were pitching apps that were essentially Uber but applied to a different product or service. Sullivan said he took advantage of the trend and started a company that applied that concept to the lottery.
Jackpocket first launched in 2015 in New York, and is now in 17 states, including nearby New Hampshire. It became available in Massachusetts in July.
How Jackpocket works
To use Jackpocket, you must be over 18 (21 in some states) and in a state where it operates. The app requires users to provide an ID to verify their age, and also tracks their location.
You load money on the app using a credit or debit card (some states only allow debit cards). Before the transaction is complete, the app uses face recognition to make sure it's you using the app.
Jackpocket makes money by charging a fee (9% in Massachusetts) each time you load money onto the app. It doesn't take a cut of winnings or charge a monthly fee.
Once the money is loaded onto the app, you can use it to enter all kinds of lottery games, from MegaMillions and Powerball to MassCash and Lucky for Life. You order the ticket on the app, and Jackpocket goes out to a local retailer and buys it for you.
Once Jackpocket has collected the ticket, it uploads a scan of it to the app. You can then track all your tickets and games through the app, and the app will let you know if you win.

Jackpocket collects your winnings for you, and you can deposit them in your bank account from the app. It also lets you create pools with people you know or with strangers, which gives you a higher chance of winning but means you split the prize money.
Why Jackpocket wanted to come to Massachusetts
Sullivan said one reason he wanted to make Jackpocket available in Massachusetts was that the state has the highest per capita spending on the lottery of any state in the country. Additionally, Massachusetts' per capita spending on the lottery is significantly higher than other states.
But Sullivan said he also thinks the Massachusetts Lottery is a good cause. According to the lottery, its profits are distributed across every municipality in Massachusetts and come with no strings attached, meaning local governments can use that money however they please. It also claims that the vast majority of money spent on tickets goes to prize money and local aid.
Jackpocket also has some notable partners in Massachusetts, such as the Boston Red Sox, which it did a promotion with in August. Another is Circle K, which Jackpocket buys its tickets from, but is also one of the app's investors, according to Sullivan.
Jackpocket's responsible gambling features
Jackpocket is certified by the National Council on Problem Gambling, meaning that its features meet the organization's standards for online gambling player protection tools.
Among these tools are a player-set spending limit, which cannot be changed for a week after being set. Similarly, players can choose to self-exclude, meaning that they won't be able to use the app for a set amount of time. Like the spending limit, this cannot be undone until the chosen time period has lapsed.
Finally, players can choose to ban themselves from the app altogether. Sullivan said any player that does this has to contact Jackpocket directly to gain readmission.
Dr. Dong Chan Park, a psychiatrist and professor at Boston University, said that self-exclusion is already being used at casinos, but it's unclear how often problem gamblers are using it. Studies on the tool have found adoption rates as low as .7% to 7% among problem gamblers in casinos, and rates as high as 11% among at-risk online poker players, he said.
There may also be some selection bias, Park said, as people choose to use self-exclude, meaning they're already motivated to change their behavior. This might make them more likely to find success with the tool than the average problem gambler, he said.
"For some people, it doesn't work. They'll find other avenues to gamble," Park said. "But for some people, it helps. It's a tool that they can use."
Overall, Park and other problem gambling experts seemed to think the self-exclusion and spending limit features were meaningful. Park said these tools are underutilized, and that he was pleased that Jackpocket makes it easy to use them.
The impact of having the lottery in your pocket
Still, Park agreed and other experts agreed that the app could pose a public health risk.
Even though the lottery is generally considered one of the less addictive forms of gambling, Jackpocket's value as a product – that it makes the lottery more convenient – also poses a public health risk by making a form of gambling more accessible, experts said.
"You might think better of it if you're going out to do it. But when it's in your pocket, when it's on an app on your phone, the temptation, particularly for consumers who are at risk for gambling disorder, may be a bit overwhelming," Mark Gottlieb, the executive director of the Public Health Advocacy Institute at Northeastern University, said.
Gottlieb said he even thinks the app might increase the chances of turning a casual gambler into a problem gambler, as it could lead someone to gamble more often than they would if they had to go to a brick and mortar location to gamble.
"You're carrying around the casino in your pocket all the time, which means that you can't get away from it in ways you can other things," College of the Holy Cross economics professor Victor Matheson said.
How a lottery app could impact young people
Experts said they were also concerned that a gambling product has been made into an app, which may make it more appealing to young people. Park compared the app to e-cigarettes, and likened the risk to the way a new generation of tobacco product led to a massive rise in tobacco use among teens.
"Instead of going through a gas station or corner store, this is a shiny, cool app," he said.
Matheson said it's clear that different types of gambling appeal to different demographics. Sports betting in particular has been shown to be popular among young people, he said, though it's unclear whether that's due to sports betting largely being done online or if it's something about sports betting itself.
Regardless, Matheson said, it's safe to assume that a new gambling product will lead to new people becoming gamblers who weren't before.
What gambling on an app means for the public
More gamblers is exactly what public health experts fear. While having tools like self-exclusion is better than nothing, Gottlieb said, it's a reactive response to problem gambling.
"That's basically the responsible gaming approach – offering some … assistance to people who are already at high risk of gambling disorder," he said. " … I think it makes much more sense, in terms of public health practice, to have fewer opportunities for such people to be playing. Putting the games in everybody's pocket is going to make this a greater problem."
But Park and Matheson emphasized that online gambling is here to stay, regardless of what might be best for public health. Additionally, they said, only about 1% to 4% of gamblers struggle with gambling addiction.
"It's a reasonable, responsible recreational activity for a lot of people," Park said. "We just have to concede that and be grateful that at least the app has some measures to mitigate the harms."
Park advises users to keep records of how much they spend, as well as wins and losses, and to share that information with trusted friends, family members, or healthcare providers who can help ensure that they are making good decisions.
Newsletter Signup
Stay up to date on all the latest news from Boston.com