High School Sports
'I am a girl and I am a runner': Transgender athletes respond to the discrimination complaint in Connecticut
Three girls filed a lawsuit on Monday saying transgender athletes competing in high school track violates federal protections for female athletes and have cost them top finishes and possibly college scholarships.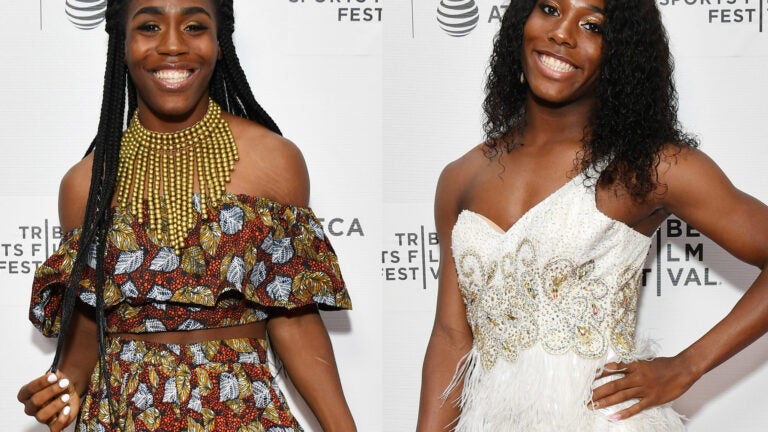 The two transgender athletes, who were singled out in a lawsuit alleging their participation in high school girls track in Connecticut cost other female runners top finishes, say they won't stop being who they are — or running.
Andraya Yearwood and Terry Miller released statements through the ACLU on Wednesday. The federal discrimination lawsuit, filed Monday by the conservative Christian law firm Alliance Defending Freedom on behalf of three Connecticut girls, says the state's policy that students like Yearwood and Miller be treated in school according to the gender with which they identify has resulted in an unfair advantage and violates Title IX protections for female athletes. The three girls say the participation of Yearwood and Miller has potentially cost them college scholarships.
Miller, who just finished her junior year at Bloomfield High School, won the 200-meter title at the State Open meet for the second year in a row in 2019, according to the Hartford Courant. She also holds titles for New England track events in 2018 and 2019. 
In her statement, Miller said she runs not just for herself:
"I have faced discrimination in every aspect of my life and I no longer want to remain silent. I am a girl and I am a runner. I participate in athletics just like my peers to excel, find community and meaning in my life. It is both unfair and painful that my victories have to be attacked and my hard work ignored. Living in a state that protects my rights is something that I do not take for granted. So many young trans people face exclusion at school and in athletics and it contributes to the horrible pain and discrimination that my community faces. The more we are told that we don't belong and should be ashamed of who we are, the fewer opportunities we have to participate in sports at all. And being an athlete can help us survive. But instead we are being told to be quiet, to go home, to stop being who we are. I will continue to fight for all trans people to compete and participate consistent with who we are. There is a long history of excluding Black girls from sport and policing our bodies. I am a runner and I will keep running and keep fighting for my existence, my community and my rights."
According to the Courant, Yearwood attends Cromwell High School and finished third to Miller in the Class S 100-meter dash and fourth in the same event at the State Open.
Yearwood said on Wednesday that her family's support and living in a state that protects her rights is what keeps her "going":
"I have known two things for most of my life: I am a girl and I love to run. There is no shortage of discrimination that I face as a young Black woman who is transgender. I have to wake up every day in a world where people who look like me face so many scary and unfair things. I am lucky to live in a state that protects my rights and to have a family that supports me. This is what keeps me going. Every day I train hard – I work hard to succeed on the track, to support my teammates, and to make my community proud. It is so painful that people not only want to tear down my successes but take down the laws and policies that protect people like me. I will never stop being me!  I will never stop running! I hope that the next generation of trans youth doesn't have to fight the fights that I have. I hope they can be celebrated when they succeed not demonized. For the next generation, I run for you!"
Both Yearwood and Miller appeared on "Good Morning America" in 2018 to share their experiences facing backlash to their athletic accomplishments.
Yearwood's father, Rahsan, told the Courant on Tuesday that his understanding is that colleges recruit track athletes, and dole out scholarships, based on qualifying times.
"As a human being — not as Andraya's father — it's disappointing that, in 2019, we're still debating who gets to participate and who doesn't," he told the newspaper. "You would hope we'd gotten to a place in 300-plus years as a country that we're not debating who should be included, and who should not be. There is no place for exclusion."
According to the Courant, the complaint filed repeatedly misgenders Miller and Yearwood by referring to them as "boys." Only one of the three girls behind the lawsuit, Selina Soule of Glastonbury High School, has disclosed her identity and been vocal about how she feels about competing against transgender athletes.
ACLU attorney Chase Strangio said in a statement that it is "heartbreaking" to see the "attack" on Miller and Yearwood for participating in activities with their peers.
"Discrimination on the basis of sex extends to trans people," he said. "Girls who are transgender are girls. Attacking two Black young women who are simply participating in the sport they love just because they are transgender is wrong, it is dangerous, and it is distorts Title IX, which is a law that protects all students on the basis of sex. Efforts to undermine Title IX by claiming it doesn't apply to a subset of girls will ultimately hurt all students."