Local
A Maine school district voted to retire its 'Indian' mascot. But a school board member is still selling apparel with the old logo.
"I wouldn't want somebody so attached to this racist symbol in charge of making decisions."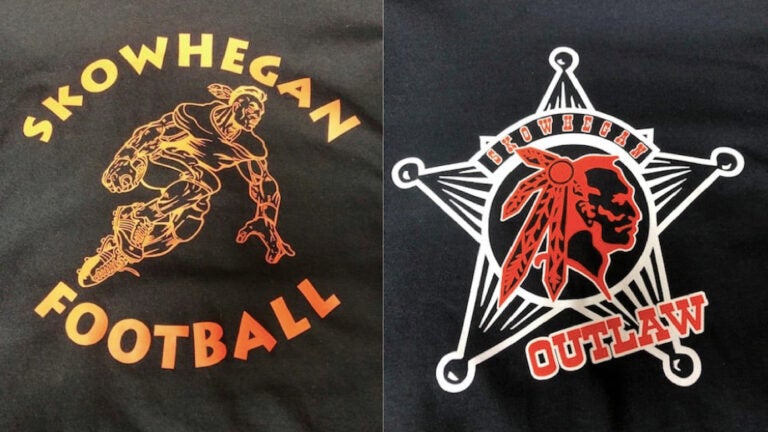 A Maine school district had a reckoning with its "Indian" mascot this spring, opting to retire the symbol and name. But at least one man is still selling apparel featuring the mascot, which Native American tribes and advocates have called racist. And he's on the school board.
Todd Smith owns Maine Fire Equipment Co., a store in Skowhegan, Maine, that sells everything from fire extinguishers to local school spirit apparel.
The business garnered pushback Monday after posting on Facebook to advertise apparel ahead of this week's high school football home opener.
One of the shirts in the post shows a muscled man with feathers in his hair wearing cleats and carrying a football. The other design is a sheriff's badge with a man wearing a feather headdress over it and the word "Outlaw."
The designs caused a stir in the Skowhegan community, which was recently in the news for being the last district in Maine to stop using Native American nicknames and imagery for its sports teams. That came just before the state passed a law in May banning Native American mascots in all Maine public schools.
The district's school board's decision to "respectfully retire" the nickname "Indians" in March was an apparent conclusion to years of debate on the issue. The board voted 14-9 to do away with it after the same vote swung the other way in 2015, the Morning Sentinel reported.
Smith was one of the school board members who voted to keep the mascot. He has since opted to continue selling apparel bearing logos and nicknames that Native American tribes have called offensive.
He said he doesn't feel the designs are disrespectful, citing the town of Skowhegan's logo, which also shows an indigenous man in a headdress. People from other areas have been calling him names online like racist and white supremacist, but Smith said they don't understand that he's trying to pay homage to Skowhegan's roots. The feedback locally, he said, has been "phenomenal."
Maulian Dana, ambassador to the Maine-based Penobscot Nation, has been a vocal opponent of the use of depictions of Native Americans as mascots for about 20 years. She said although Smith has been selling Skowhegan merchandise for a long time, she feels he's recently "really ramped up kind of making these more blatantly offensive," pointing specifically to the "Outlaw" shirt.
Dana said Smith's designs perpetuate the idea that natives are "savage and unruly," which she finds especially concerning since he sits on the school board.
"I wouldn't want somebody so attached to this racist symbol in charge of making decisions," she said.
Smith said his status on the school board shouldn't affect his private business, and his store is just responding to the demand for the "Indians" apparel, which has ramped up since his business started making headlines this week.
"Our door hasn't closed today," he said Wednesday. "People are afraid that they're going to lose something that they're so close to."
He emphasized that he didn't start selling the designs after Skowhegan schools left the "Indians" behind. He's been selling many of them for years and already had the supplies to make them, he said.
The store doesn't have a bulk amount of apparel readily available, it instead uses heat transfers to put designs on different merchandise as it gets requests.
"When they're gone, they're gone," Smith said of the designs. He's not planning on re-ordering them.
Dana said some people have told her the designs are harmless, but she says her life has been threatened on social media for posting about her opposition to the logos. One Facebook commenter, Dana said, suggested that she should be lynched.
"I understand it's his business and he has free speech, but he needs to understand that free speech is not without consequences," she said.
She hopes things will get less contentious when the district chooses a new mascot, which Smith said he plans to feature on future merchandise.
"I feel bad for her," Smith said when asked about the apparent threats against Dana. "I think that if the images that we produce on our shirts are so harmful, then she should probably stop sharing them."