History
It's Been 35 Years Since CompuServe Starting Offering You Dial-Up and Email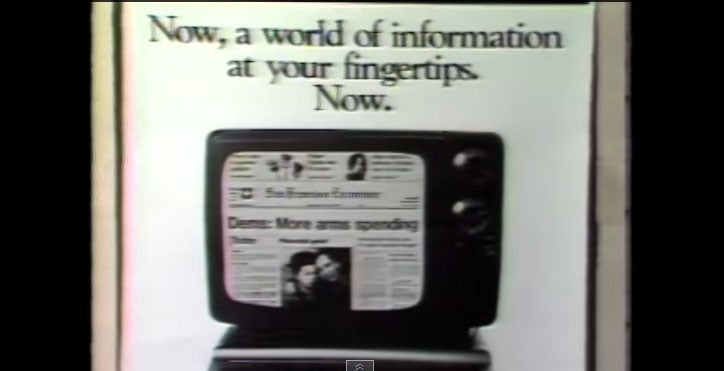 Remember those horrible screeching noises coming from your computer?
Well, for those millenials who don't: dial-up was a way to access the Internet which took forever and made some of the worse noises imaginable for a weirdly long stretch of time. It sometimes took minutes (gasp!) to start up the Internet.
If you didn't have two landlines in your house and someone called, your Internet just stopped working. No talking and surfing.
On September 24, 1979, CompuServe began its service of offering dial-up internet to the public, according to Wired.
Though this video is from 10 years later, here is an advertisement for Compuserve that shows just how cool this technology was:
[fragment number=0]
"CompuServe combines the power of your computer with the convenience of your telephone!'' Woah!
Too bad you didn't also get that man popping out of the screen.
According to Poynter, CompuServe helped start the age of online journalism, sharing newspapers electronically.
[fragment number=1]
"People using the system are excited about it's potential.'' If only they knew that CompuServe would eventually get a shout out on Family Guy:
[fragment number=2]
In all seriousness, CompuServe's connection with AP, according to Poynter, did play a large role in the development of the online journalism we have today.
Before you make fun of CompuServe's antiquated developments, Wire reported a variety of other hip features (which you probably still use a version of today) such as: a chat system (we know you are g-chatting at work), near-real time stock quotes (ok, maybe you don't check those), weather reports (did you remember a jacket today?), airplane-ticket booking (sorry travel agents) and e-mail (oy, I think we all wish this didn't happen).
CompuServe was bought buy AOL in 1998 and according to their website, "CompuServe has continued to enhance its core service to meet the needs of one of the fastest-growing segments of the Internet: value-driven adults going online for the first time.''