History
The History of The Jack-O-Lantern (& How It All Began With a Turnip)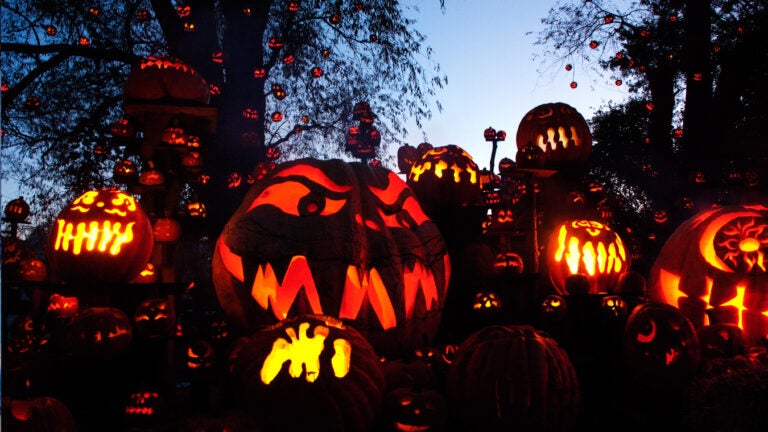 Every year, we head to the pumpkin patch, select the plumpest pumpkin of them all, and haul the gourd home. We whip out the carving knife. We decorate our pumpkin with a spooky face, and then illuminate it with a candle. But why do we do this?
It all started centuries ago, with a character named 'Stingy Jack.'
Jack was part of an Irish myth — thought to have originated in the 17th century — in which a man named Stingy Jack invites the devil for a drink, according to the History Channel.
Jack did not want to pay for his drink — something we can all relate to — so he coerced the Devil into turning himself into a coin. Irish Central reports that Jack promptly pocketed the coin, but later set the Devil free under one condition: He had to leave Jack and his soul alone.
But Jack wasn't done with his trickery.
He later conned the devil again, but this time, it didn't end so well: Jack was banished from both heaven and hell. Jack was condemned to a neverending night. His only source of light? A piece of burning coal sitting inside a carved turnip.
Like this:
[fragment number=0]
Terrifying, right?
Much like the Headless Horseman, Jack was said to haunt the night forevermore. He became known as "Jack of the Lantern,'' which was later shortened to "jack-o-lantern.''
Irish and Scottish children delighted in carving their own scary faces in turnips, potatoes, and beets. They sat the ghastly faces by their homes, to scare Jack's spirit away.
These handmade lanterns lit the paths for people celebrating Samhain, the Gaelic version of Halloween.
As with many American traditions, this tradition is a story of emigration or immigration — or both.
When Irish and Scottish people emigrated to America, they brought their Halloween traditions with them. Pumpkins, which are native to Central America but had been grown by Native Americans for quite some time, became the accepted canvas for a new generation of children.
Of course, jack-o-lanterns have evolved over the years. Some people get pretty into it:
[fragment number=1]
[fragment number=2]
[fragment number=3]
[fragment number=4]
[fragment number=5]
[fragment number=6]
[fragment number=7]
Happy Halloween! Now, get carving.