History
This woman's one-piece bathing suit got her arrested in 1907
Annette Kellerman dared to show her legs on Revere Beach.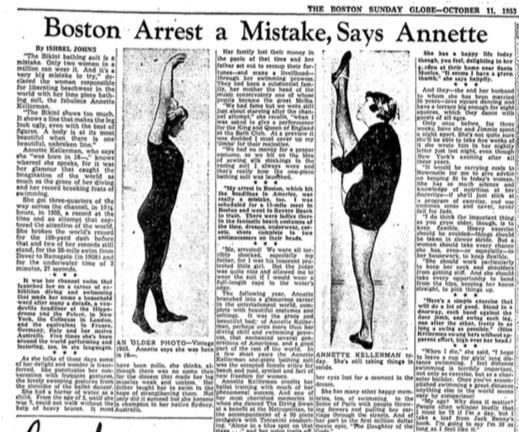 When Annette Kellerman stepped out onto Revere Beach in 1907 wearing a one-piece bathing suit that ended in shorts above her knees, her legs caused a scandal. Police were called, and she was arrested for indecency.
Those legs had also made her famous: The Australian swimmer held all the world records for women's swimming in 1905. She was a vaudeville star with an act full of high dives and underwater ballet. Newspapers hailed her as "The Original Mermaid.''
But Victorian-era vacationers didn't care to feel the sea or sun on their skin. In the early 1900s, women waded into the water in black, knee-length, puffed-sleeved wool dresses worn over bloomers with long black stockings, bathing slippers, and even ribboned swim caps, according to Victoriana Magazine. Kellerman may have been thoroughly covered, but to her fellow bathers, she may as well have been naked.
"Me, arrested!'' Kellerman said in a 1953 Boston Sunday Globe article recalling the 1907 incident. "We were all terribly shocked, especially my father, for I was his innocent protected little girl. But the judge was quite nice and allowed me to wear the suit if I would wear a full-length cape to the water's edge.''
The Globe article looked back on Kellerman's accomplishments, noting her records that rocked the competitive swimming world.
"She got three-quarters of the way across the [English] channel, in 10½ hours, in 1905, a record at the time and an attempt that captured the attention of the world. She broken the world's record for the 100-yard dash and two of her records still stand, for the 26-mile swim from Dover to Ramsgate (in 1908) and for the underwater time of 3 minutes, 27 seconds.''
According to Australia.gov, "Kellerman often competed against men, and often won.''
"My arrest in Boston, which hit the headlines in America, was really a mistake, too,'' Kellerman said. "I was scheduled for a 13-mile meet in Boston and went to Revere Beach to train. There were ladies there in the fantastic beach costumes of the time, dresses, underwear, corsets, shoes complete to two antimacassars on their heads.''
Kellerman was the real hero behind the modern day bathing suit, but when the bikini took over the world's beaches after it debuted July 5, 1946, she didn't like all the skin shown.
In the Globe article, Kellerman made this bikini-bashing statement:
"The Bikini bathing suit is a mistake. Only two woman in a million can wear it. And it's a very big mistake to try,'' declared the woman responsible for liberating beachwear in the world with her lone piece bathing suit, the fabulous Annette Kellerman.

"The bikini shows too much. It shows a line that makes the leg look ugly, even with the best of figures. A body is at its most beautiful when there is one beautiful, unbroken line.''
And that's from the woman who really had the best of figures.
Kellerman was called "The Perfect Woman,'' after Harvard professor Dr. Dudley Sargent compared her measurements—along with thousands of other women—to the measurements of the Venus de Milo, according to Kellerman biographer Emily Gibson. Gibson spoke of the godly comparison on ABC Radio National in 2005, as documented in Television Truths: Forms of Knowledge in Popular Culture by John Hartley.
"Before her he'd measure thousands of women, which I don't think would have been such a bad job for a Harvard professor,'' Gibson said. "What his standard was, was the Venus de Milo, and none of them had even come close to those measurements; and Annette Kellerman did.''
Beyond her feats and figure, the Globe article also highlighted what Kellerman did for history.
"In a few short years the Annette Kellerman one-piece bathing suit was the accepted female attire for beach and pool, symbol and fact of new freedom for women.''
Lieutenant Amy O'Hara of the Revere Police Department couldn't find any information about the 1907 arrest on old logbooks, but she could still tell that the event was monumental.
"Imagine wearing bloomers on a 90 degree day? That is a forward thinking woman who definitely had moxie,'' O'Hara wrote in an email. "I have been on for 21 years and was first woman to attain the rank as a sergeant. I can relate to her a little bit but what she did took courage back then.''
Bathing suits from the early 1900s
[bdc-gallery id="112400″]