History
95 years ago, the original Ponzi scheme fell apart
Charles Ponzi got rich quick, but got in trouble even quicker.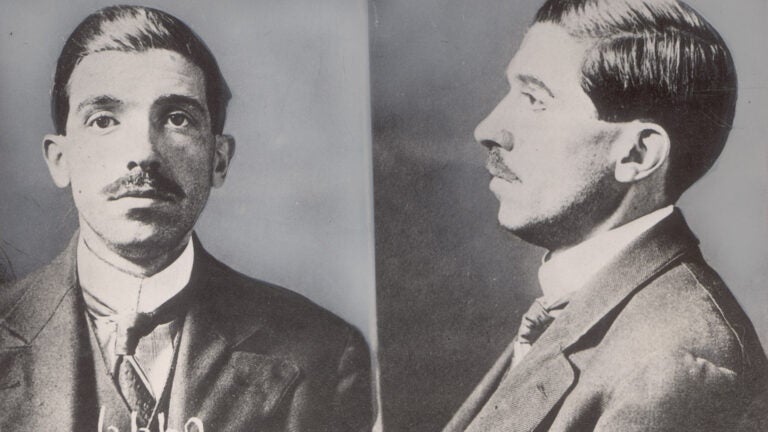 "Ponzi scheme'' has become a phrase to describe an orchestrated financial scam—similar to pyramid schemes, the Ponzi scammer sits at the top of a pile of duped investors who have blindly handed their money over to someone promising to lavish them with a low-risk return. It's a big risk with no real reward.
Though many have tried to rise to the ranks of ultimate scammer, it was Charles Ponzi himself that put the crime on the map. And he would've gotten away with it, too, if it weren't for those meddling reporters at the Boston Post.
Ninety-five years ago today, Ponzi's pyramid began to crumble. Here's a breakdown of his climb to the top, and his swift, far fall.
Who is Charles Ponzi?
Ponzi was born in 1882 in Parma, Italy, as an only child. According to MassMoments, an almanac of Massachusetts history, Ponzi was pampered by his mother, who often spoke of her dreams that he could one day have the kind of wealth her own family had enjoyed.
Ponzi set sail for the states in 1903, hoping to achieve that lavish lifestyle where the streets were "paved with gold.'' He landed "with $2.50 in cash and $1 million in hopes, and those hopes never left me,'' he later told the New York Times.
Hopes didn't help him right away. Before hitting it big, Ponzi was convicted of forging a check while in Montreal and spent 20 months in jail, according to Fraud Examination, a textbook meant to help identify and prevent financial fraud. That wasn't his only stint behind bars before his rise to the top: Ponzi spent an additional two years in a prison in Atlanta, Georgia for smuggling five Italian immigrants over the Canadian border and into the U.S.
What's his scheme?
In 1917, Ponzi ended up back in Boston working as a clerk, according to the Smithsonian, and married Rose Gnecco, who wanted a quiet, modest life—contrary to Ponzi's gilded dreams.
A letter from a business correspondent in Spain sparked the idea for his scam. Not the letter itself, but the prepaid reply postage that was included. Ponzi realized that he could purchase postal reply coupons in Spain, and redeem them for a 10 percent profit in the United State, according to the Smithsonian. His pyramid was beginning to take shape.
In 1919, his Securities Exchange Company opened for business. Ponzi started to recruit investors into his stamp-trading system, promising them a 50 percent return in only a few days, Mental Floss wrote. Customers lined up.
"We are all gamblers,'' he once said. "We all crave easy money. And plenty of it. If we didn't, no get-rich-quick scheme could be successful.'' And successful he was—at his height, Ponzi was pulling in $250,000 a day, according to the New York Times.
How far did he fall?
In the beginning, Ponzi kept his promises, but as more money was brought it—some 20,000 investors gave him about $10 million, the Times reported—the more he was in the hole. Money from new investors was sent right back to the old investors as their return. There weren't enough stamps to pay off what the new investors were adding to Ponzi's plate. He was burning his candle at both ends.
According to MassMoments, Ponzi was confident that, given time and higher-risk opportunities, he could pay back all of his investors. But the reporters got to him first.
Beginning July, 1920, the Boston Post exposed Ponzi for what he was. The series of articles won the paper its first Pulitzer Prize, Ponzi was charged with fraud and larceny, and a new name for get-rich-quick dreamers with bad business instincts was cemented in history.
A look at old newspaper advertisements
[bdc-gallery id="115351″]