History
That famous sailor kiss, 70 years later
September 2 is the official V-J day, but the celebrations—and the famous kiss—happened earlier.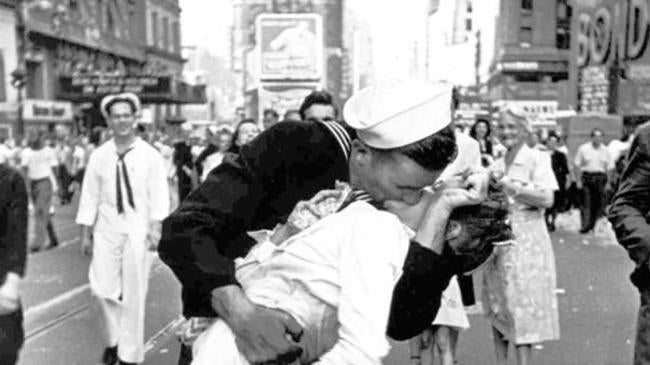 Seventy years ago today in Tokyo Bay, Japanese diplomats walked aboard the USS Missouri and formally surrendered to the United States. World War II was over.
But in America, news of Japan's surrender had broken two weeks earlier, on August 14. That joyous moment sparked an impromptu celebration in Times Square—and possibly the most famous kiss in American history between a white-capped sailor and a pretty nurse.
George Mendonsa, now 92 years old, still remembers kissing that nurse in Times Square.
[fragment number=0]
Born and raised on the water, Mendonsa grew up in a family of commercial fisherman in Newport, R.I., and decided to join the Navy once the Army started drafting men for the war.
After serving in the Pacific and helping to capture the Japanese island of Okinawa in 1945, Mendonsa was home on leave. When his brother-in-law's parents came to visit Newport, they brought their niece, Rita Petry.
"When I saw their niece, I went, 'Holy Jesus she's beautiful,''' he said.
But after a week, Petry left. Mendonsa made a reservation to fly back to his ship in San Francisco out of New York City. But first, he and Petry made a date to meet in Times Square on August 14, 1945.
She's in the iconic photo, but she's not the one Mendonsa's kissing.
"My date and I were at Radio City Music Hall watching a show. They stopped the show and made the announcement that the war was over,'' he said. "So my date and I came out into Times Square, and of course Times Square was wild.''
People were kissing everywhere in the busy thoroughfare. Mendonsa spotted the nurse. Caught up in the excitement of the war and emboldened by some alcohol, he grabbed her.
"I didn't know the picture was taken,'' he said.
Petry, now Mendonsa's wife of 68 years, can be seen smiling behind Mendonsa in the photo. But she didn't mind Mendonsa's impulse because everyone was celebrating.
[fragment number=1]
Alfred Eisenstaedt took the photo of the back-bending kiss for LIFE magazine—actually, four quick shots, before he ran off and never took down the kisser's names. Their identities have been contested by many, but Mendonsa is positive he's the sailor. He says his date in the background is the ultimate proof.
"She can be positively identified in that photo,'' he said. "After the war, we got married. She's the biggest proof.''
Other investigations have supported his claims. In 1987, Richard Benson, a professor of photography at Yale, analyzed the LIFE photo. In the image, there was a bump on the sailor's left wrist, so Benson asked to see Mendonsa's wrist, he said.
"Before he even looked at me, he knew what he was going to go looking for, because he saw it in the photo,'' Mendonsa said.
Benson issued a report that concluded Mendonsa was, in fact, the sailor.
But not everyone was convinced. Fourteen years later, Baback Moghaddam, a researcher at the Mitsubishi Electric Research Laboratories also examined the case. The conclusion: Mendonsa was probably the sailor, but results weren't definitive.
"It was a fun thing to do,'' said Richard Waters, the head of MERL. "I know for sure we weren't hired to do it.''
There's also a book, The Kissing Sailor: The Mystery Behind the Photo that Ended World War II, that names Mendonsa as the sailor. Mendonsa remembers when the author Larry Verria, a history professor, came to his house to speak with him. He's even meeting up with Verria for dinner this Sept. 2 in Falmouth, Cape Cod.
"There's a group down there that invited me down to have dinner and discuss my proof that I'm the sailor,'' Mendonsa said. [fragment number=2]
Even if he still has to prove it to some people, Mendonsa and his friends and family are confident that he's the sailor. It was one of Mendonsa's friends that first identified him, and pointed out the picture to Mendonsa himself.
"It was about 1980, and a friend of mine called me up one day and said to me, 'Where were you the moment the war ended?' I said I was in Times Square,'' he said. "And my friend said, 'I know you were because I've got a picture here in LIFE magazine and I know it's you.'''
[fragment number=3]
Mendonsa did keep in touch with Greta Friedman, the nurse he kissed, after they were reconnected years later. But 68 years later, he only has eyes for Rita, the girl who stood smiling in the backdrop of the photograph.
"If you saw her, then you're not surprised why I married her,'' he said.
Photos of VJ Day celebrations
[bdc-gallery id="116596″]