History
Remembering the day Boston went dark 50 years ago
Fifty years ago, a massive blackout plunged Boston and much of the northeast into darkness.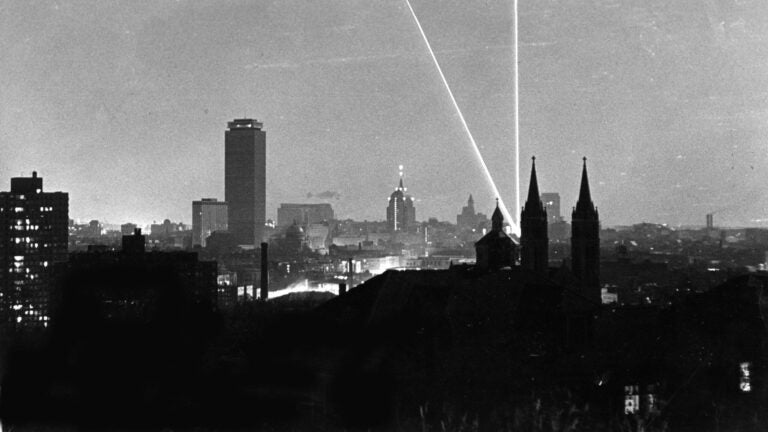 Fifty years ago, a massive blackout plunged Boston – along with much of the northeast – into darkness.
The lights went out on Nov. 9, 1965, just as the evening commute got underway, stranding commuters in New England, the mid-Atlantic, and Canada.
The blackout affected more than 30 million people and lasted for 13 hours, according to the New England Historical Society. Investigators later determined it was caused by an error during maintenance on a transmission line in Ontario, Canada.
Just minutes after the lights went out, then-Massachusetts Gov. John Volpe was reassured that the blackout was "not due to an attack or act of sabotage,'' according to a Boston Globe report from the time.
But with most TV and radio stations unable to broadcast, many New Englanders spent hours convinced that a malicious plot was afoot.
Here's how one Boston resident described her memories of the day, according to the Blackout History Project:
"The trolley stalled just outside the last tunnel stop, Kenmore Square … Were we ever surprised to find the lights out in Brookline and Boston when we got out of the tunnel! Street lights and traffic controls were dark, and people were directing traffic with flashlights. Even the Prudential Tower was dark. The streets were filled with people walking and standing around, as well as rush-hour auto traffic … At the time, I was living with a university professor and his family, helping out with the children. At first everyone was calm, using flashlights and candles. The neighbor downstairs was listening to his car radio, and reported to us that he learned that the entire Northeast was blacked out. Many people, including this family feared the blackout was part of a communist plot. We were still in the height of the Cold War, and nothing seemed too absurd at the time. By the time we were ready to flee, the true source of the blackout was beginning to be suspected, then confirmed.''
The blackout also "sparked a 300-person riot at Walpole State Prison,'' according to The Boston Globe.
In New York City, 800,000 commuters were trapped on subways, according to The New York Times.
Read more about the 1965 blackout at The Boston Globe.