History
Scholars team up to dispel 400-year-old 'fake news' about U.S.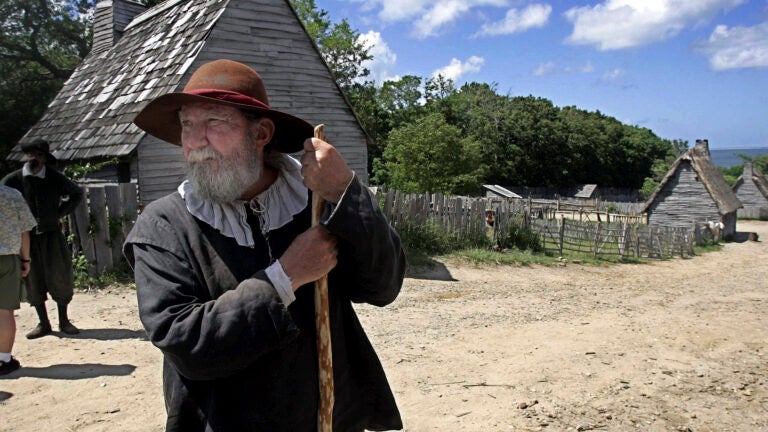 BOSTON (AP) — Fake news, quadricentennial edition: America's early settlers were all pious. The native people were savages. Freedom and liberty were available to all from Day One.
As the U.S. gears up to mark the 400th anniversary of its roots as a nation, leading scholars from around the globe are teaming up to dispel myths and challenge long-held assumptions about how the country was settled.
Their group, New England Beginnings, is using phone apps and searchable online archives to help set the record straight about the early 1600s — and fill in some important knowledge gaps.
"All many people know is that the Pilgrims landed in Plymouth in 1620, Boston was started in 1630, and then in 1776 we had a revolution," said Rose Doherty, president of the Partnership of Historic Bostons, a group devoted to the 17th-century history of the city and the much-older Boston in Lincolnshire on the east coast of England.
Doherty's organization is among 19 prominent groups that comprise New England Beginnings. Others include the American Antiquarian Society, the General Society of Mayflower Descendants, the New England Historic Genealogical Society, Rhode Island's Tomaquag Museum, Britain's History of Independence Project and the Leiden American Pilgrim Museum in the Netherlands.
Together, they see an opening as the U.S. prepares in 2020 to mark the 400th anniversary of the Pilgrims' arrival in 1620.
"There's a lot of attention being paid right now to how you distinguish between real news and fake news. But this is something historians grapple with all the time," said Francis Bremer, a professor emeritus of history at Pennsylvania's Millersville University and the coordinator of New England Beginnings.
A key focus, Bremer said, is presenting a much more complete and accurate picture of how the early settlers interacted with Native Americans.
Underscoring the gulf between how natives and white Americans see history, on every Thanksgiving since 1970, members of New England tribes have gathered in downtown Plymouth for a solemn National Day of Mourning observance that recalls the disease, racism and oppression the settlers brought.
"It's an important part of the story that's really taken a back seat for a long time. You just can't bury history," said Paula Peters, a writer and activist and a member of Massachusetts' Wampanoag tribe. "People don't know how quickly it became repressive for the Wampanoags. Ship after ship after ship arrived, and they came with laws and deeds. You really have to put yourself in the moccasins of the people who were enduring that."
Peters' pet peeve: "This myth of the friendly Indians and the grateful Pilgrims who met in Plymouth by the grace of God and everyone lived happily ever after."
New England Beginnings is turning to technology to remedy such misapprehensions — and highlight the crucial role the 1600s played in shaping what would become the U.S.
One member, the Boston-based Congregational Library and Archives, has launched a new app — "Puritan Boston Tests Democracy" — that sheds light on colonial hypocrisy. (Example: The settlers' first legal guarantee of individual liberty adopted in 1641 also condoned slavery.)
Another member, the Colonial Society of Massachusetts, is preparing an online edition of Plymouth Gov. William Bradford's history, "Of Plymouth Plantation," with notes reflecting Native American perspectives. A third, the Massachusetts Historical Society, soon will release a searchable online version of "The Winthrop Papers," a trove of material on early New England.
Scholars hope they can finally turn the page on folklore suggesting that all 102 Mayflower passengers were Pilgrims (only about 40 were) or that Puritan piety was as omnipresent as the Almighty (the word "fornication" peppers many early accounts).
"There's a very human record in church documents of people getting in fights, abandonment, sexual abuse," said Peggy Bendroth, director of the Congregational Library and Archives.
"They were very complicated people full of paradoxes and subtleties," she said. "It was just as much of a struggle for them as for us."
___
Follow Bill Kole on Twitter at https://twitter.com/billkole. His work can be found at http://bigstory.ap.org/journalist/william-j-kole.