History
Meet Honey Fitz: The 'pixie like' mayor of Boston (and JFK's grandfather)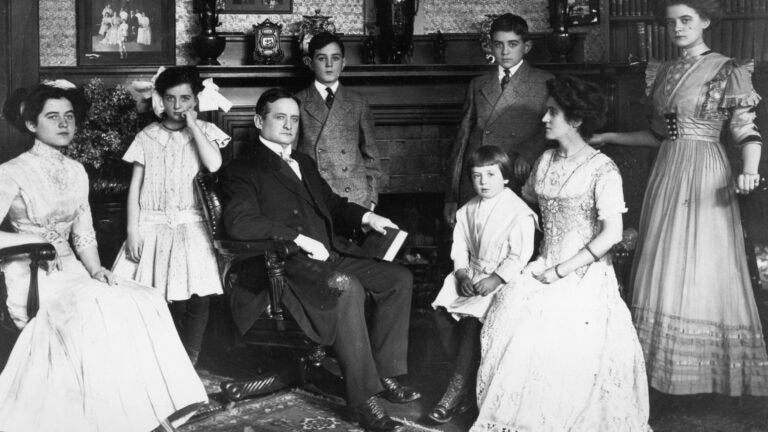 Nearly 100 years ago, President John F. Kennedy was born in a twin bed in the second-floor master bedroom of a stately colonial in Brookline.
The story of Kennedy's birth and political ascent is well told. Less known, however, is the tale of the man he was named after, who helped establish Fenway Park during his tenure as mayor of Boston. Nicknamed "Honey Fitz" for his animated personality, the colorful John Francis Fitzgerald left an enduring mark on both his grandson and the city itself.
From poverty to political powerhouse
Fitzgerald was born in 1863, the son of poor Irish immigrants in the North End and the fourth of 12 children (three of whom died in infancy). His early friends knew him as "Johnnie Fitz" or "Fitzie," historian Robert Dallek recalled in the Kennedy biography An Unfinished Life. According to the JFK National Historic Site, Fitzgerald was a competitive and entrepreneurial child, graduating from Boston Latin School and attending Harvard Medical School for a year, until his father died in 1885.
Fitzgerald returned home to support his family and went to work in Boston's ward system, the transactional political network that wielded incredible power over the city at the time. From there, he worked his way up the ranks and eventually got into politics, winning a seat on the Boston Common Council in 1891, the state senate in 1892, and, at the age of just 31, in the U.S. House of Representatives in 1894.
As a congressman, Fitzgerald authored legislation to fund construction of Boston's subway system and the Cape Cod Canal and battled anti-immigrant sentiment — even from within his state's own delegation. He famously convinced President Grover Cleveland to veto a House-approved anti-immigration bill by fellow Bay Stater Sen. Henry Cabot Lodge. Fitzgerald later claimed the two political adversaries had the following exchange after he gave a speech rebuking the Republican senator:
"You are an impudent young man," Lodge reportedly said, after running into Fitzgerald in the halls of the Capitol. "Do you think the Jews and Italians have any right in this country?"
"As much as your father or mine," Fitzgerald, the son of immigrants, replied. "It was only a difference of a few ships."
After three terms in Congress, Fitzgerald decided not to run for re-election. Instead, he launched a bid to be mayor of Boston. His populist 1905 campaign — with slogans like  "The People Not the Boss Should Rule"  and "Bigger, Better Boston, Busier Boston" — ironically condemned the very ward system he came from and carried him to victory in a hotly contested Democratic primary against an establishment-backed opponent. He went on to win in the general election as well, presciently declaring the victory as a "first hurrah for the dynasty to come."
A 'pixie like character'
By all accounts, Fitzgerald had an outgoing, colorful personality.
"A pixie like character with florid face, bright eyes, and sandy hair, he was a showman who could have had a career in vaudeville," Dallek wrote in his book.
His demeanor eventually earned him the nickname "Honey Fitz," as did his penchant for breaking into song at social events. According to Dallek, Fitzgerald "gained a reputation as the only politician who could sing [the popular barbershop ballad] Sweet Adeline sober and get away with it."
"His name was Honey Fitz because he was a smooth talker and lived to sing," said Jim Roberts, the supervisory park ranger of the JFK National Historic Site in Brookline. Dallek said Fitzgerald's personality made him a "natural politician."
"[Fitzgerald was] a charming, impish, affable lover of people who perfected the 'Irish Switch': chatting amiably with one person while pumping another's hand and gazing fondly at a third," he wrote.
More simply, Roberts said of the turn-of-the-century politician: "He was a B.S. artist."
Fitzgerald had six children with his wife (and second cousin) Mary Josephine Hannon. The oldest, Rose, would go on to marry Joseph P. Kennedy, whom she had first met as a teen during family vacations in Maine, according to the JFK Library.
Fitzgerald was reportedly upset that the couple's firstborn son, Joe Kennedy Jr., was not named after him. Nevertheless, according to Doris Kearns Goodwin's book The Fitzgeralds and the Kennedys, he proudly informed the local press that his grandson would go on to become the first Irish-Catholic president of the United States.
As it turned out, it was his second grandson, born two years later, who would receive both his name and follow through on that prophecy.
According to Roberts, Fitzgerald wielded great clout over John Fitzgerald Kennedy through his mother, who meticulously raised her children and served as their earliest teacher of cultural and political values.
"[Fitzgerald] is said to have had the most political influence over JFK," Roberts said.
He also helped save the future president's life.
At the age of 2 in Feburary 1920, Kennedy nearly died from a bout with scarlet fever. And since the family lived in Brookline, he wasn't allowed to be admitted to the area's best hospital, Boston City Hospital, which was only available to city residents at the time. But according to Roberts, Fitzgerald was able to "pull some strings" and persuaded the hospital to admit his grandson.
One political career fizzles, another is born
As mayor, Fitzgerald helped establish Fenway Park, where he threw the inaugural ceremonial first pitch in 1912, as well as the Franklin Park Zoo and the Boston Common's Parkman Bandstand. But as the political futures of Honey Fitz's descendants took root, his own began to unravel.
After serving two nonconsecutive terms as mayor, Fitzgerald dropped his re-election campaign in 1913, following a "nervous collapse" amid rumors that he had an affair with a cigarette girl, according to the JFK Historic Site.
Though he remained popular, Fitzgerald's public service career was on the decline.He lost to Lodge in the 1916 senate race. He ran for mayor again in both 1917 and 1925, losing both times. He twice ran for governor and lost, before running for Senate again in his late-70s in 1942 and losing in the Democratic primary. Fitzgerald did briefly serve in the House again after a tightly won 1918 race, but a recount overturned the election after an investigation found voter fraud by allies of the Democrat, according to Boston Globe reports from the archives.
Despite his own mixed campaign record, Honey Fitz was instrumental in launching his 28-year-old grandson's start in politics.
"[Fitzgerald] was very much concerned about young John being a candidate for public office," John F. Cahill, the chair of the state Democratic Party at the time, later said in a 1967 interview. According to Cahill, Fitzgerald lived near the party's offices in Boston and consistently nagged the party chair about putting his son in a good position to run.
"He'd come in every day, as sure as another morning would come, and want to know if I'd done anything for young John," Cahill said.
After a few meetings with Kennedy and some local political jockeying, it was decided he would run for Congress in the crowded 1946 Democratic primary field for the open 11th district seat. According to Roberts, the 83-year-old Fitzgerald actively campaigned for his grandson at rallies and out on the streets.
Fitzgerald was also said to be involved with the Kennedy campaign's alleged ballot shenanigans. Faced with a popular city councilor, Joseph Russo, a "proven vote-getter" who was also running for the House seat, the campaign sought out another Joseph Russo. Eventually, they found a 27-year-old janitor from the West End and put him on the ballot in hopes of confusing the electorate and splitting the Italian vote. According to one Kennedy autobiography, Russo, the janitor, was given "an undisclosed amount" to run.
Not that it mattered much. Kennedy went on to win the election with 22,183 votes, compared to 5,661 for Russo and 799 for the other Russo (in a 1964 interview, Russo said the same tactic was later used to defeat him in his city council race, when his opponents ran two other Joseph Russos against him: "I had to advertise myself as "Middle Russo").
But Fitzgerald never got to see the height of his grandson's career. Kennedy was elected to the Senate in 1952 (defeating Lodge's son, the incumbent), before winning the 1960 presidential election. Honey Fitz, however, died in 1950 at the age of 87.
According to the JFK Historic Site, more than 3,500 mourners crowded into Boston's Cathedral of the Holy Cross for his funeral and sang his beloved Sweet Adeline as his casket was carried down the steps.
"All his life he had loved his city of Boston and now Boston was returning that love," Kennedy later told one of his late grandfather's friends, according to Kearns Goodwin's book.
"Fitzgerald followers have often speculated upon what might have been the scope of their idol's career locally and maybe in the national sphere had not [it been for Curley]," The Boston Globe wrote upon his death in 1950, referring to fellow local political titan, James Michael Curley.
Shortly after his death, state officials named the newly constructed Central Artery in Boston the John F. Fitzgerald Expressway. A decade later, Kennedy renamed the presidential yacht, which the family frequently used during vacations on the Cape, the "Honey Fitz."
[bdc-gallery id="3402445″]