History
JFK had 5 brushes with death before that open-air Dallas car ride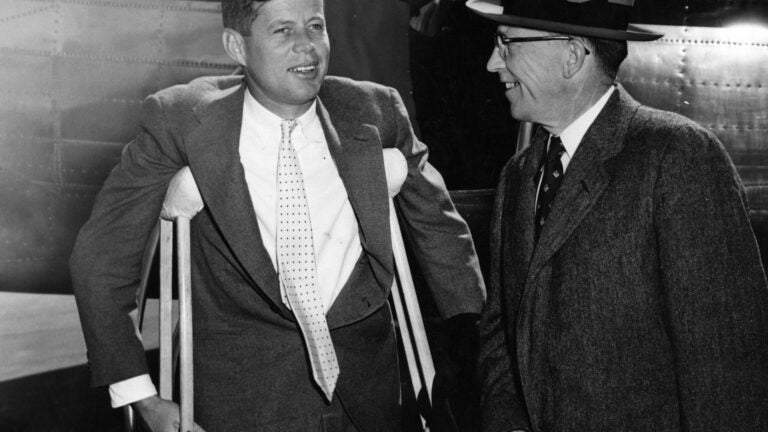 In a sense, it's incredible that President John F. Kennedy's tragically short life was as long as it was.
From his birth 100 years ago, Kennedy was afflicted by a plethora of illnesses and accidents that nearly cost him his life before he ever set foot in the Oval Office. In fact, Kennedy was administered last rites from a priest on four separate occasions, not including his 1963 assassination.
"When you're delivered last rites in the Catholic faith, they don't expect you to pull through," said Jim Roberts of the JFK Historic Site.
And yet each time, Kennedy did.
1. Scarlet fever
When he was just two years old, Kennedy contracted scarlet fever at his family's home in Brookline. On that same day, Feb. 20, 1920, his pregnant mother went into labor with his younger sister, Kathleen.
Roberts said it made for a chaotic scene in the Kennedy's Beal Street colonial, with the family nurse running back and forth from Rose to Jack in separate rooms. At the time, scarlet fever was potentially fatal for children. Fearing that Kennedy might transmit the disease to his newborn sister or his two other young siblings, Joe and Rosemary, the family worked to get him admitted to Boston City Hospital. But first, a priest was summoned to the sickly toddler's second-floor room to deliver his last rites.
Fortunately, with the help of some prominent family members, the Kennedys were able to get Jack into the hospital, which only admitted Boston residents at the time. According to Roberts, Kennedy spent six weeks receiving treatment and recovering there, followed by another six weeks in isolation recovering at a hotel in Poland Spring, Maine.
2. Close call in the Pacific
After graduating from Harvard University during World War II, Kennedy enlisted in the Navy and was sent to the South Pacific to command an 80-foot patrol boat, the PT-109. The 26-year-old lieutenant commanded a crew of twelve on the boat based in the Solomon Islands. According to the JFK Library, their mission was to interfere with Japanese supply shipments.
But one incident — later dramatized in a 1963 movie — put PT-109 in crisis.
Following a Japanese attack on their base in August 1943, Kennedy and his crew were ordered to patrol a strait in territory recently captured by the Americans, with their vessel idling and without radar. It wasn't until too late that they realized they were in the path of a speeding Japanese destroyer.
As historian David Nasaw later described, PT-109 was "rammed" by the larger ship:
The boat's plywood hull was ripped in two. Its gasoline tanks exploded, killing two crew members and injuring others. Jack and his crew stayed afloat in the waters for hours, holding on to the nearest intact piece of the hull.
According to Nasaw, the survivors then swam four hours to the nearest island. Kennedy, who already had a bad back because of injuries sustained during his short-lived football career at Harvard, nonetheless towed a badly burned sailor as he swam. They were eventually rescued after spending several days on the island, Nasaw wrote, but only after Kennedy actually used a coconut shell to send a message for help. As president, Kennedy kept the shell on his desk in the Oval Office.
Kennedy later received the Navy and Marine Corps Medal, the highest noncombat honor given by the services, for his "extremely heroic conduct." However, the incident is said to have contributed to his worsening, chronic back issues later in life.
3. Addison's disease emerges
Four years later, after the war ended, then-Rep. Kennedy was hospitalized in London and diagnosed with Addison's disease, a serious adrenal disorder that the family didn't disclose until after his death.
According to Chris Matthew's biography Jack Kennedy: The Elusive Hero, the doctor who treated him was less than optimistic about his future in a conversation with Kennedy's friend and travel companion, Pamela Churchill.
According to varying accounts, Kennedy was given last rites by a priest either during his voyage back across the Atlantic Ocean or upon docking in New York. Nasaw writes that upon his return, the young congressman's father, Joe Kennedy Sr., spread the fake story that his son had suffered a recurrence of the malaria he first contracted during WWII in the Solomon Islands.
4. The secret illness recurs
Kennedy again fell seriously ill during a trip to Asia with his little brother, Robert.
"Having Bobby along began as a burden for Jack, but in the end it saved his life," Larry Tye wrote in a piece last summer for The Boston Globe Magazine.
The two brothers traveled across the continent, stopping in Israel, India, Vietnam and Japan, among other places. In Tokyo, their last stop, Kennedy suffered a recurrence of his (still secret) Addison's disease. According to Matthew's book, Kennedy was hospitalized in Tokyo and, as his condition worsened, he "first became delirious, then comatose" with a fever of 106 degrees. According to Tye, it reached 107 degrees.
"They didn't think he could possibly live," his brother reportedly said. Again, Kennedy was given his last rites by a priest.
However, Robert never left his brother's bedside and was able to get him flown to an American military hospital on Okinawa, which proved critical as Kennedy's illness progressed.
According to Tye, Robert's actions not only saved the future president's life, but also helped the two brothers forge an enduring bond.
5. Back surgery and a coma
As Kennedy's carefully managed political ascent continued, so did his health issues. In 1954, less than two years after being elected to the Senate, doctors recommended that Kennedy undergo back surgery to fuse his spinal disks with a metal plate.
The root of Kennedy's long-term back problems may have been steroids he took in the late 1930s for intestinal problems, which resulted in the degeneration of his vertebrae, biographer Robert Dallek told The New York Times,
According to Nassaw, doctors told Kennedy in 1954 that if he did not undergo the surgery he could be confined to a wheelchair for life. And yet the procedure was still risky due to his adrenal condition.
Against the wishes of his father, Kennedy opted for surgery — and nearly paid dearly for it.
After the surgery was performed that fall, Kennedy developed a urinary tract infection. And just as doctors warned, the infection worsened due his Addison's disease. According to Nasaw, Kennedy's temperature spiked and he again went into a coma. And once again, if this story is beginning to sound familiar, a priest was summoned to deliver last rites.
And this time, the news of the Massachusetts senator's poor health spread nationally.
According to Matthews's book, Kennedy's Senate office secretary was told that he wasn't except to live through to the morning and a "Kennedy death watch" was reported on television.
"The odds made by the political wise guys were that he wouldn't live, and that if he did live he'd be a cripple," Ken O'Donnell, a political adviser and friend of Kennedy, told Matthews. "It became 'he might not make it.'"
But of course, Kennedy did make it. His recovery, however, was slow.
It wasn't until two months later, four days before Christmas, that he was flown from the New York City hospital where he underwent the operation to his parents' home in Palm Beach, Florida. According to Nasaw, Kennedy's father converted the ground floor of the home into a "makeshift hospital" with rotating shifts of doctors and nurses.
Kennedy spent the next five months at his parent's home recovering and didn't return to the Senate until May 1955, after a second back surgery.
His medical issues hardly ended there. As Nasaw writes, Kennedy was hospitalized at least nine different times within the next two years and heavily medicated. However, the young senator was able to turn the narrative to attribute his medical woes to a war injury and used his young, telegenic appearance to propel himself to the presidency within only a few years.
"[Voters] largely knew nothing of his illnesses and chronic pain," Nasaw wrote. "The were instead presented with the portrait of a superbly healthy young man, an athlete, a veteran, a smiling, affable, dynamic, energetic, youthful, handsome American with a smiling, healthy, athletic wife, parents, brothers, and sisters."