History
4 things you might not know about John F. Kennedy's years at Harvard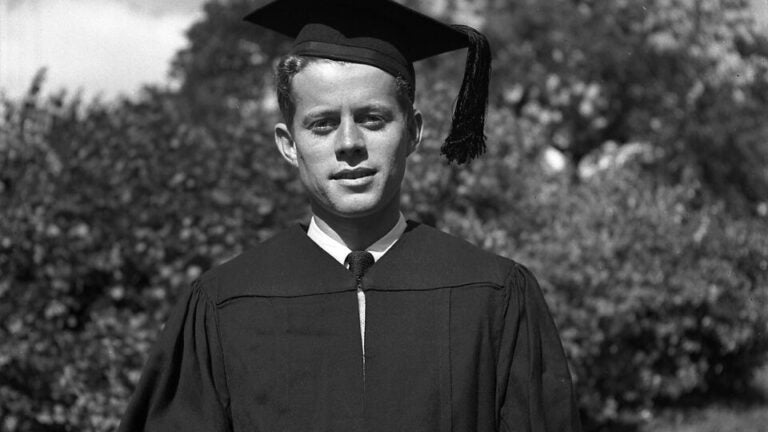 From Brookline to Hyannis Port to Cambridge, the early years of President John F. Kennedy's life can be traced through Massachusetts.
Despite spending most of his teenage years living in New York (and even briefly enrolling at Princeton), Kennedy returned to the Bay State to attend college at Harvard University, following in the footsteps of his father and older brother.
Kennedy left the Cambridge Ivy League school on course to become a political thinker that ultimately led the country. But that was hardly how he arrived in 1936.
Athletics over academics
In his first years at Harvard, Kennedy's academic interests were not that of a future president. Initially, he was far more involved in athletics.
Kennedy, listed at 6-foot-1 and 163 pounds, was an end for Harvard's freshman and junior varsity football teams.
"The most adept pass catcher was John Kennedy, but his lack of weight was a drawback," his freshman coach recalled in a postseason summary archived by the JFK Library.
It was also during his football career at Harvard that Kennedy reportedly suffered a spinal injury during his sophomore season, according to Michael O'Brien's biography, which purportedly contributed to the president's longterm back problems.
Kennedy was also a solid swimmer at Harvard. Like football, he swam for two years — mainly competing in the 100-meter backstroke and 300-meter medley relay. But health issues also marred his swimming career, as the Harvard Crimson recalled in a 1960 article.
Harold Ulen, varsity coach at the time, remembers him as a good swimmer, but not an outstanding one. Jack was very thin at the time and had spells of sickness, Ulen recalled.

During one of these spells he was in Stillman Infirmary when Ulen was scheduled to hold time trials for the Yale meet. Jack's roommate, football captain Torby MacDonald, smuggled food into his room and then smuggled him out of the infirmary in time for the trials. Tragically enough, he failed to qualify.
Kennedy also joined Harvard's sailing team during his sophomore year and was part of a six-man crew that won the MacMillian Cup at the 1938 Intercollegiate Championships at Hyannis.
Meanwhile in the classroom, Kennedy studied government and was mostly a C-student during those first two years, according to grade reports.
"He could do what he wanted, but did not waste time on what did not interest him," Arthur Holcombe, one of Kennedy's professors, told the Crimson.
Party planner
In addition to his extracurricular athletic activities, Kennedy was the chairman of what was in essence a party-planning committee during his freshman year.
Officially, the group was known as the Freshman Smoker Committee, and it was tasked with organizing a big annual class party in the spring. According to the program of the May 1938 party, the "Smoker" organized by Kennedy featured two jazz orchestras, as well as "free food, tobacco, and ginger ale." The party also included a toast from Boston sports writer Neil O'Hara and appearances by future Hall of Fame baseball players Frankie Frisch and Dizzy Dean.
His first election
The reason Kennedy was chairman of the Smoker Committee? He lost his class election. In fact, he didn't even make it out of the primaries.
The soon-to-be ascendant politician made his first run for elected office in 1936 — to be freshman president of the class of 1940. However, his powerful surname was of little help in the field of 35 primary candidates and Kennedy failed to get enough votes to make the final, six-person ballot.
Ultimately, the freshman class elected James D. Lightbody Jr., an Indiana native and the son of an Olympic gold medalist in middle-distance running. Lightbody Jr. died in 2011 at the age of 93 in Ohio.
Late for class—with a good reason
Just before the beginning of his senior, Kennedy wrote a letter to school officials alerting them he might be later for the start of semester — because he was in Europe helping the survivors of a sunken ship.
Kennedy had traveled overseas to visit his father, Joe Kennedy Sr., who was at the time the U.S. ambassador to the United Kingdom. While he was abroad, a German U-boat torpedoed the Athenia, a Scottish passenger ship cruising northwest of Ireland, on September 2, 1939 — a day before the United Kingdom and France declared war. Of the more than 1,400 passengers, 117, including 54 Canadians and 28 Americans, were killed.
In response, Kennedy Sr. dispatched his visiting son to Glasgow, where many of the rescued passengers were being sheltered. Reporting on the 22-year-old's efforts, one London Evening News journalist was effusive with praise, according to the Daily Record, a Scottish tabloid:
"Ambassador of mercy – Jack Kennedy, son of America's ambassador, Joseph P Kennedy, spent one of the busiest days of his young life today, going from hotels to hospitals in Glasgow, visiting the Athenia's American survivors.

His boyish charm and natural kindliness persuaded those who he had come to comfort that America was indeed keeping a benevolent and watchful eye on them.

Mr Kennedy displayed a wisdom and sympathy of a man twice his age."
In a letter dated September 13, Kennedy wrote to Harvard to let them know due to his responsibilities and a "lack of transportation," he likely wouldn't be able to return to Cambridge until "several days after the official entry."
"I hope that this will not endanger my standing, and I shall endeavor to get back as quickly as possible," wrote Kennedy, who went on to finish his senior year with straight B's.
According to the JFK Library, Kennedy's summer trips to England to visit his father facilitated his interested in global affairs and politics. His senior thesis critiquing's England's action leading up to the war was later published as a book, Why England Slept.
Gallery: JFK's life in photos:
[bdc-gallery id="3402445″]