History
Remembering the deadly F4 tornado that ravaged Worcester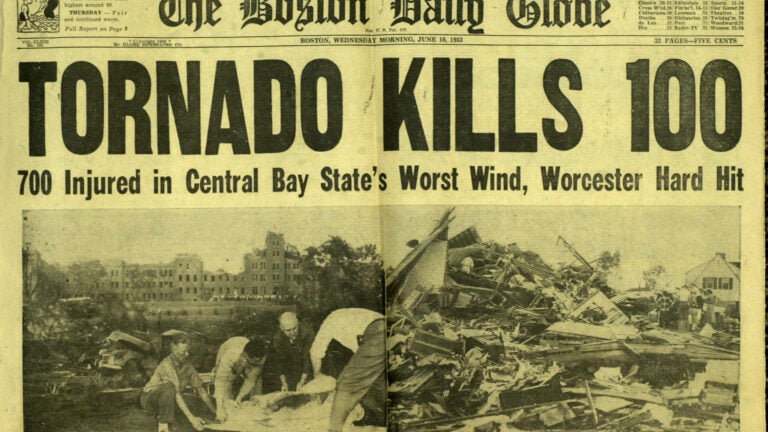 New England has seen more than its fair share of extreme and erratic weather. The region even averages a handful of tornadoes each year.
But what Worcester experienced in 1953 was unmatched in the area's history.
As residents across the state were setting their dinner tables that Tuesday evening, an F4 tornado descended on Central Massachusetts, blazing a 46-mile trail of destruction. According to reports at the time, the mile-wide funnel sent debris as far as Boston and the Cape.
Worcester had been through floods and hurricanes before, but nothing like the extreme, targeted destruction wrought in 1953, according to Robyn Conroy, a librarian at the Worcester Historical Museum.
"People would be in one area of the city and there was no sign of damage," Conroy told Boston.com. "A few miles in another direction, total destruction."
When all was accounted for, the June 9 twister left 94 people dead, nearly 1,300 injured, and 4,000 buildings damaged or destroyed. Around 10,000 were left homeless. At the time, the devastating event — which hit the Worcester near its historic population peak — was the costliest tornado in U.S. history.
In just 84 minutes on the ground, the tornado caused $52 million in damage, which, adjusted for inflation, would be north of $485 million in 2017 dollars. It wasn't until 1979 that it was surpassed as the most expensive American tornado.
The Worcester tornado was actually the third in a national series of deadly storms that week.
According to a retrospective produced by National Oceanic and Atmospheric Administration branch in Taunton, local meteorologists were aware of the weather system and discussed mentioning the possibility of a "tornado," but ultimately decided it would be "unnecessarily alarming."
Instead, they issued New England's first-ever "severe thunderstorm warning" around 11:30 a.m.
The tornado touched down sometime after 4 p.m. Its destructive path swerved through Barre; Rutland; Holden; northern Worcester, where 60 were killed; Shrewsbury; Westborough; and Southborough. Conroy said that — unlike in the Midwest — people in Worcester weren't very aware of the type of weather that could produce tornadoes. And without prior warning from the newspapers or meteorologists, many were caught off-guard.
"In the Midwest you have tornado sirens; they didn't have them in Worcester," Conroy said.
By 5 p.m., the dark, billowing column could be seen across Central Massachusetts, as William Chittick described in his 2003 book on the event.
When one hears the word tornado, the likely image is that of a rope, snake, or finger descending from the sky, carving a narrow but destructive path along the ground for a few miles before lifting back into the clouds. The historical literature of the Worcester Tornado, though, tells of a much different type of storm, a leviathan whose dimensions were simply unfathomable by any normal standard.
"The tornado was so large (a mile wide) that you couldn't see it," Conroy said. "It just looked like a mass of swirling debris."
The Boston Globe's front-page story the next morning also recalled the scene:
The horrific black funnel of swirling winds ripped homes to shreds and carried the debris 40 miles east to the Greater Boston area, where terrified residents saw it land in their yards and on streets.

Automobiles were picked up by the turbulence and twisted and mashed as though by a gigantic press.

Trees and poles came crashing down.

Power stopped.
Paul Nagle, a 19-year-old Millbury resident, was picking up family members from the Great Brook Valley housing projects in northwestern Worcester when the tornado hit.
"Just as I got out of the car, I saw the wind pick up two children and slam them against a house," Nagle wrote in the Globe the next day. "I knew then it was going to be wicked."
Nagle recalled grabbing his two younger sisters with each arm and running to the house where his older sister lived.
"After I got them inside, I had to lean on the door with all my strength to get it closed," he said. "I turned around in time to see my car being lifted up in the air and crashed down on the sidewalk. In the distance I could see houses going down like a row of dominos."
According to the Worcester Telegram, 15 people died in Great Brook Valley alone.
A priest and two nuns were killed at nearby Assumption College, where the Globe reported "most of the college personnel were injured, some seriously" as the tornado ripped through campus, leaving the school "in ruins."
Much of the college's main building collapsed and several other buildings were "demolished," according to a Westfield State University report in 2008. Assumption College was eventually relocated a few miles away after rebuilding the original campus was deemed too difficult.
[bdc-gallery id="3693222″]
In Shrewsbury, according to another Globe report, a car with passengers inside was blown from the shore into Lake Quinsigamond, where divers spent the next day searching for the bodies.
In Southborough village of Fayville, where the twister reached the end of its deadly path, three people in a post office, including a baby boy, were killed when the building collapsed due to the pillaging winds.
Footage of the aftermath depicts communities reduced to rubble.
Local relief efforts began immediately, according to Conroy.
"Neighbors helped each other out of destroyed homes and warned residents of downed power lines and gas leaks," she said. "Anyone who had a working car, rushed the injured to nearby hospitals."
Emergency responders, including 1,000 National Guardsmen, were sent from across the state, as Worcester's overwhelmed local hospitals worked to treat the injured. According to the Globe, Worcester City and Memorial hospitals were "overflowing" within an hour.
The following week, President Dwight Eisenhower allocated $500,000 in relief funds after observing the wreckage in a flyover. According to Conroy, contributions — including supplies, clothing, and food — to a locally formed relief committee totaled nearly $2 million.
"The response to the disaster was impressive and rebuilding started immediately," she said.
According to the NOAA, books and clothing were found 110 miles away on outer Cape Cod across Provincetown, Chatham, and Eastham. Incredibly, a frozen mattress was even found later in Massachusetts Bay near Weymouth.
Carol McCrohon, a Worcester resident who was celebrating her 10th birthday party when the tornado struck, told the Telegram in 2013 that she recalled seeing the family car fly by her home's second floor window. The car was reportedly later found a town over in Bolyston.
Worcester remains to this day the site of one of the top 25 most deadly tornadoes in U.S. history, amidst other locations like Mississippi, Missouri, Texas, and Kansas. No other New England tornadoes are on the list.