History
'The year that Maine burned': 70 years ago ravaging fires left thousands of Mainers homeless
"I tried to walk around the town. I might just as well have tried to walk in my furnace."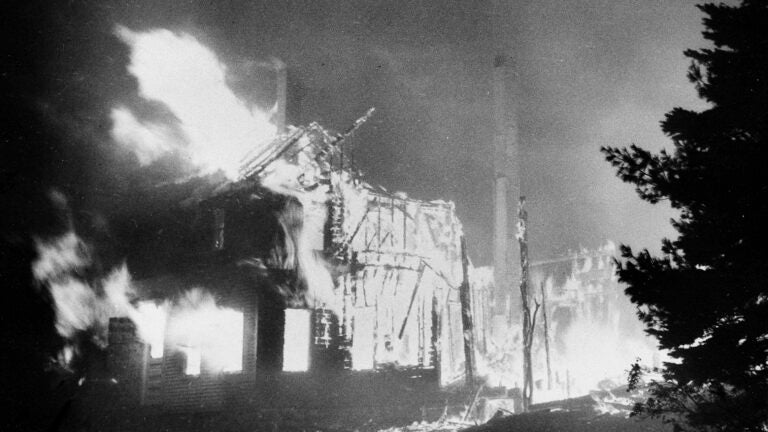 Seventy years ago, Maine was ablaze. 
Catastrophic fires swept through the state in October 1947 over the course of several weeks, burning more than 220,000 acres, killing 16 people, leaving thousands homeless, and forever altering some towns.
The National Park Service calls it "the year that Maine burned," and, according to the Maine Forest Service, it remains the largest forest fire of the state's modern history.
The state had a cold and wet spring that year, but, by mid-July, the weather had completely reversed, according to the forest service. By the fall, Maine had gone through 108 days without any "appreciable rain."
The drought was so severe that leaves had fallen prematurely, according to the service. Vegetation was "bone dry."
By October 20, there were 50 small fires burning around Maine, according to the Portland Press Herald.
The next day, strong winds fanned the flames.
In North Kennebunkport, a fire rekindled and jumped across Route 1, roaring toward the coastal villages and forcing residents onto the beach and into the water for safety, according to the Press Herald.
"800 homeless as fire sears Kennebunkport," a headline in The Boston Daily Globe read the next day.
"Only chimneys and foundations of houses, and twisted iron of stoves and plumbing and tools remain — silhouetted like weird distortions against a pall of smoke that covers the land and reaches a fog bank far out to sea," the Globe wrote of Kennebunkport's devastation.
But worse was yet to come.
"On October 23 all hell broke loose," according to the forest service.
The Press Herald reports the day became known as "Red Thursday" as hurricane force winds fed fires in York, Oxford, and Hancock counties. According to the forest service, families often only had a few minutes warning before they had to leave their homes.
In a video about the fire from the forest service, one Mainer describes the roaring fire folding over a home, like a wave breaking on the shore.
Water hoses steamed — houses exploded.
Carolyn Jackson, of Brownfield, recalled helping her mother make corn chowder that day to take to the fire line that evening. Firefighters picking up the meal at noon told her family they would be safe in their home. But by mid-afternoon, they were told they had 20 minutes until the fire was at their door.
"We were totally unprepared," she told the forest service.
According to the Press Herald, 75 percent of taxable property in Brownfield was destroyed.
In the span of one hour on October 23, a fire burned across six miles in Washington County, according to the forest service.
John Smith, of Waterboro, who had served abroad during the then recently-ended World War II, told the forest service he couldn't believe the noise:
I'd been overseas, and I think I was as scared during the fire as any time when I was over there, at times. You just figured that you weren't going to get out of it. Because you figured there was nothing that was ever going to put this fire out, you kinda were getting the feeling the whole state was going to burn. In fact, there wasn't much that stopped it until it got to the ocean.
Governor Horace Hildreth declared a state of emergency that evening, and a similar declaration was quickly made by President Harry Truman, making help available to the state from the Army and Navy.
'It's just plain hell'
A first-hand account of the fire in Bar Harbor on October 23 was published in The Boston Daily Globe the next day.
"It's just plain hell," Bar Harbor resident Morris Gilley recounted. Everything, he said, was on fire:
Our big hotels, people's houses, the big estates — everything's going up in smoke.

You just can't seem to stop it anywhere. The flames are jumping everywhere. Sometimes they burn down a whole street.

All those grand estates between Hull's Cove and Bar Harbor are just one big ball of fire — three miles of it.
Gilley said it took two hours for him to get to safety — he waded to the edge of the water and walked "clean around" the island. There were no lights in town — "the fire's light enough," he said:
The heat would suffocate you and the smoke — it's just a wicked kind of red and gray. I tried to walk around the town. I might just as well have tried to walk in my furnace.
Flames were present everywhere he turned:
You go about a block and you run into flames. You start back the way you came and there's flames. Then you run like hell through some yards to get out to safety …

It's just smoke and fire and somebody shouting for more water and then more smoke and fire again.
People were sitting in buses on the pier, waiting to be evacuated, he said. According to a Globe report, 400 people were rescued from Bar Harbor by sea.
'Damage — hell — there's nothing but damage'
Finally, rain began to fall on October 29, according to the Press Herald.
In one week, 15 fires each burned through at least 5,000 acres, according to the forest service. More than 2,500 people were left homeless across the state, and it was estimated at the time that the fires caused about $11 million in damage.
In his account of Bar Harbor, Gilley asked his audience to "add up" the biggest houses they'd ever seen, "swanky stores," historic landmarks, and public buildings to imagine what had been wiped out.
"Damage — hell — there's nothing but damage," he said, adding, "Why, brother, I'd say there was millions of dollars of damage."
About 17,188 acres burned on Mount Desert Island, including on Millionaire's Row in Bar Harbor, and more than 10,000 acres of Acadia National Park were burned, according to the park service.
With the disaster, Maine communities pulled together to help one another and fight the fires. The Red Cross and Civil Defense helped house the homeless.
The Globe wrote of the community-wide effort in Kennebunkport:
Plaid-shirted lobstermen. Summer residents, schoolboys, and even women and girls have fought side by side today along fire lines, lugging hose and Indian pumps and throwing up barrier ditches with shovels and grub hoes.
Those who escaped the flames, like Gilley, were quick to get to work helping others.
"Seen my wife? I haven't seen her since morning," Gilley said in 1947. "When'll I see her? I don't know. I'm going back and try and help the people get out if I can."
According to the forest service, efforts to fight the fire were complicated by the fact that in 1947 fire officials at the state and local levels had little ability to communicate with each other. The Press Herald reports that the fires forced major changes to how the state responds to forest fires and sparked the creation of a cross-border fire fighting compact that remains in use today.
The forest service says careless backyard debris burning, campfires, and even arson are believed to be the source of the fires.