History
Murder at Harvard Medical School: The story of the 19th century slaying that shocked Boston
Dr. John White Webster was convicted of murdering Dr. George Parkman in 1849.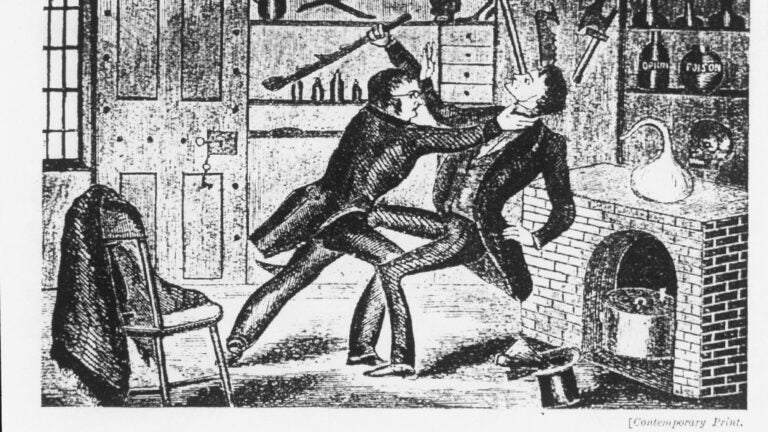 In the fall of 1849, a Boston man went missing.
And in the days following his disappearance, a dismembered body was discovered in a colleague's laboratory at Harvard Medical School by a janitor.
The resulting trial of Dr. John White Webster for the murder of Dr. George Parkman shocked the the city and captured national — and even international — attention, according to Peter Drummey, a librarian at the Massachusetts Historical Society.
"It's almost impossible for us today to imagine what a big story this was at the middle of the 19th Century," he said.
Here's a look at the main players, the crime, and the trial that continues to spark debate more than 150 years later.
Two doctors — a victim and a murderer
Both the victim, Parkman, and the man who would be convicted of his murder, Webster, were doctors at Harvard Medical School, which at the time was located next to Massachusetts General Hospital near the Charles River.
"What makes this both a luring murder mystery and a scandal is it involves old established Boston families," Drummey said. "The victim is both by descent and by marriage a sprig off an old New England family, which can fairly be described as a 'Brahmin' family. This kind of social elite that had made great fortunes and still was doing so."
In addition to being a prominent philanthropist, Parkman, who lived on Walnut Street on Beacon Hill, was responsible for his extended family's trust and was engaged in real estate investment and speculation.
"He's very, very wealthy," Drummey said. "He's also a person who has a reputation of dealing directly — going around and collecting rents himself, lending money, and then being vigorous about collecting the money. So he's a figure sort of involved in worthy causes but also a hard businessman as well."
Webster, who was also a doctor from a well-connected family, was a chemistry instructor at the medical school where he had his own laboratory in the basement of the building.
But, Drummey said, Webster, who lived in Cambridge, wasn't as successful, either professionally or financially, as Parkman. His family, in terms of social prestige, was also in the decline compared to Parkman's.
A crime that overlapped with Thanksgiving break
Webster had borrowed a "substantial amount of money" from Parkman, according to Drummey.
"It's understood that Parkman was said to be harassing Webster to recover the money he's owed," he said. "And they have an appointment to meet at Webster's laboratory in the basement of Harvard Medical School, and so on November 23, George Parkman sets off."
After his appointment with Webster, Parkman was never seen again.
Posters with his face were plastered around the city, with his family offering a reward in their effort to locate him.
Drummey said it wasn't immediately known that Parkman had had a meeting with Webster that day, but there was instant concern about his disappearance because it was known that he was involved in financial transactions and may have been carrying money around with him.
"After a few days this goes from, 'We're trying to find Parkman,' to, 'We think that Parkman may have fallen victim of foul play, been murdered,'" he said.
Police eventually learned of the meeting between the two professors and searched Webster's lab. They also began dragging the Charles River and Boston Harbor, looking for a body.
Meanwhile, Ephraim Littlefield, a janitor for Harvard Medical School whose apartment was in the same basement as Webster's laboratory and the room where bodies for the institution were dissected, had taken note of Parkman's disappearance and become suspicious of Webster.
During Webster's trial, the janitor recalled observing the professor behaving strangely — locking up his laboratory and lighting fires in the furnace.
"One of the things that makes Littlefield suspicious is Webster gives him a Thanksgiving turkey, which seems like a nice gesture, but they're distant from each other so Littlefield thinks it's peculiar," Drummey said.
According to the librarian, the janitor was so concerned that he broke into Webster's lab, which had been locked up for the Thanksgiving holiday weekend, at the end of November. His investigation of a "terrible stench" led him to the laboratory's locked privy, which he barged into.
He discovered human remains in the privy and notified the police. In addition to the burned bone and teeth fragments found in the bathroom, police also located human remains in a trunk in the lab and in the furnace.
Webster was arrested and charged with murder.
The murder trial for the masses
There was a day-to-day account of Webster's trial, which took place in March 1850.
Drummey compared the media's attention to Webster's trial to that paid to the O.J. Simpson case.
"That's the kind of scale of this," he said.
Headlines blared the progression of the case, and there was such interest in attending the trial, which took 12 days, that the seats in the courtroom were replaced with bleachers. People could buy tickets to watch the trial for a few minutes before a new group of spectators was brought in, Drummey said.
The librarian said it's estimated that thousands of people attended the trial, or at least witnessed parts of it.
"They were reading day-by-day accounts of it," he said. "There's evidence that this trial and the events leading up to it are being discussed all over the United States, and in Europe as well."
The trial was one of the first in American history where forensic evidence was presented, and both the prosecution and defense brought in medical school experts to testify, according to Drummey.
Parkman's dentist testified that he made the dentures found in the laboratory for the professor, while Webster's family members and colleagues expressed shock that he had been accused of murder.
"I have been acquainted with Prof. Webster for about 30 years. Have known his acquaintances," one colleague testified, according to The New Bedford Mercury. "I supposed he always stood as a man of kindly feelings. I never supposed him to be a man of violence."
Webster's trial was overseen by a panel of three judges, which Drummey said hindered the professor's later chance of appeal, and, at the time, defendants weren't allowed to testify.
According to the Mercury's transcript of the 10th day of the trial, Webster's defense team said their client did meet with Parkman on the 23rd, but only for "a few moments":
Beyond this the prisoner denies everything. If the government contends that the two men ever met again, they must prove it… But the defense has produced evidence going to show that Dr. Parkman did leave the building, as Dr. Webster says he did, and was seen abroad in the community. The case fails for the government if the jury believes that the evidence is entitled to credence. If it is believed that the remains of Dr. Parkman were found in the College, then there is a dark mystery which cannot be fathomed.
The next day, according to the Mercury, the prosecution presented its closing argument that "everything" clearly showed Webster murdered Parkman and kept the wealthy doctor's remains "under lock and key": 
The evidence shows that the remains found in the privy, tea chest, and the furnace were parts of one human body. The testimony shows that the remains were not used for the purposes of dissection. It is not contended that any other person had been killed except Dr. Parkman. The remains all afford points of resemblance, and none of dissimilarity to Dr. George Parkman.
A report in American Traveller on the trial captured the moment the guilty verdict was read:
Webster was executed by hanging in August 1850.
Meanwhile, the Parkman family moved to a new home at 33 Beacon St., where the librarian said they lived as recluses into the 20th century. George Parkman Jr., despite feeling that his father was judged unfairly during the trial as avaricious and bullying, eventually donated his inheritance and the house on Beacon Street to the city for the preservation of Boston's parks.
Drummey said there's been argument over the years that Webster did not have a fair trial by modern standards and that he didn't have effective representation in his lawyers, who, even as they argued that it might not be Parkman's body, put forward the idea that if their client did kill his colleague it was because he was being harassed.  
According to The Harvard Crimson, Webster later confessed to killing his colleague in a fit of anger.
Even so, Drummey said people still believe to this day that Webster was framed by Littlefield.
In recent years, a PBS documentary re-imagined parts of the story with actors portraying Webster and Parkman while historians explored the case.
"In spite of his conviction and execution, this is one of these stories where people come down very strongly on one side or the other, whether or not Webster is guilty," Drummey said.