History
When the Blizzard of '78 shut down Boston, the Garden stayed open
Thousands of fans came for the Beanpot. And when more than two feet of snow unexpectedly hit, hundreds stayed for a makeshift "party."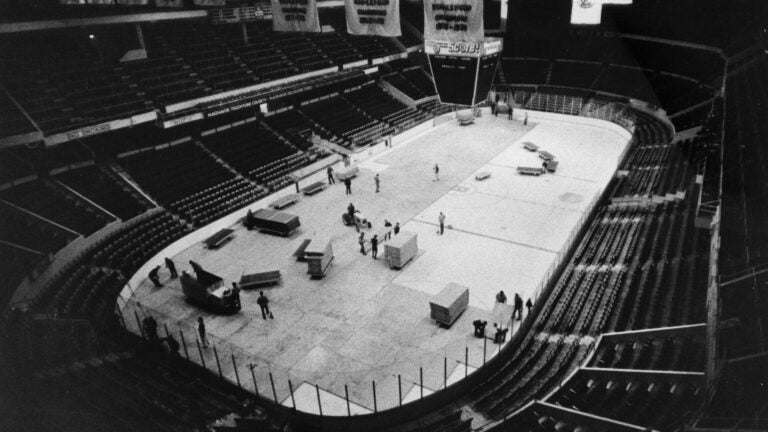 By all accounts, the 11,666 people who attended the 1978 Beanpot had no idea what they were getting into.
It wasn't exactly a sellout crowd at the old 15,000-seat Boston Garden. But considering that more than two feet of snow was about to send the region into a state of emergency, it wasn't a bad showing for the Feb. 6 opening round of the annual college ice hockey tournament.
Everett resident Jim Reilly was a freshman at Boston University at the time and had regularly attended the Beanpot growing up. With BU's team on track for their third-ever national championship, this year would be no different. Reilly met up with a handful of his college buddies that Monday night. They had no idea the "Blizzard of the Century" was about to hit.
"We heard that there was a storm coming in, but we never fully realized how serious it was going to be" Reilly told Boston.com in an interview. "There was no indication it was going to be 27 inches of snow."
Suzanne Weisse was 20 at the time, living in Wakefield. She and her brother had plans to meet up with a few friends, including her future husband, and take the train into Boston for the Beanpot. As they left their house, Weisse said she remembered being surprised at how much snow had already accumulated.
"We were running through the backyard," she said. "We were late, and my brother kept yelling, 'Hurry up, we're going to miss the train.' I was having trouble getting over the snow, and I said, 'I can't believe we have this much snow.'"
Nevertheless, Weisse's brother hurried her along for what would end up being a one-way train ride into Boston.
Harvard played Northeastern in the first of the night's two games, with the defending Beanpot champions defeating the Huskies 4-3 on a power-play goal in overtime. The second game saw a then-undefeated BU team beat up on Boston College.
During the BU-BC game, officials at the Garden made an announcement warning fans about the worsening conditions outside. Some people heeded the warning and left; others did not.
"As people were leaving we just increased our seats," Reilly said. "We were having a grand ol' time. We didn't care."
BU went on to blowout the Eagles 12-5. And toward the end of the game, Garden officials issued a different sort of warning: Stay.
The blizzard outside had gotten so bad — with tumultuous roads, cars completely buried by the snow, and the MBTA shutting down — that the Garden decided to remain open overnight as a refuge for those unable to make it home.
"All of the sudden they started flashing the lights on and off," Weisse said. "And we were like, 'Seriously?' We had no clue. Back then there was never a forecast. They never did it like they do today."
Many turned down the offer and decided to make their ways home through the blizzard — with varying success.
Reilly says he and his friends got on the Red Line after the BU game ended around 11:30 p.m., and almost got stuck on the Longfellow Bridge.
"I remember the train really struggling," he said. "It was really bad."
Reilly says they then got stuck at Harvard Square until 4 a.m. waiting for their bus to Arlington, where he lived at the time.
"The train behind us got stuck on the Longfellow, and we had to wait," he said. "They weren't going to move any buses until that train arrived. … A friend of mine's brother worked at Brigham's, so we loaded up on ice cream and I didn't wind up getting home until like 5 in the morning."
Weisse says they would have stayed if it weren't for her brother, who insisted he get home because he was supposed to cover a milk route the next day for their father, who worked at the Hood plant in Charlestown but was hospitalized at the time. Their trip home was a bit more harrowing.
"They kept saying, 'Don't attempt to make it home. It's really bad out there,' and we were like, 'How bad could it be?'" Weisse said.
She and six others piled into a friend's Saab, which miraculously hadn't been buried because of the wind, and attempted to drive back to Wakefield on I-93, which was littered with standed cars and covered with around a foot of snow, Weiss recalled. Visibility was not great.
"I was in the backseat sitting on somebody's lap, and I leaned over the front to look out the window, and I said, 'How is he driving? You can't see.' You could not see there was so much snow,'" she said.
Weisse says they made it off the highway but got stuck in Stoneham and had to walk the rest of the way to their home in Wakefield. Her brother tried to take another car back to Charlestown, got stranded, and ended up walking the rest of the way to the Hood plant, where he slept on a table.
"Hood's milk never opened up that day, and the car ended up getting hit by a plow," Weisse said.
Even those traveling within the city limits struggled.
Northeastern defenseman Jim Walsh told The Boston Globe that he and his family dug out their car without coats or gloves around 10 p.m. and reached Symphony Hall roughly 90 minutes later, where they got stuck on the way back to their Huntington Avenue campus.
"That's as far as we could go, so we walked back to our dorms," Walsh said.
In anticipation of the heavy snow, BU took a bus to the Garden.
"This is the first time we've ever taken a bus to the Beanpot," the team's coach Jack Parker told Channel 4 after the game. "We figured we might need it to get out of here."
To a certain extent, they all missed out.
"It was very much of a party, a cordial atmosphere," Kevin Coyle, a beer vendor from Watertown, later told the Globe.
According to Globe reports at the time, the Garden offered free coffee, soda, and hot dogs to the few hundred fans who stayed overnight at the arena.
"I have very fond memories of the whole time," Coyle recalled. "I was here for four straight days, sleeping in a sky box. It was very warm and comfortable. Color television. We broke out the food in the Blades and Boards room. It was quite a party."
Discerning employees even "knew where there was beer to be had," Rich Fahey, who also worked as a concession stand vendor that night, later wrote:
About 200 storm refugees were being rounded up and brought to the Blades and Boards Club underneath the Garden. There were very few women – the vast majority having too much common sense to attend a hockey game during a blizzard, or not to leave when warned to do so.

The temptation to stay put in the Garden was strong. There was free coffee, leftover hot dogs, and popcorn. We knew where there was beer to be had. Card games had broken out all around the club. Really, what else does man need?
Reporters, fans, and employees alike slept in the Garden's skyboxes and Celtics and Bruins locker rooms. With a state of emergency and driving ban in place, some remained there for several days, as the rest of the city remained virtually closed.
"Everything was shut down," Walsh described to the Globe. "People were waiting in line just to buy milk. You couldn't drive anywhere and there was so much snow that you could jump off the underpass at Mass. Ave. and Huntington Ave. into the drift."
According to the Globe, Garden officials kicked out the last fans on Thursday morning. By that point, Fahey wrote those who were still there were "pretty ripe." Most veteran ushers and vendors now keep a change of clothes at the Garden, the Globe reported in 1995.
The Beanpot finals ended up being postponed to March 1 when BU beat Harvard 7-1. Some argued that the opening round should have been postponed too, given the lengths the Garden ultimately had to go to house hundreds of stranded fans. But Steve Nazro, the Garden's longtime vice president of events, told the Globe at the time they would've caught criticism either way.
"All I know is," Nazro said, " we had a lot of happy people who stayed here."