History
An oral history of the fall of the Old Man of the Mountain
"You still look up and you hope to see something."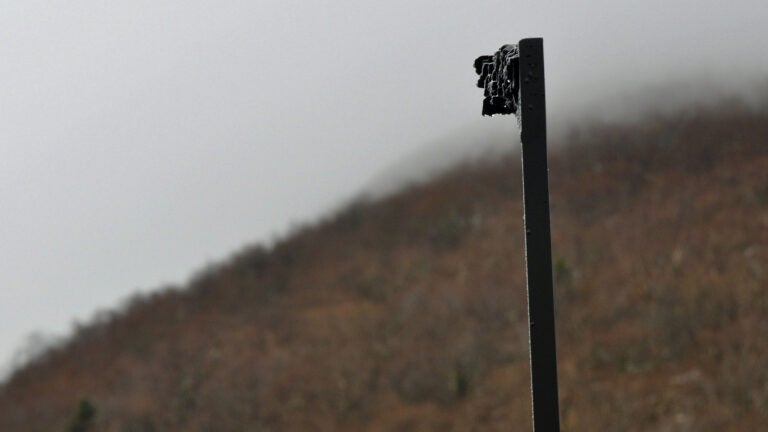 Fifteen years ago Thursday, New Hampshire lost its most iconic symbol.
Perched 1,200 feet over Profile Lake, the Old Man of the Mountain was formed thousands of years ago by the retreat of glaciers through Franconia Notch. The distinct granite formation served as the literal and symbolic face of the Granite State until May 3, 2003, when it crumbled in the middle of the night.
"It was a great run," Jeff Woodburn, a state senator who represents New Hampshire's North Country, said in a recent interview. "The Old Man of the Mountain, I think, still lives in us and inspires us, even though we can't look up and see it."
The following is an oral history remembering the Old Man and the days before and after it fell:
Dick Hamilton, former president and board member of the Old Man of the Mountain Legacy Fund: For 35 years I was the president of the White Mountains Attractions Association. Of course, the Old Man was our number one attraction. It was probably viewed by upwards of a million people a year, mostly in two or three seconds as they passed by out the window.
Sen. Jeanne Shaheen: The Old Man was really the symbol of New Hampshire. He appeared on everything from our license plate to the New Hampshire quarter, when the country had each state come up with a quarter design.
Niels Nielsen, the former longtime caretaker of the Old Man, to The Boston Globe in 1983: At one time, this whole area was covered by an ice cap, but in the earth molten rock was forming. The glacier moved north, steam rose from the earth, the granite crystalized, water got in the cracks and popped pieces loose. Isn't it strange that millions of pieces should fall away from the mountain and leave that face behind?
Hamilton: He looked like a stern man. When he was first discovered in 1805, they claimed that he looked like Thomas Jefferson, who was then president. Since then, he's gotten all kind of names. I used to go down several times a year and just sit in the plaza area, where we made the memorial, and just meditate. … It was 42 feet from the top of his forehead to the bottom of his chin, even though from down below he looked like [the size of a] thumb.
Shaheen: Every time I traveled around New Hampshire and went through Franconia Notch — I think this is true of everybody — you always looked for the Old Man as you were going through the notch.

Hamilton: It was sort of a thing you had to do. If you were vacationing in the White Mountains, at some point you had to go pay homage to that guy hanging on the cliff.
Amy Bassett, longtime spokeswoman for the state Division of Parks and Recreation: I grew up in Franconia, and, whenever we would drive through the notch, we would always look up for it. I don't know why we always looked, but we always looked.
Woodburn: Even today, driving there, life's different on one side of the notch than the other. That's sort of the front door to the North Country.
Shaheen: It sort of speaks to the independence and the self-reliance and the granite foundation of New Hampshire that I think people really identified with in the Old Man.
Hamilton: The interstate highway right there is only two lanes, one lane in each direction. It's the only place I think in the 55,000-mile interstate system in America where there are only two lanes. The reason for the two-lane exemption was because of the Old Man and the narrowness of the notch.
Bassett: I don't think anybody ever expected it. Because they were doing the maintenance, I don't think anyone thought this would happened.
Hamilton: I went up on the Old Man every year with the Nielsen family, who were doing the repairs and measuring, and we knew that someday it was gonna come down. We didn't think it was going to come down in our lifetimes, and, of course, the Nielsens' efforts were to try and seal all the cracks and to prolong his life.
David Nielson, the current caretaker, to the Associated Press at the time: Every opportunity, when we found some type of problem, we tried to head it off.
Niels Nielsen to Yankee Magazine in 1991: The Old Man heaves and sighs with changes in temperature. The forehead rocks back and forth. The turnbuckles act as hinges, so he has a little bit of space to move, but not a lot.
William Davis, writing in the Globe in 1990: Held together by steel cables, "the great stone face" is an engineering marvel as well as a natural one.
Woodburn: I wrote for the local newspapers and the heroic stories of people doing the cables and all that — that notion that man is stronger than the forces of nature and the environment. What we learn in the North Country is that the forces of nature are far more powerful than the imagination of man.
Hamilton: A few years before that, about 300 feet down the cliff, there had been a major rock fall. I think that kind of woke everybody up that, you know, someday this guy's gonna go, too.
Two rock climbers — Matt Shannon of Sanbornton, New Hampshire, and Jacob Hadden of Montpelier, Vermont — told the Associated Press at the time that they were sleeping in a van in the Profile Lake parking lot when a long rumbling sound woke them sometime around midnight Saturday morning.
Hadden: We heard a loud rumble.
They said the sound lasted about 5 to 10 seconds, but they thought nothing of it and went back to sleep. Seismologists say that a 2002 earthquake in the Adirondacks probably loosened the rock — specifically the Old Man's jaw — and that the weather conspired to eventually cause the entire face to collapse and slide down the mountain. 
It wasn't until the sun came up that Saturday morning that two Franconia Notch State Park rangers noticed the Old Man was gone. 
Amy Cyr, one of the park rangers, to the Globe at the time: We looked at each other and said, "It's not there." We both side-stepped and looked again, and he still wasn't there. My stomach dropped.
Hamilton: It was seven o'clock in the morning, and I had a phone call. It was my assistant, who now runs the White Mountains Attractions, Jayne O'Connor, and she said, "I'm sitting in the northbound parking lot and the Old Man of the Mountain is gone." And I said, "What?" She repeated it, and I said, "You're kidding me." And she said, "No, for real." I said, "OK, I'll be there."
Bassett: I don't think I'll ever forget the call. My supervisor at the time said, "The Old Man fell." I was like, "Come on, this is a joke."
Hamilton: I live 10 miles from the site, and I probably made the 10 miles in six minutes.
Bassett: My parents were on their way down for my daughter's birthday, and I asked, "Did you guys notice anything different as you were driving through Franconia Notch?"
Mike Pelchat, a state parks official who hiked up the mountain to make sure there were no signs of foul play, to the AP at the time: With heavy rains and high winds and freezing temperatures, the combination was just right to loosen him up. We always thought it was the hand of God holding him up, and he let go.
Hamilton: As we were standing in the parking lot, about eight o'clock, a state trooper came in, because it had come over the state police radio and I asked him, I said, "There's going to be some media interest in what happened here today. Can I have this parking lot for the media for a few hours?"
Shaheen: I wasn't in office at the time, so I just remember hearing the news reports.
Bassett: I experienced it on the PR side. … It turned into this media frenzy.
Hamilton: I think we had somewhere in the area of 50 to 60 members of the press and television. By one o'clock that day, there were five satellite trucks, broadcasting live all over the world. One of them was CNN, so people in Australia heard about it before people in Franconia who didn't have a the TV on.
Shannon: We had been climbing all day and didn't know about it.
Woodburn: My middle son had just been born, and, of course, I was focused on that. It was in an NICU. It was a very intense couple of days. I remember walking back and forth and reading the papers at the Elliot Hospital and seeing these multiple pictures of the Old Man, intact and then gone. I just remember thinking, "That's an odd picture."

Paul Bagalio, a Vermont chemist who made an epoxy used to patch the rocks, to the Globe at the time: I never thought I'd see the day, and I hoped I never would. Niels always said, "God made this, and when God wants to take it down, he'll take it down." I'll never forget that.
Craig Benson, then the governor of New Hampshire, to reporters at the time: Nature put the Old Man of the Mountain where it was and made what it was. We're good, but we're not as good as Mother Nature.
Pelchat: There's only so much you can do.
Bassett: I remember being down there, down by the lake. This lady came down to the lake with a bouquet of flowers and let it go in the lake, and started crying. It was really interesting how — it was just a piece of rock — it affected people.
Shaheen: In March of 2003, my daughter and I went up to the North Country for a weekend, and, I can remember as we went through Franconia Notch, we stopped and we got out and we walked down the path and we looked at the Old Man. And went down to Profile Lake, and I was so glad that we had done that when I heard that he was no longer there. It's like this last special memory of having gone to see the Old Man with my daughter.
Bassett: I think we all realize it was important to New Hampshire, and was an important icon to New Hampshire. But we didn't understand the magnitude until after it fell. I mean it was covered throughout the country. We were getting letters and stories from people throughout the country, and that really hit home.
Hamilton: In the weeks after that we had over 3,000 sympathy cards — messages from people all over the world, saying how they were going to miss it and how sad they were that it was gone.

Woodburn: We're shocked when something that we know is being held up with cables and rods and things ultimately could fall. Somehow our ability to control nature, to keep that face there, was something that we'd ever not be able to do — it's the story of the Titanic. It's the story of all these things. Nature wins.
Bassett: We were getting hundreds of people emailing sharing their experiences.

John Corrigan, of Penacook, to the Globe at the time: If the Old Man can fall down, then possibly the Red Sox will win the World Series and we'll see reform in the state's tax system.
In the week following its collapse, Benson announced a 12-person committee headed by former Gov. Steve Merrill would decide how to "memorialize what was lost and move forward at the same time."
Benson to reporters at the time: The Old Man is counting on us not to forget his legacy and we won't let him down.
Hamilton: I managed to get myself on it. We met a few times in Concord and had all kinds of ideas throwing around.
Benson at the time: I have 17,000 e-mails, voicemails, and regular mail to deliver to you. If you have any shortage of ideas, let me know. I have plenty more to throw into the hopper.
Hamilton: We had some weird ideas.
Woodburn: Of course, you go through different stages like "OK, now we're going to build something just like it, and we're going to force it to go back up there."
Jim Fadden Sr., owner of Fadden's General Store in North Woodstock, to the Globe at the time: We have the technology to rebuild it. I'll know it's not the same. My kids will know it's not the same. But generations down the road won't know the difference.
Mo Mulkigian, of Lyman, to the Globe: Maybe Raytheon will rebuild it. Then it will be the Raytheon Old Man. Or the IBM Old Man. Or another sponsor.
Rick Fauteux, of Bristol, to the Globe: They should get the guy who built Mount Rushmore. Or his kids. I'm sure he had kids. Get them up here.
Hamilton: There was one guy who was really, really pushing a fiberglass replacement up there. It would've been made out of fiberglass and steel. I said to him at one point, "You know the day that the Old Man collapsed, they estimate the wind up there was up 75 mph and we know it's been over 100 mph. You think your fiberglass model is going to stay there?" [laughs]
Jules Doner, of Campton, to the Globe: Nature is taking its toll on the Old Man just like it does on all of us. I'm sure with modern resins and plasters they could do it, but I'd rather see us accept it rather than fight it. I think we've got enough falseness in this world already.
Woodburn: The notion that we would spend a lot of money to try to create something that looked like Old Man — to try to trick the eye — really goes against the grain of that spirit of struggle and people. I think that's what it's always represented, at least to me — that notion of people trying to make a living, and live, in an environment that is always a challenge.

Shaheen: What we could do trying to duplicate that would've have the same significance.
[bdc-gallery id="8216817″]
The committee ultimately decided that nothing would be done on the mountain. Not only was the rock too soft and unstable, but local residents protested that replicating the landmark would be "inappropriate and disrespectful." Instead, a memorial plaza was built on the shore of Profile Lake in an area where the Old Man used to be viewed. The memorial includes seven profilers that provide an outline of what its face used to look like. It was dedicated in 2011.
Hamilton: If you stand in the right spot, you get an image of the Old Man off the profiler aimed on the cliff where he once was. We financed the thing by selling granite pavers and benches. It's amazing to me when I'm down there to see the people who have come there with their families. Some of them never saw it and don't have any idea of what it was.
Shaheen: It is a wonderful way to remember the Old Man. And to be there to remind people of what nature did in the White Mountains.
Hamilton: I live in Littleton, and my office is in North Woodstock. I commuted through the notch every day. So on my trip home at night, I would look out the window, whether I could see him or not in the fog or dark, and say, "G'night, boss." [laughs] And I still do it today.
Shaheen: I still, as I go up to the North Country, when I go through the notch, I look for the Old Man. It's sort of an automatic reaction.
Woodburn: You still look up and you hope to see something, but you never do.