History
'Masses of wreckage': The painstaking cleanup and tragic aftermath of Boston's Great Molasses Flood
"It was laborious and painstaking to clean out those basements. No question about that."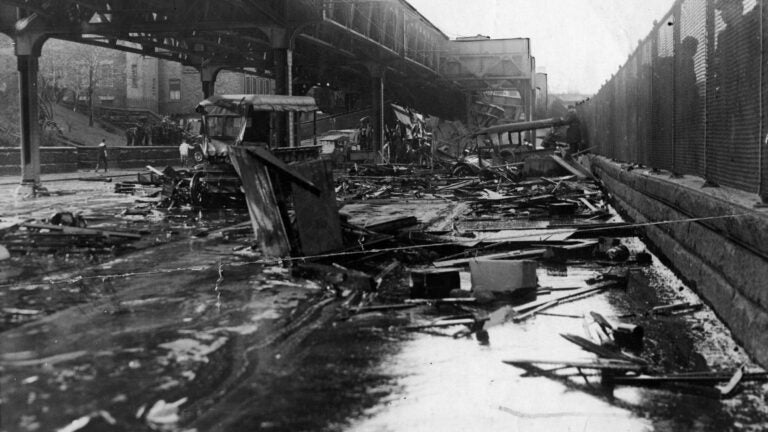 On the night of Jan. 15, 1919, over 2 million gallons of molasses that had burst free earlier that afternoon from a massive storage tank in Boston's North End thickened as temperatures plummeted after sundown, leaving emergency crews with — quite literally — a sticky situation.
Beneath the gooey tar, bodies of victims from the Great Molasses Flood lay, some of which would remain frozen in their positions for days as workers tried relentlessly to break through the surface of the stubborn substance.
"Molasses doesn't totally harden, but it does congeal," Stephen Puleo, historian and author of "Dark Tide: The Great Boston Molasses Flood of 1919" told Boston.com recently. "People are out with picks and out there with chisels trying to do this."

As the bodies of victims were recovered and others succumbed to injuries, the death toll would eventually total 21 with an additional 150 injured in Boston's most bizarre tragedy.
Here's how the spill on Commercial Street was cleaned up and what followed in the wake of the molasses tidal wave:
The recovery effort took days
Crews tasked with locating bodies — particularly of victims who were reported missing in the immediate aftermath — seemingly worked around the clock to get to them, as many were covered in layers of not only molasses, but by mounds of debris from the former tank shell and six collapsed buildings, newspaper reports from the time show.
Of the 25 horses whose lives were also claimed, their bodies, too, would be covered by the deluge and browned by the molasses that coated everything in its way.
As the days beat on, workers would uncover each victim one at a time, as "grief-worn and anxious relatives called for information regarding missing ones, men, women and children," one Boston Globe dispatch on Jan. 17 stated.
"According to the police, firemen and other experts who have been working the sticky, smelly substance and in and about the twisted, broken, torn masses of wreckage, it is almost a foregone conclusion that other bodies will be uncovered," the report reads. "To what heights the list of dead will mount is problematical."
Doubts, questions, and declarations about what exactly happened to the tank swirled
The fatal disaster sparked a debate over what was to blame for the storage tank's rupture and unloading of over 2.2 million gallons of molasses.
Boston Mayor Andrew J. Peters, upon returning to City Hall after touring the damage, called for an investigation. He vowed the city would aid the victims and their families "in every way possible."
Experts and city officials initially pointed to a few rivets on the side of the tank that had given way, "resembling the barking of a rapid-fire machine gun" when they burst free, the Globe reported. Still, they initially declined to issue any sort of finding.
Federal investigators concluded later that week that some fermentation took place inside the tank. Poor craftsmanship and materials only made the situation worse, they claimed.
United States Industrial Alcohol (USIA), the company that owned the 50-foot tank, however, contended that an outside force was at the center of the event and quickly objected to the fermentation theory.
"If there had been any indication of weakness in the structure, it would have been apparent to the two men who examined it twice that day," Harry F.R. Dolan, a company attorney, told reporters at the time.
Years later, USIA would press in court that anarchists dropped a bomb inside the vat — a defense that did not hold up.
Boston Harbor played a pivotal role in the cleanup
Getting the molasses off the streets and out of homes and businesses proved tricky — at first.
The emergency response crews tried flushing it all away using water from fire hydrants, but they didn't have much success, according to Puleo.
"Finally, it's one enterprising firefighter who has the idea that maybe salt water — the brine from salt water — would cut this molasses and allow it to be washed away, and that's exactly what happened," Puleo said in an interview.
Millions of gallons of salt water were pumped in to wash away the molasses — a process that would leave the harbor with a shade of brown for months afterwards, he said.
"The salt water of the harbor 'cut' the molasses, and before dusk the circular top of the wrecked tank, which expert steel men had been attacking steadily for 48 hours with gas torches, began to resume [its] natural color," a Globe report reads.
Items, from furniture to clothing, were reportedly strewn about the wreckage, prompting officials to clamp down on potential looting efforts, according to a Globe article.
George Kakavis, a wholesale banana retailer on Commercial Street, just across from where the tank stood, was apparently anxious in the days that followed.
A cigar box he stuffed with $4,400 was hidden beneath two bunches of his fruit in his basement, another article states. The cash — the focus of a few newspaper write-ups — was buried beneath 12 feet of debris.
Hydraulic pumps were brought in to swoop away all of the gooey paste that congregated in area basements.
"It was laborious and painstaking to clean out those basements," Puleo said. "No question about that."
In total, it would take about six months to get the area back to normal, including the reconstruction of the damaged elevated railway that connected passengers between North and South stations, according to Puleo.
Some molasses was left lingering
While crews were ultimately able to wrangle and remove all that molasses from the North End, those efforts didn't stop the substance from getting everywhere in town.
Molasses was found on horse troughs and pay phones, Puleo said. Commuters trekked it onto subway cars.
Even as those sticky spots would eventually give way in time, the smell of molasses would reportedly hang above the North End, wafting out of basements on hot days in particular, for decades to come.