History
Slave owners' legacies may live on Cambridge streets. The city is working to find out where.
"It's incumbent upon all of us to do something about it, to correct that wrong, to acknowledge it and then say, 'How can we make it better?'"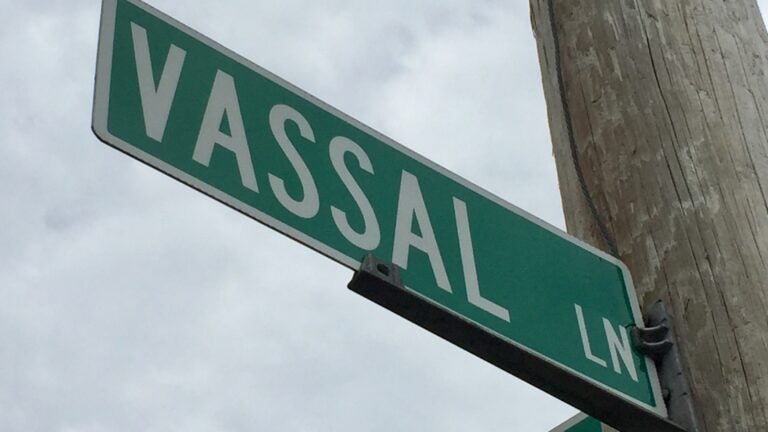 The paper trail that reached through time had once ended abruptly for Cambridge City Councilor Denise Simmons.
The difficulty in chasing down the names, dates, and places from centuries ago is difficult enough alone for amateur genealogists. But there is an even higher burden placed on those seeking something, anything, that tells of the lives lived by their enslaved ancestors.
So when Simmons got the call that her great great grandmother's name turned up in old court records, the discovery — though only a name — was anything but small.
So where was it found?
In a will — listed as property, Simmons says.
The tedious work of combing through what's left behind may seem like trying to build a puzzle without the pieces.
But it's work the city is setting out on after two policy orders penned by Simmons launched Cambridge's dive into looking at if and where names of people who were tied to the slave trade and of perpetrators of past tragedies have been immortalized on schools, memorials, and monuments — places where names written only into wills were left off of street signs and buildings.
The undertaking is still in its early stages, but Simmons said the intent is to ultimately take action based on what the city finds in its research, including finding new names to take their places.
"As we become more cognizant and realize how people have been marginalized … it's incumbent upon all of us to do something about it, to correct that wrong, to acknowledge it and then say, 'How can we make it better?'" Simmons recently told Boston.com.
'A very wicked man'
Although there is no inventory of places to immediately consider, Simmons knows at least one: Vassal Lane, a half-mile road between Huron Avenue and Fresh Pond Parkway. The thoroughfare is mostly residential, but it's also home to the Vassal Lane Upper School.
The name comes from Henry and Penelope Royall Vassall, British loyalists who lived an opulent lifestyle in their mansion on present-day Brattle Street.
Vassall's wealth came from his father, who the Cambridge Historical Society describes as "a prominent Jamaican planter." The family owned two slaves and had five servants to tend to their sprawling estate, complete with orchards and gardens, according to the group.
One slave recalled Vassall was "a very wicked man."
"He was a gamester and spent a great deal of money in cards and lived at the rate of seven years in three, and managed to run out nearly all his property," the unidentified slave said, according to the society. "He was a severe and tart master to his people and when he was dying asked his servants to pray for him. They answered he might pray for himself."
Elsewhere, other prominent residents with ties to the slave trade were also connected to Harvard University.
School presidents Increase Mather, Benjamin Wadsworth, and Edward Holyoke all owned slaves in the early 1700s, according to "Harvard and Slavery: Seeking a Forgotten History," a 2011 report by Harvard history professor Sven Bekert, graduate student Katherine Stevens, and Harvard and Slavery Research Seminar students.
Wadsworth, whose name appears on the school's historic Wadsworth House, owned two slaves named Titus and Venus at the house, the report says.
Later, Holyoke's slaves, Bilhah  and Juba, worked there. A third slave, Cato, is also mentioned in Holyoke family diaries.
Two of the men's names appear in modern-day Cambridge: Wadsworth Street, Holyoke Place, and Holyoke Street.
Brattle Street, too, harkens back to William Brattle, who was a minister at the First Church of Cambridge around that time and owned at least one slave.
Charles Sullivan, executive director of the Cambridge Historical Commission, said the most definitive source for researchers seeking to find slaveholders are annual assessor records. Horses, houses, and, yes, people were catalogued yearly.
In 1749, 12 people owned a total of 15 slaves, ranging from ages 12 to 50 years old, in Cambridge, Sullivan said. (All of the owners had one slave, except for Vassall, who owned four at the time.)
The large majority of Cambridge's assessor records are inaccessible. Sullivan has been working off documents for the years 1749 and 1783 — the year slavery was abolished in Massachusetts — the only assessor files that exist from the 18th century.
"We know exactly who they belonged to… so we have a pretty good sense of what the slaves might have been doing," Sullivan said.
'How do we lift up people … on whose back the city of Cambridge was born?'
For Simmons, some inspiration for the project came from Harvard's work in confronting its own past.
In 2016, the school's recognition of its slaves led to a plaque in their honor that's now affixed to the exterior of the Wadsworth House. The institution also launched a recommendation committee to help guide the university in its research regarding its history.
More recently, Simmons also found a roadmap of sorts from officials in New York City, where, last year, a statue of James Marion Sims, known as "the father of modern gynecology," was removed from Central Park.
Between 1845 and 1849, Sims carried out experimental surgeries on his enslaved women. The statue was moved to the Brooklyn cemetery where he is buried. Mayor Bill de Blasio later ordered that officials review the city's complete roster of monuments and who each one honors.
Plans for a new statue in its place are in the works. A plaque that will accompany the old statue will include the names of the women: Lucy, Anarcha, and Betsey.
"For me, it was do we have memorials in Cambridge that speak to not being our better selves?" Simmons said.
"And then, how do we lift up people … on whose back the city of Cambridge was born?" she added.
In the second of her two policy orders, Simmons wrote the idea propelling the project to look into Cambridge's own monuments is not about erasing "the sometimes complicated history of our city," but rather it's "to force us to more honestly confront our history and the questions of whom we choose to celebrate" and whether there are other figures, especially those who were marginalized, that should be on a pedestal.
Sullivan is currently researching the information needed to compile a list of street names and buildings. A committee will be formed to review the city's memorials, monuments, and markers, according to Simmons's policy order.
"Some people will say, 'Well how far back do we go? How far back do we go and what names do we change?' And my answer is we go as far back as we can," Simmons said when her order regarding building, school, and street names was passed in April. "We can go all the way to the beginning because there have been plenty of people in our history that we can honor instead."
'I can't imagine that many of the people who are up don't have ties to slavery'
While conversations around what history makers are worthy of being memorialized in the public square have gained mainstream momentum — sparking violence, in some cases — around the country in recent years, the work is nothing new for Simmons, she said.
Simmons was the driving force behind the creation of a memorial for Prince Hall, who was born into slavery, won his freedom, petitioned to fight in the Revolutionary War, started the city's first African-American elementary school, and founded Prince Hall Freemasonry. The statute was unveiled on Cambridge Common in 2010.
More recently, Simmons's latest effort also follows a Town Meeting vote last year in Brookline to rename the now former Edward S. Devotion School in light of its namesake's slave-owning past.
The case was of particular interest to Tatiana Cruz, a Brookline native and Cambridge resident who teaches American history with a focus on race, gender, and social movements at Lesley University.
She said she's surprised Cambridge hasn't taken on similar efforts sooner.
"But I think when you start to see that it's going down in all of these different places, it's hard not to turn inward and say, 'Look, we're going to be the last ones standing,' which isn't really (something) anyone should be proud of," she said.
It's a process that should be guided by the will of the people, she added.
Cruz supports renaming places like the Vassal Lane Upper School because of the impact those names could have on students. The projects could also spark meaningful dialogue about modern race issues in Cambridge, she said.
However, when it comes to street names and monuments, Cruz is conflicted.
"I would err on the side of having more information and putting up new statues over taking things (down) because most of our history is, you know, colonial history," she said. "That's what our claim to fame is here in Boston so I can't imagine that many of the people who are up don't have ties to slavery. That would be pretty shocking, right?"
Other historians, like Robert Hall, an associate professor of African American Studies and History emeritus at Northeastern University, say providing context for those historical figures is key.
Hall, in an interview, pointed to the Royall House and Slave Quarters in Medford, which includes the site's slavery history in its name and exhibits, as an example of a fully-contextualized piece of the past.
"One way to go … might be to have plaques that indicate what the original name was, characterize accurately the person's involvement with slavery and the slave trade (or whatever is offensive to the advocates of the name changing) and indicate when the city council voted to rename the street," Hall wrote in an email.
Sullivan, from the historical commission, said he hopes to have an interim report on the research status for the council later this month.
"I don't think people in Cambridge fully know the history of slavery, and I think when they do, there's going to be a swift move to change it, at least on some of the public buildings and schools," Cruz said.