History
Here are the Mayflower 400th anniversary events that can be streamed live and how you can watch them
Don't miss out on the festivities surrounding the historic milestone.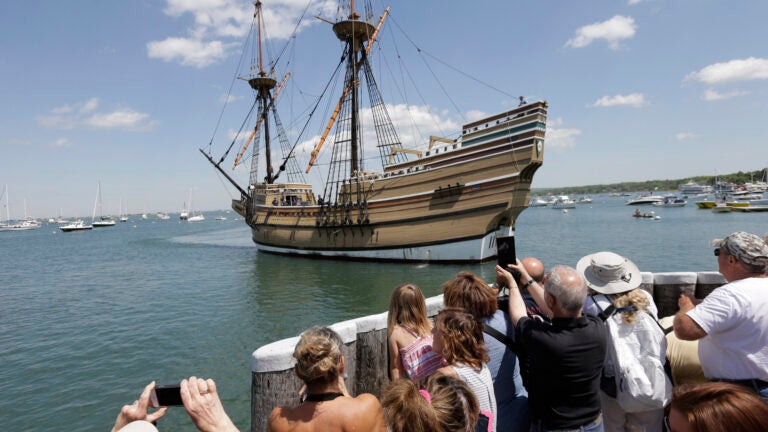 The 400th anniversary of the Mayflower arriving on the shores of Massachusetts isn't until next year, but the anticipation has already begun.
Dozens of events around the world and right here in the Bay State are lined up to mark the historic occasion, including a special appearance of the Mayflower II in Boston Harbor next May.
Don't want to miss any of the action?
NBC 10 Boston, NECN, and Telemundo Boston have partnered with organizers, Plymouth 400, Mayflower Sails 2020, and Mayflower 400, and the BBC for coverage of the major milestone.
While the stations have scheduled many programs and specials surrounding the events, here are the festivities you can watch as they happen (and how you can do it), according to network representatives:
Plymouth 400 Commemoration Opening Ceremony
April 24, 2020, 10 a.m. to 12 p.m.
How to watch: NBC 10 live coverage begins at 8 a.m. from Provincetown. Streaming online at the NBC 10 Boston, Telemundo Boston, and NECN websites and on social media for all three stations (@NBC10Boston, @TelemundoNI, and @necn, respectively).
"The Opening Ceremony of the Plymouth 400 Commemoration will be a two-hour event of historical content, musical headliners, interpretive readings, choreographed movement, original productions, and visual narratives to create a once-in-a-lifetime spectacle," organizers say.
Special guests will also place the first items into the Plymouth 400 Legacy Time Capsule. So far, invited dignitaries include federal and state officials, Wampanoag and other native leaders and representatives, and foreign officials from the United Kingdom and Netherlands, among others.
Mayflower Sails 2020
Update: Organizers of "Mayflower Sails 2020" announced March 16 the event is postponed due to the COVID-19 outbreak.
Those who have reserved free tickets to the event are asked to hold onto them. Updates will be available via email and at MayflowerSails2020.com.
"In the coming weeks, Plimoth Plantation and Mayflower Sails 2020 will release details of Mayflower II's movements," organizers said in a statement. "Currently the ship is slated to arrive home to Plymouth Harbor on May 21, 2020. Visit www.plimoth.org for updates as they become available."
May 14 through 19, 2020 (various live coverage over six days)
How to watch: Streaming online at the NBC 10 Boston, Telemundo Boston, and NECN websites and social media for all stations.
In May, the Mayflower II, after undergoing a nearly three-year restoration, will sail into Boston Harbor aside the USS Constitution and dock in the Charlestown Navy Yard for six days of events.
The maritime festival will include VIP speakers, tours of Mayflower II, live music, and other happenings, according to officials.
Plymouth 400 Maritime Salute
June 27 and 29
A one hour special is planned, although an exact time has not yet been finalized.
How to watch: Streaming online at the NBC 10 Boston, Telemundo Boston, and NECN websites and on the stations' social media platforms.
"The Official Maritime Salute pays tribute to the Pilgrims' journey on board the Mayflower from Plymouth, England, to the site of Plymouth Colony in the new world," Plymouth 400 says on its website. "A regatta of wooden ships, yachts, work boats, official vessels, and pleasure craft will culminate in a traditional New England lobster dinner on the waterfront. Military fanfare and maritime programming will be part of the day's festivities."
Plymouth 400 'Illuminate Thanksgiving'
Nov. 25, 2020
How to watch: Streaming available on the NBC 10 Boston, Telemundo Boston, and NECN social media platforms and on each of the stations' websites.
A parade, concerts, and a "One Small Candle" ceremony are planned for the days leading up to the "Illuminate Thanksgiving" main event on Nov. 25, according to Plymouth 400.