History
The trials of Mary L. Pierce, the 19th-century woman behind the sinkhole in Dorchester
City archeologists detailed the history of the well's site in a 49-page report Friday.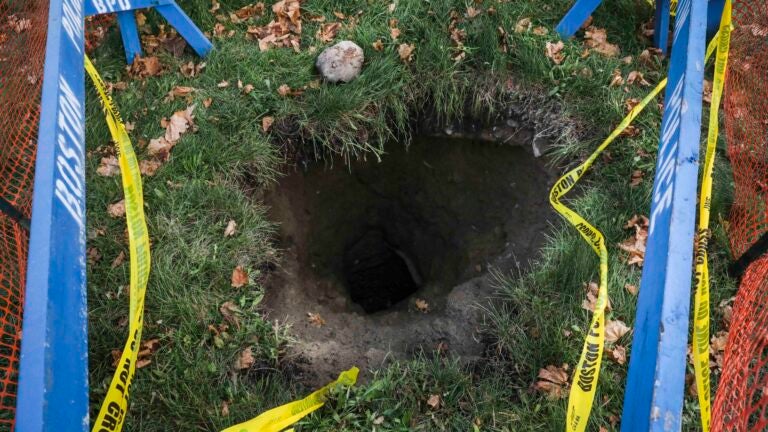 You can find a lot of history in a hole.
Boston archeologists released a 49-page report Friday on the mysterious Dorchester sinkhole discovered by a local in December. An initial investigation determined that the hole in Ronan Park was once an abandoned well used by Mary L. Pierce in the late 19th century, and the new report further details the trials of the woman who bought the land some 150 years ago.
The site where the well sits (which, like most of Greater Boston, is on ancestral land of the Massachusett tribe) was first developed by bricklayer John Pierce, who built two homes nearby between 1818 and 1831, the report says. The well was found at the site of the second home, originally 151 Adams Street.
John's son Charles married Mary, who was born Mary Lyman to a shipmaster and his wife in Springfield in 1821. (Her grandfather, Samuel Lyman, represented Massachusetts in the U.S. Congress.) In the 1840s, Mary moved to Dorchester, where she'd marry Charles in 1846.
Mary and Charles moved around the neighborhood before settling into a home of eight, including themselves, their two children Charles Jr. and Elizabeth, two Irish-born laborer men, and two Irish-born women who may have been domestic servants.
Charles died of typhoid without a will in 1857, leaving widowed Mary to take over his $43,000 estate. Though she led the liquidation of his properties, she still had to petition for an allowance from the estate and was awarded a measly $355.
By 1865, Mary and her two children were living in a boarding house south of Fields Corner with 22 others. At the same time, the report notes, the rest of Mary's family were still financially thriving in the area.
But in 1871, she was able to buy the 151 Adams property at auction from various heirs, which included her children. Six years later, Charles Jr. died at 26, and Mary took over his estate. Elizabeth moved out of 151 Adams by 1880, and Mary lived there with another widow, the widow's daughter, and an Irish-born servant.
Mary Pierce wrote her will in 1885 shortly before her death to cancer that year. She give her neighbor, Emma Robinson, $1,000 and the silver watch that belonged to her late son. Her servant Catherine would get $100, her nurse Margaret $50. The rest of her $18,000 estate would go to her daughter Elizabeth Emery Pierce, under one stipulation — she couldn't marry.
Elizabeth stayed unmarried and childless until her death of nephritis in 1892, but the report suggests she had a robust social life filled with family and friends — her own will named 28 people including cousins, maids and housekeepers, Mary's nurse Margaret, and $5,000 to Emma Robinson, who Elizabeth called her "adopted sister."
The report notes that Elizabeth's will had a noted preference to the women in her life, with only a handful of men receiving a fraction of her funds. It also points out that both Mary and Elizabeth excluded John Emery, Elizabeth's cousin, from their wills. It suggests that the snubbing may have been personal rather than logistical.
"Perhaps John was instrumental in the cause of Mary and Elizabeth needing to enter a boarding house after their father's death, despite the many family members in the vicinity with houses and sizable financial means?" the report wonders.
The property at 151 Adams was quickly sold to Hannah Bliss of Rehoboth in 1893 for a dollar and "other valuable considerations." The report says it's unclear why it was sold for just a dollar, but it notes that Hannah's sons were a doctor and a lawyer living with her — perhaps the home was bartered for their services.
Hannah died in 1910, and her heirs sold the property — well and all — to the city of Boston, which would soon tear down the structure and cover it with 10 feet of fill to build Ronan Park. At some point, the well's cap collapsed, and a Dorchester resident would discover a surprising sinkhole on the slope by the park's baseball field 110 years later.
The rest, so to speak, is history.
The archeologists don't definitively conclude when exactly the well was built and who it was built by — did John Pierce build it sometime after he purchased the land in 1818, or did Mary Pierce build it soon after she bought the property in 1871? — but they state that they're comfortable referring to the location as the Mary L. Pierce Well Archeological Site, as she's the person most closely associated with the well.
Make sure to check out the full report for all sorts of extra minutia and insights, like details of Mary's seafaring brother who traveled up the Amazon river to trade for rubber and exotic woods, the history of waterworks in Boston, and the jury-rigged apparatus that the archaeologists crafted to explore the sinkhole.
Get Boston.com's browser alerts:
Enable breaking news notifications straight to your internet browser.