History
'The mother of African American literature': Remembering the poet Phillis Wheatley Peters
Though she left a rich paper trail of poems and letters, accounts of her own life were scarce.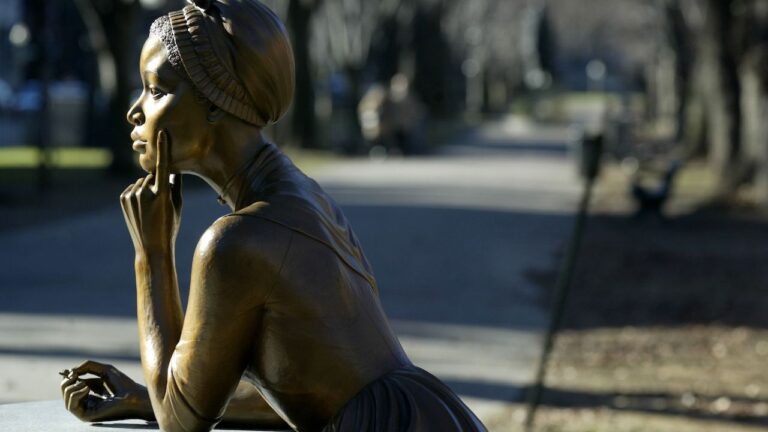 It was a testimony to freedom: "Can I then but pray," she wrote, "Others may never feel tyrannic sway?"
You might know her as the woman forever poised in thought at Boston's Women's Memorial between Fairfield and Gloucester Streets on Commonwealth Ave. 
What each passerby might not know is the extraordinary story she has shared with her flawlessly balanced feather quill — and the stories she continues to inspire. 
America's first Black poet, Phillis Wheatley was born on May 8, 1753, in The Gambia where she grew up until she was kidnapped at about age 7 or 8. 
After crossing the Middle Passage on a slave ship, she arrived in Boston where John Wheatley bought her from the city's slave market to be a servant for his wife Susannah Wheatley. 
Her true name was annihilated by her abduction, but the family called her by the same name as the ship that stole her from her home, Phillis.
Through her marriage later in life, she chose to change her last name to Peters in place of Wheatley, which had been forced upon her through enslavement. 
Her quick wit was immediately clear to the Boston family, and Wheatley Peters learned to read and write in English. She also began studying everything from Latin, literature, and mythology, to Christian theology and geography. 
By about age 14, she published her first poem in Newport, Rhode Island. Wheatley Peters would go on to change history in 1773 by publishing "Poems on Various Subjects, Religious and Moral," her first and only book of verse. She published multiple standalone poems throughout her life, including a tribute to the evangelical preacher George Whitefield.
Wheatley Peters gained her freedom in 1778, five years before Massachusetts banned slavery. She married John Peters, a free Black grocer with whom she had three children, but the couple battled poverty. All three of their kids died in infancy and she struggled to make a living as a poetess. 
Wheatley Peters died at 31-years-old on December 5, 1784, and was buried with her third child in an unmarked grave somewhere in Boston.
Though she left a rich paper trail of poems and letters, accounts of her own life were scarce.
That's why poet and professor Honorée Fanonne Jeffers spent over 15 years finding those details through archival research for her book, The Age of Phillis.
It wasn't until 2019 that Jeffers said she noticed something off-putting about one of the only accounts of Wheatley Peters' life: the author's name was absent from the first and second editions of the book. 
Identified as a collateral descendant of Susannah Wheatley, Margaretta Matilda Odell supposedly wrote an anonymous "memoir" published with a new edition of Wheatley Peters' works in 1834, fifty years after the poet's death. Odell's name only appeared in a footnote of the book later in 1863.
Further concerning, Jeffers added, was how the memoir credited Wheatley Peters' success to Susannah and blamed her downfall on her husband John Peters. Odell's account also suggested Peters was abusive, would not work, and headed South after Wheatley Peters died, but Jeffers began questioning how Odell could know such personal details.
"Even if this woman was a relative of Susannah Wheatley, even if she had heard stories, what Black woman in the 18th century is going to tell the inside of her marriage to another Black man, to two white women?" she asked.
After digging she discovered there was only one Black man named John Peters living in Boston at the time, and he never actually moved away from the city. 
The inconsistencies kept adding up. Jeffers eventually came across a nearly identical memoir of Wheatley Peters' life written by Benjamin Bussey Thatcher, who was a member of the American Colonization Society — a group that opposed slavery but advocated for repatriation as a remedy. 
"So basically both of these memoirs were pieces of propaganda for the American Colonization Society," she said. But beyond that, she found herself questioning "how did white women get to be the center of this Black woman's discourse in the first place?" 
Through a fellowship with the American Antiquarian Society, in Worcester, she began piecing together Wheatley Peters' life. At times, she said, it became emotionally trying to continually read through the trials the poet faced. 
"It's very much a stress on the spirit," Jeffers said. "I would have screaming fits and nightmares, and I'd be crying." 
But she felt pulled to discover more of Wheatley's world, and share it. 
"Phillis Wheatley Peters is the mother of African American literature and I would not be here, a Black female poet in the academy, at the highest rate that one can ascend to —  I'm a full professor," Jeffers said. "I stand on her shoulders. And I stand upon her genius, I stand upon her sacrifice, I stand upon her model."
About five years into her research she noticed another curious aspect of Wheatley Peters' well-known poem "On Being Brought from Africa to America." The infamous first line reads "'Twas mercy brought me from my Pagan land."
"That line has pissed off Black people for years," she said. Then she understood people had been framing it wrong. "I realized that mercy may not have referred to 'thank you, white slaveholders, for taking me, for separating me from my family, but it may have been 'thank you for letting me survive.'"
The transatlantic journeys undertaken on slave ships were ghastly and people were forced to stay in cruel conditions: there were no bathrooms, there were rats, and enslaved women and children were often sexually assaulted or harassed.
"We don't know what she saw, we don't know what trauma she encountered," Jeffers said. "And yet, she survived. And I was like, 'Okay, Twas mercy.'"
Jeffers said she felt a "deep kinship" with Wheatley Peters because she was one of the few enslaved people with records of her history. 
"I connected to her because I was thinking about the ancestors of mine whose names will never be known," Jeffers said, adding how that's a "deep wound." 
If there's anything Jeffers wants people to know, it's that Wheatley Peters did not forget her parents after crossing the Middle Passage, nor was she "all about white people" as she's been criticized for. 
"Her letters are very progressive, where she talks about freedom, and the need to do away with slavery," Jeffers explained. "A lot of people don't know that side of her because they only read that one poem."
Research from Tara Bynum has detailed that Wheatley Peters had a community of Black friends in Newport, Rhode Island. One man even mentioned hosting a barbecue that she showed up to where they roasted a pig. 
And Jeffers said she has her suspicions that Wheatley Peters inserted herself into politics by penning several poems in honor of the Continental Army's commander, General George Washington, who did not want Black men to fight on the revolutionary side in the war.
But then Wheatley Peters sent him a letter "slobbering all over him," she said, telling him how great he was. Then she sent one of the poems she'd dedicated to him. 
"The next thing you know, he is allowing free Black men to fight on the revolutionary side in the war," Jeffers said. "And I thought, coincidence?"
Not many are devoted to Wheatley Peters' life, Jeffers added, or the lives of early African American people in general. 
" I did this work because I love her," Jeffers said. "I want people to have a devotion to their African American subjects."
Nat Sheidley, president and CEO of Boston's Revolutionary Spaces, said it's that devotion that inspired a workshop series on the poet. 
"I think there's now much greater appreciation for her contributions and for the role that she played in really helping to create a body of literature where one had not been before," he said. "I think many have looked to her for inspiration, right down to our own time."
A merger between the Bostonian Society and Old South Association that explores history through programs and exhibitions, Revolutionary Spaces offered the interactive program as part of a greater effort across different historic sites in the city to give more visibility to the less-often told stories and experiences of marginalized people. 
"We're trying to contribute to an ongoing conversation about how we grapple with and confront our nation's complicated history of race and how we can support our community and continuing the important conversations about racial justice that we still need to have," Sheidley said.
Partnered with 826 Boston, Sheidley said he hopes the workshop series will become a regular offering. 
"For 826 Boston students to write in the tradition of Phillis Wheatley, they begin with the origins of institutional racism and oppression," the nonprofit youth writing and publishing organization said in a statement. "They are writing in the space afforded made by a woman who defied society's expectations. It feels fitting that as students, as young authors embracing the power of the pen, they are doing the same."
To Sheidley, Wheatley Peters is a reminder that the Old South Meeting House, where she was a congregant, was also many things for different people during the 1760s and 70s. 
The upper balcony, he said, used to be where Boston's African American community members were forced to sit. 
"Somewhere between eight and 10% of Boston's population were people of color during the Revolutionary period, something that not many believe — or not many remember — but slavery was a deeply entrenched institution in Boston," Sheidley said. 
The meeting house became a place to develop a sense of community and family with others who were sharing the same experiences and struggles she was enduring, he added. 
Revolutionary Spaces has commissioned a site-specific play set inside the Old South Meeting House during the revolutionary era that will prominently feature Wheatley Peters as one of its characters. They won't be able to stage it until the pandemic has passed, but Sheidley said to keep an eye out for a possible premiere in 2022. 
"The story of Phillis Wheatley Peters is the story of her own quest to find her authentic voice, and no matter who we are, that's a challenge that all of us encounter in our lives and it's something that students, in particular, are grappling with," he said of why it's so important to foster youth engagement with her work and to revisit her story. "Wheatley Peters put some really difficult questions to us about how we relate our experiences and our struggles to the world that we're living in, the ways in which our voices can change the views of those around us, and the way in which we can intervene to make the world a better place."
Jeffers added that the poet should be studied not only because she was the first, or a genius, but because she offers a perspective into the era she was living through. 
"I feel very devoted to her because I feel like she is standing in front of millions of people from the past, millions of enslaved Africans from the past, and we will never know their names," Jeffers said. "And that's why I think it's so important to study her." 
Going forward, she said it's time Americans begin looking at what is owed to Black people.
"Phillis Wheatley's story is about what happens when someone is extraordinary, which you should not have to be extraordinary in order to receive justice and peace in this country," she said. "Justice and peace, love, these are our birthrights. You shouldn't have to be a genius in order to receive these things."
Start reading Wheatley's work here, and check out some more recent titles published in the last year that also focus on and celebrate aspects of the Black experience.
Get Boston.com's browser alerts:
Enable breaking news notifications straight to your internet browser.