Local
Light up the night with these Boston-area Hanukkah events
From Menorah lightings to food and music, here's how to celebrate the Festival of Lights this year.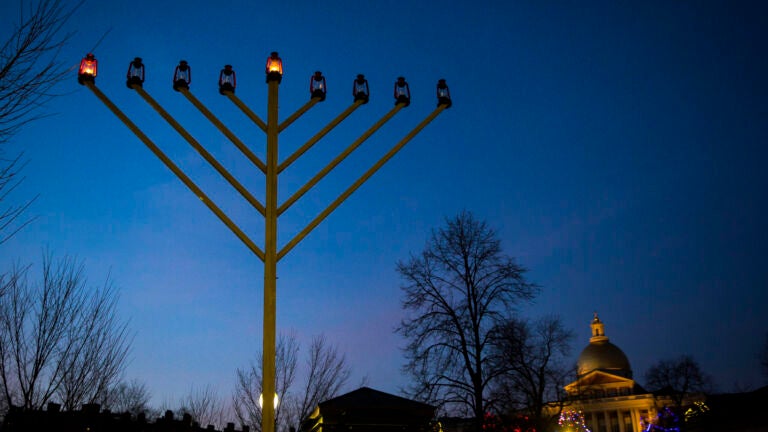 Hanukkah 2021 kicks off Sunday night and culminates on Monday, Dec. 6., ushering in a week of warmth and brightness to the Boston area.
The 38th annual Boston Common Menorah lighting marks the start of the Jewish holiday on Sunday from 4 to 5 p.m. at Tremont Street, with nightly lightings to follow throughout Hanukkah. At the celebration, officials will kindle one of New England's tallest menorahs clocking in at 22 feet tall. Gov. Charlie Baker will be joined by local rabbis and other dignitaries and elected officials. The event is free and open to the public, and will also be livestreamed on Facebook.
There will also be a Copley Square Menorah lighting on Sunday at 4 p.m., with nightly lightings throughout the end of the holiday, as well.
How to celebrate Hanukkah 2021 in Boston
There are plenty of family-friendly Hanukkah activities happening around the Boston area this year in addition to the Common and Copley menorah lightings. Here's a roundup of some other popular Hanukkah celebrations in and around the area.
Monday, Nov. 29 at 6:15 p.m: Shine a Light on Antisemitism: Community Menorah Lighting at the New England Holocaust Memorial on Union Street. The event is put on by Combined Jewish Philanthropies (CJP) and the Jewish Community Relations Council. From organizers: "We will gather together on the second night of Hanukkah with our community and interfaith partners, civic leaders, and elected officials to publicly reaffirm our commitment to teaching about the consequences of hate and unchecked bigotry." The event will also be streamed live.
Tuesday, Nov. 30 at 5 p.m: Menorah Lighting and Spectacular LED Show at the Boston Center for the Arts (BCA) Plaza on Tremont Street will feature a fire show by Cirque de Light, live music, individually packaged Hanukkah treats, and more. RSVP appreciated.
Wednesday, Dec. 1 at 6 p.m: Hanukkah: The Festival of Lights by the Jewish Arts Collaborative will host a virtual viewing on Youtube. Attendees can register online and will receive a link prior to the event. According to organizers, it will pair "one-of-a-kind artwork pieces from the MFA Judaica collection with innovative artists, who are building inspired compositions, choreographies, and performances based on these unique objects in the Judaica collection."
Sunday, Dec. 5 at 3 p.m: Community-Wide Hanukkah A Cappella Concert at The Vilna Shul, Boston's Center for Jewish Culture at 18 Philips St. According to organizers, "For the first time in almost two years, Manginah from Brandeis, Shir Appeal from Tufts and Distilled Harmony from Northeastern will return to the stage for their first community concert, along with guest performances by local middle and high school students." Tickets range from $5-$20
Sunday, Dec. 5 at 3:30 p.m: Light up the Night at The Chestnut Hill Square. Hosted by Chabad at Chestnut Hill, the event will include a giant Menorah lighting, live music and Hanukkah treats.
Sunday, Dec. 5 at 4:30 p.m: Seaport Hanukkah Celebration and Menorah Lighting at Seaport Common at 85 Northern Ave. The Menorah lighting event is free and will include lighting a 9-foot Menorah, live music, outdoor activities including curling lanes, individually packaged Hanukkah treats, swag giveaways, and more. RSVP appreciated.
Sunday, Dec. 5 at 11 a.m: Family Fun Hanukah Celebration at The Boston Synagogue at 55 Martha Road will offer arts and crafts, Dreidels and games, live music from the New England Conservatory of Music, as well as food and cocktails. Organizers said, "We are a warm, friendly, pluralistic community in Downtown. Welcome to people of all Jewish denominations— singles, couples, as well as interfaith couples & LGBTQ." Attendees age 12 and older must show proof of COVID vaccination; everyone must wear a mask.
Newsletter Signup
Stay up to date on all the latest news from Boston.com