Innovation
At Globe talk, Dave Winer recalls blogging's early days at Harvard and the 'scams' of tech industry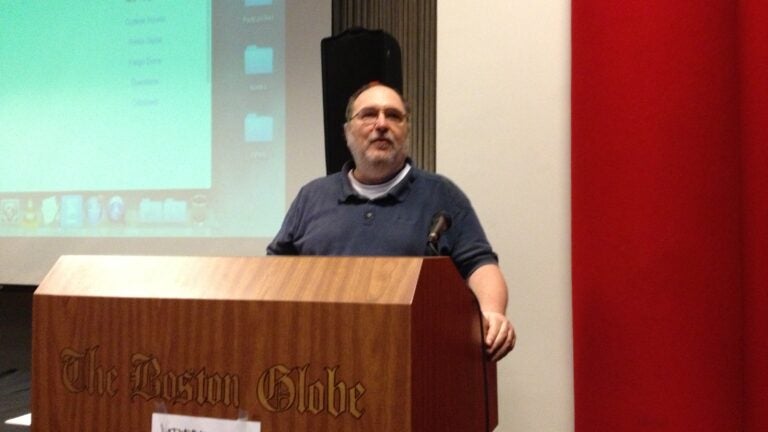 Dave Winer, one of the earliest bloggers and a pioneer of important web architecture, spoke at the Globe Wednesday night, outlining his thoughts on the tech and media industries, the early days of blogging, and why he feels he hasn't made a difference.
While the official subject of the talk — using HTML5 as a platform — went almost entirely undiscussed, Winer did briefly demonstrate his new offering, Fargo.io, an online outlining tool that syncs with a user's Dropbox account and builds heavily on a format of writing known as the "Outline,'' which structures text in a hierarchical, collapsible format (Here is an explanation of how it works).
But that demonstration mostly just served as an entry point for Winer to discuss — with ample audience participation — the impending death of Google Reader, the state of the news industry, and broken promises and missed opportunities for participation in the digital age.
"I don't feel like I make a difference, and I want to make a difference,'' he said.
"'Sources going direct is the main phenomenon going on right now,' he said, pointing to how travel agents were being bypassed by booking websites, while newsmakers can now take to a blog or Twitter to share their story directly.
But that ability is often co-opted, Winer said, by a tech industry that not only scammed its users, but scammed itself: He pointed to Google Reader and Google-owned Feedburner which largely centralized the adoption of the decentralized syndication protocol RSS. Google has announced that the former will be shutting down July 1, while the death of the latter is widely expected as Google strips it of features.
The shut down of the web's most popular RSS reader has sent users scrambling for a new alternative, or lead them to abandon using RSS in favor of new ways to follow news like Twitter, but it also leaves Google the unpleasant distinction of having maintained yet another product for years only to retire it.
The news industry, meanwhile, has not woken up to the changed reality of a remade media landscape, according to Winer, erecting paywalls rather than embracing new opportunities.
"We all live in a time when news is being transformed,'' he said. "What a great time. What do you want to do with this?''
Winer also warned that reliance on tech companies, particularly Twitter, could be misplaced, as they might turn off critical services when they no longer fit the company's need.
"Do you trust Twitter today?'' Winer asked. "What are they going to do to the news tomorrow?''
It's a topic Winer has long been discussing on his own blog, Scripting.com.
"Twitter probably will eventually shut off the flow of tweet text coming out,'' he wrote in 2011. "This is consistent with everything I've seen. I never expected Facebook to make text coming out of Facebook easy to move to other places.''
Winer also touched on his time in Cambridge as a fellow at Harvard's Berkman Center, where he had planned to bring a blogging culture to campus — only to find that academics were already steeped in a culture of publishing.
"We were lucky at the time,'' he recalled. "There was a presidential campaign going on nearby in New Hampshire … Out of that, BloggerCon was born.''
But for all his pontificating, Winer said that his ideas rarely got the reception he felt they deserved.
"My ideas are kick-ass ideas,'' he said, adding that he really wanted to teach. But while he was named a visiting scholar at New York University, he found there was not much of an audience for what he had to say.
"No one seemed too interested, so I went back to software,'' he said.