Innovation
Now heading Infinio board, Endeca founder Steve Papa talks about getting the band back together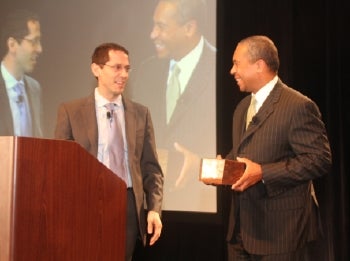 Endeca earned up to a billion-dollar payday when Oracle snapped it up, and now founder and former chief executive Steve Papa is trying to recreate the magic at a number of new start-ups. The latest: Infinio, where as an investor, advisor, and now board chairman, he is guiding the company to disrupt data storage management.
Infinio already has history with Papa: He said he's been an investor and advisor for a while, and that the move announced yesterday simply formalizes what he has been doing.
He is also deeply familiar with the start-up's key people: Arun Agarwal, Infinio's co-founder and chief executive, was a senior manager at Endeca, and Fritz Knabe, Infinio's vice president of engineering, was vice president of technology at Endeca.
Papa said that getting to work with key members of the Endeca team again was very appealing.
"Endeca built one of the best infrastructure teams in the Cambridge community over the past decade,'' he said, noting the people were also well suited to be starting their own start-ups. "We had to go through some very difficult pivots throughout [Endeca's history]. In order to be successful at Endeca, you to be very entrepreneurial.''
Knabe in particular stood out as a rare talent.
"I always thought we were lucky with the early team,'' Papa said of the early Endeca years. "But I'm watching Fritz recreate that at Infinio. Once is luck, twice is the start of a trend.''
That team is now about 25 people, and they are positioning themselves to tackle a big problem: Helping smooth the transition of storage from an era of spinning disks and drives to solid state and virtualization, maintaining performance through software optimization in a field built largely on physical solutions.
Success has ramifications on everything from slashed cooling costs to more scalable storage growth (Kyle Alspach has a detailed look at Infinio's strategy).
Beyond Infinio, Papa is keeping closely involved with the start-up community, telling me that he's working with companies across a number of sectors — like low-level hardware and telecommunications infrastructure, but no consumer — in his new role as advisor and investor, about ten to fifteen companies in a meaningful way.
"I've been fortunate to have some good success and I can choose where to spend my time,'' he said. And where time is spent hinges mostly upon who he can spend it with.
"The most important thing when people make decisions about which company to work with is the people,'' Papa said. "Are these people you want to be working with every day?''
With Infinio, it sounds like Papa's answer is a definitive yes.