Innovation
Can Don't Snoop Me Bro stop Big Brother — and your service provider — from following you on the web?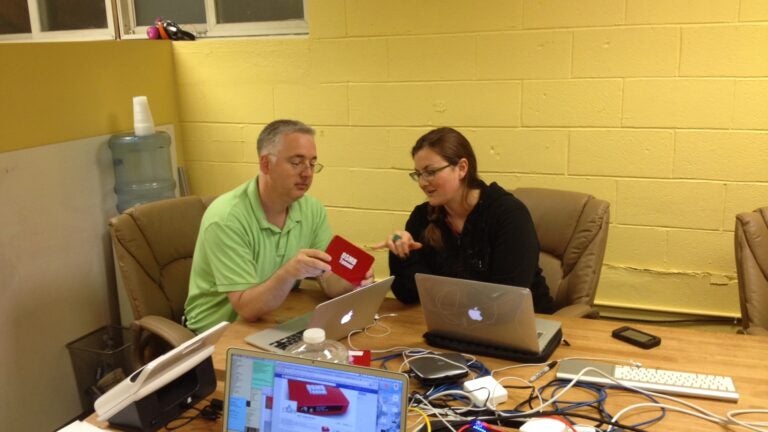 Worried that your online privacy is being eroded with every link you click? A new project out of Somerville, Don't Snoop Me Bro, hopes to provide a little more peace of mind, particularly for those who aren't technically inclined. The secret, they say, might be giving users a simple key to turn privacy settings on and off, no software configuration needed.
And Don't Snoop Me Bro's VPN tunnel gives users just that key: It's a small red box that plugs in between a home's modem and its router. When turned off, traffic flows normally. When users turn the key, however, the device turns on, auto-configures itself, and starts routing all the home's traffic, full encrypted, through a foreign Virtual Private Network (VPN).
This means that not even your provider, like Verizon, Comcast, or a student's university, will be able to tell what your browsing. In tests, the routing worked with very little visible impact on speed: Once DSMB was turned on, I could stream high-def YouTube videos, download files, and browse the web normally, but all those websites thought I was in another country (Google even swapped out my language to Dutch. Hallo! I quickly swapped it back).
Configuration was dead simple: I just plugged it in as illustrated on the packing materials, and turned a key. Some bugs in the version I tested meant it did not play nice with all networks, but the team said it has addressed those problems now. In the future users will be able to access continued improvements, including a feature that lets users pick the country they connect through.
The core, however, is keeping the experience as simple as possible throughout, and it's as much about education, awareness, and giving ordinary people a tool to fight back as it is a way to keep your data private.
"I was born and raised in the Midwest where privacy is a strongly held value,'' Jamie Waltz wrote in an email. "Working on the DSMB project gives me a way to address my concerns — and offer solutions to other people.'' She said the team took the idea to prototype in about 4 months, now working out of a small office not far Artisan's Asylum.
But it's not just NSA snooping that the DSMB team says should concern users. Not surprisingly, Internet service providers have easy access to much of a user's web browsing, and have been known to intercept it, targeting advertisements to users with the information or even manipulate what users are seeing. Even tech-savvy college students risk monitoring.
"With their schools as their ISPs, students have almost no privacy rights,'' Aaron Falk, who works on the project, told me. "If you explain to a person that each time you go to a website, that website keeps a log of where you've been, that you leave a complete trace of everywhere you go to on the Internet at all times, that gets their attention.''
Waltz said more measures are needed to thoroughly protect privacy and anonymity online, and that if the group beats its stretch goal, it will offer complimentary educational materials that explain other ways to protect your information.
"Ultimately, we'd like to offer targeted products to help protect confidential information like HR records, proprietary corporate information, and medical records,'' she said.
The Indiegogo campaign runs through Nov. 5. Here's its video:
[fragment number=0]