Innovation
Aeronaut Brewery opening in Union Square plans to double as startup accelerator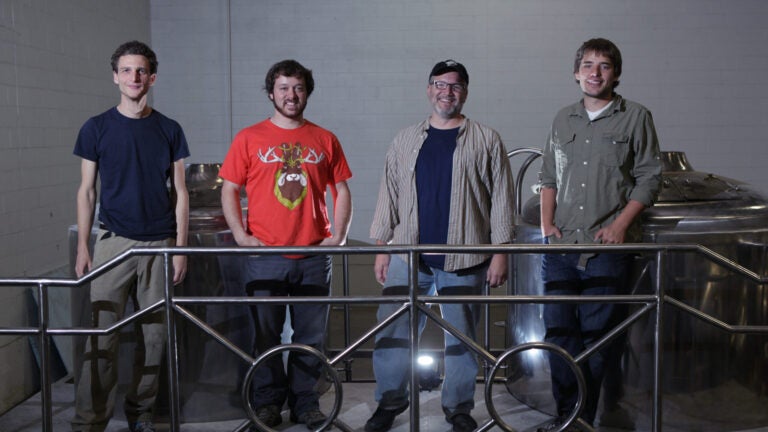 Craft beer brewing is the unofficial pastime of Greater Boston's startup community, but Ben Holmes is making it his full-time job.
TBD Brewing, the tiny Union Square suds maker that has been operating out of a house, has rebranded as Aeronaut Brewery and just signed a lease on 12,000 square feet of warehouse space on Tyler Street in Somerville.
On a side note, that's the same street where the Brooklyn Boulders rock climbing gym and coworking space opened over the summer, and where Artisan's Asylum and Greentown Labs also make camp. The four sit side by side, setting up quite the innovation strip when Aeronaut gets up and running early next year. I can't wait for the day when they join forces to build a zero-emission robot that runs on lager and can scale a rock wall.
Aeronaut's brewhouse is not much to look at yet, but Holmes and co-founders Dan Rassi, Ronn Friedlander and Steve Reilly have a clear vision of the future: A mecca for the microbrew crowd that is capable of producing 60,000 bottles at a time and also features a tasting bar with about 20 beers on tap at any given time.
And that's in just a third of the space. The rest will be sublet to four (for now) urban agriculture startups, including a farmer's market scheduled to open in January.
In addition, the Aeronaut team is close to leasing another nearby space (Holmes said he couldn't tell me exactly where) that will help it launch Coolship Labs, an accelerator program for science startups that, fittingly, rely on fermentation. Yes, fermentation is used to make booze, but it also can be used to make things like biodegradable plastics.
The master plan is for Aeronaut to make enough money on rent from its paying tenants to cover, or at least mitigate, the brewery's costs. The four co-founders will invest profits from the brewery business into a venture capital fund that they will use to seed startups in Coolship Labs. Startups will get $25,000 and free workspace for six months to a year, in exchange for 5 to 12 percent of their companies.
At the end of their program cycle, the startups will either move out or move into Aeronaut's incubator and start paying rent. And as the young companies grow, launching IPOs or being acquired, the Aeronaut founders will reap additional profits from their equity stakes.
"The idea is that it completes a closed loop,'' Holmes explained: "The incubator funds the brewery, the brewery funds the startups, the startups graduate to the incubator. And all the while, there's a recurring exit when startups go public or are bought.''