Innovation
Tech entrepreneurs want Walsh to keep office space affordable, improve public transit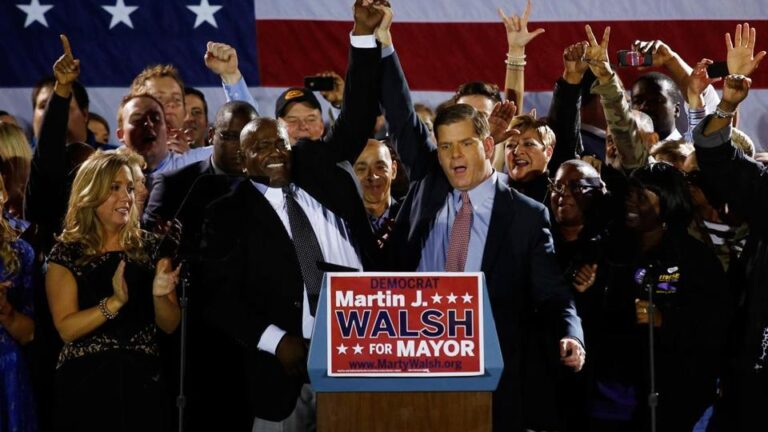 If you haven't read Casey Ross's story today about the business community's impressions of Boston mayor-elect Marty Walsh, you should check it out. There are some very thoughtful comments from local business leaders in there.
In fact, the team of reporters conducting interviews for the story came up with way too much to fit in a single article, so I figured I'd share some bonus material from the tech sector.
I spoke with a half dozen tech entrepreneurs about their hopes for and expectations of the incoming Walsh administration, and picked up on two major themes (besides wanting better STEM education in city schools, which Launch Angels chief executive Shereen Shermak addressed in today's paper): They want the new mayor to help keep office space affordable and to improve public transit in the Innovation District.
IdeaPaint president John Stephans told me his business, which is moving from Ashland to Boston in January, would have liked to relocate sooner but found the cost prohibitive until it enjoyed several successful years.
"We always wanted to be in the city, as do a lot of companies,'' he said. "But I think companies feel priced out, especially young, venture-backed start-ups.''
ByteLight chief executive Dan Ryan is moving his business from the Financial District across the water to the Innovation District next year because he wants to work in what Walsh's predecessor, Tom Menino, worked hard to make an attractive environment for promising businesses. But he said he's already concerned about rising rents there.
About 80 businesses have moved in the last three years to the burgeoning Innovation District, a once-bleak area of the South Boston waterfront, and new office buildings and apartments are under construction there. John Harthorne, chief executive of MassChallenge, one of the district's anchor tenants, said he is confident that Walsh will continue the momentum.
The two men met when Walsh visited MassChallenge during the campaign, and Harthorne said they discovered more common ground than might be expected of people with such different backgrounds. For instance, Harthorne noted that MassChallenge, which just graduated its fourth class of start-ups, now has alumni that are no longer early-stage companies, and which could use a supportive mayor as they seek to expand.
"I think we can actually be very good partners in a way that may be different from Mayor Menino but is still collaborative,'' Harthorne said. "Many of our start-ups will be creating jobs that need more manufacturing and construction, and that speaks to his background.''
Daniel Wallace, chief executive of online nutritional supplement retailer NutraClick, said he likes Walsh's experience as a union labor leader. Wallace relocated his business last year from Cambridge to Downtown Crossing, an area in need of redevelopment, and said one of the best things a mayor can do to foster technology innovation in Boston is to facilitate construction projects that will make it easier for promising young businesses to grow and stay in the city.
"I'm impressed by his plans for improving the overall standard of living in Boston: transportation, housing — some of the very practical needs for startups,'' Wallace said.
To meet those practical needs, Walsh need not be a technological genius, said Brian Dacey, president of the Cambridge Innovation Center. Dacey worked with Menino on building District Hall, the $7 million meeting and event space that opened in Boston last month, and suggested the retiring mayor set an example that Walsh should follow.
"Entrepreneurs need a mayor to create the right conditions; they can do the rest,'' Dacey said. "The current mayor set the tone for that, but he'd certainly admit he's not a technology whiz. That's not a prerequisite.
The right conditions, of course, include convenient public transit, which is lacking in the Innovation District. MassChallenge and District Hall, for instance, are almost a mile's walk from the nearest subway stop, South Station.
Yes, the Silver Line bus stop by the federal courthouse is much closer, but anyone who has stood waiting on the platform at rush hour, watching one full-capacity bus after another whiz by, knows it's not a reliable option.
Ryan told me he was willing to overlook the lack of public transit in the Innovation District when deciding to move there, but Wallace said it was one of the reasons he picked Downtown Crossing instead.
And Shermak, who spent four months at MassChallenge last year working on her start-up, BuysideFX, complained that the trek to and from the subway was hard on her feet, and even a bit scary.
"I found myself at night having to hoof it over to South Station in heels because I would dress up for pitches,'' she said. "Especially for women, it was dark and a little bit creepy.''