Innovation
Vertex opens new South Boston waterfront headquarters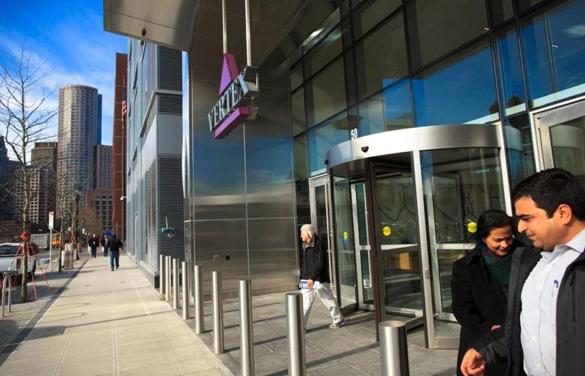 Hundreds of employees, public officials, and dignitaries crowded into the lobby of the new Vertex Pharmaceuticals Inc. headquarters on the South Boston waterfront Tuesday for a ribbon-cutting ceremony that celebrated both drug making and Boston's growing Innovation District.
"This building was designed to connect all of our 1,300 employees (in the Boston area) to one another and to our mission,'' said Jeffrey M. Leiden, chief executive of Vertex, which makes drugs to treat the viral infection hepatitis C and the chronic lung disease cystic fibrosis. "We believe that impossibilities are actually overlooked opportunities to make a difference.''
The 1.1 million-square-foot complex encompasses two office buildings connected by a walkway on South Boston's Fan Pier. The headquarters is owned and was built by the Fallon Co., a commercial real estate developer, with development and construction costs totaling $800 million. Vertex has signed a 15-year lease, paying $72.5 million a year in rent. The company consolidated its operations from 11 smaller buildings scattered around Cambridge.
"This is an example of the building and the kind of industry that we're trying to attract in Boston,'' Mayor Martin J. Walsh told the gathering. "We in the city of Boston are going to continue to grow the Innovation District and to spread it to other areas.''
Gov. Deval Patrick, who launched a $1 billion initiative to build up the life sciences industry in Massachusetts, said the Vertex move is a key part of the effort. "The collabration that makes this possible is enormously important to acknowledge and to celebrate,'' he said.
After the ceremony, Patrick and Walsh visited the company's new Thomas M. Menino Learning Lab, named after Walsh's predecessor, and helped students from the nearby Excel High School and Boston Green Academy work on an experiment extracting DNA from strawberries.