Innovation
Make your move with Hint, Boston's newest flirting app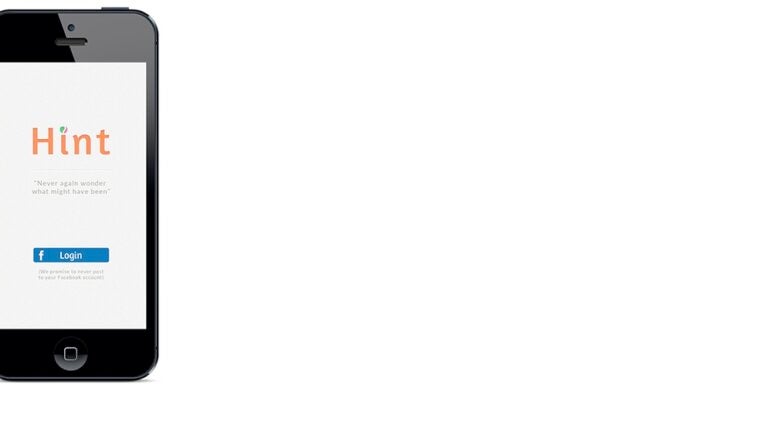 You see a pretty face across the room. Whether it's the striking stranger who just walked into the bar or the guy/girl in your Econ 101 lecture who's been giving you butterflies all semester, the quandary remains: How do you make that first approach?
With Hint, a new app for iOS, the shy and lovelorn among us have a new solution to this age-old problem.
Co-founder and CEO Patrick McAuley conceived Hint after finally asking out his now-girlfriend, whom he'd long had a crush on.
"I was shocked to find out that she'd liked me for a long time before then,'' says McAuley in a promotional video on IndieGoGo, where he is trying to raise $50,000 to develop Hint for Android. "We'd see each other on campus all the time, but neither of us had the guts to go up to the other, because we both had a little fear of rejection.''
Although somewhat analogous to Tinder, Hint differs from its popular mating-app peer in its emphasis on real-life interaction. Instead of just beaming everyone within a 50-mile radius straight to your phone, Hint is location-specific, and lets you view only those in your immediate vicinity.
Users begin by uploading a photo, preferably a fresh selfie, along with some helpful distinguishing features (e.g. "grey jacket blue shirt''). Once they've checked themselves in, they are free to start checking others out. See someone who strikes your fancy? Send them a Hint.
If they feel the same way about you, and have already sent you a Hint, then you are both notified, and can approach each other without fear. If they don't, then they receive no notification, and there are no hard feelings.
And if you see someone who really strikes your fancy, you can send them a Flirt, which discloses your identity to them regardless of mutual interest.
Hint's Saturday night launch party at Central Wharf Co. was attended mainly by young professionals, but McAuley anticipates that his new app will be most popular on college campuses. In college, says McAuley, "you can use [Hint] all day … [because] you're around people all day.''