Jobs
Six jobs skills on most endangered list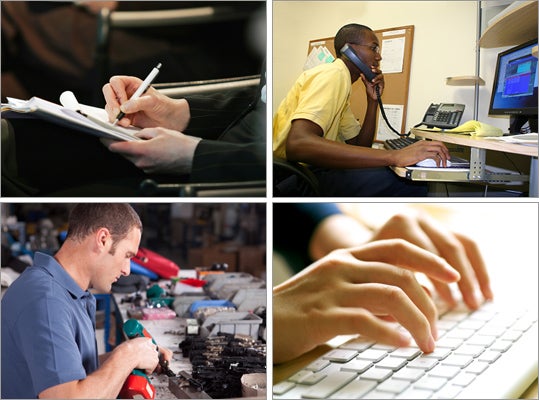 Times change and so does our workplace.Skills that were once in demand are not taught as often to new workers, but are still important to have available for the times when they are needed. In other words, if they were to become completely extinct, we would suffer for it.Aaron Green, president of Boston-based Professional Staffing Group and PSG Global Solutions, listed skills that could face extinction in tomorrow's workforce.

Writing in long-form – Much has been said about younger workers' communication habits and tendencies toward brief and abbreviated lingo. Tweets, texts and status updates threaten the long-term survival of long form letters, memos, briefs and argumentative essays. Despite the growing and pervasive use of shorter communication forms there are times when it's important to write formally and persuasively, with proper grammar, in order to impress an audience and convey new ideas.

Older computer programming languages – Languages like COBOL, FORTRAN and BASIC may be useful for programming "legacy'' applications, but aren't used much when it comes to developing new applications. The problem is that they aren't yet extinct: there are still organizations that haven't updated their business computing platforms and so those few organizations maintain a critical need for programmers who are familiar with the old codes and languages. It's like owning an antique car — until you're ready to part with it, you still need to find the parts to keep it going.

Basic math skills – The use of computers and other machines and the elimination of rote memorization learning in elementary math classes could lead to the demise of basic math skills, like making change or the ability to do simple math in your head. An obvious decrease in efficiency will occur as employees take longer to check results from an automatically tallied spreadsheet or to understand business results if they can't immediately comprehend financial updates.

Mechanical repair skills – Try to find a small machine in your office that isn't digital (including the coffee maker). When these machines break down, it can be impossible to fix them by tinkering and instead you may have to reprogram or contact the manufacturer to have a specialist schedule a repair. Sometimes they cannot be fixed or we find that it's cheaper to get a new one than to repair the old one.

Shorthand – The secretary who could take notes in shorthand to be transcribed later is ranked high on the endangered list if not completely extinct. Gone with her is the important skill of taking copious notes. Perhaps it's a sign of less formal office environments, or the tendency to multitask when in meetings, but many times notes taken during meetings are incomplete and incoherent afterward.

Reception skills – More and more businesses are deciding that it's not necessary and that technology can replace the need for a dedicated staff member with strong interpersonal, listening and organization skills to fill this role. However, besides losing a centralized, accountable employee to fill the reception duties, we are also sacrificing quality and service when relegating the work to other employees who aren't specially trained for these duties, may not enjoy doing it and have other more important work to do as well.