Jobs
Champions of Diversity Frederica Williams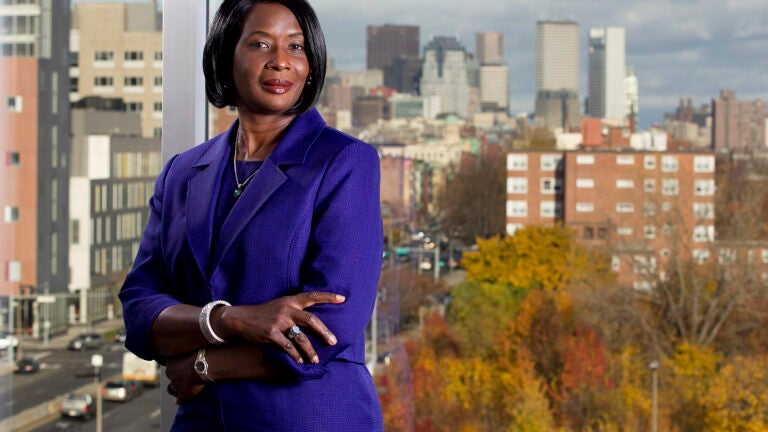 As the president and chief executive of the Whittier Street Health Center for a decade, Frederica Williams, 54, has seen the number of patients treated each year increase from 5,000 to almost 20,000. Her goal is 100,000 patient-visits annually by 2015.
With its move to a new, larger, state-of-the-art facility in the heart of Roxbury earlier this year, the full-service clinic is on its way. It has increased staff and the physical size of its urgent care clinic, allowing more people who were going to emergency rooms for non- emergency ailments to get treated for a lower cost at Whittier Street.
"This project was so important because for a long time Whittier Street Health Center has been viewed as a haven for people who had nowhere else to turn,'' Williams says.
"People often tell us they never bothered to go to a doctor, because they were concerned that their needs would be greater than a typical small clinic could address. They know now and more are learning that there's not much we can't treat at our new facility. We even have a state-of-the-art cancer clinic — as part of our partnership with Dana Farber.''
Whittier Street treats people originating from 20 different countries and also features a staff that speaks a wide range of languages, including Swahili, Arabic, Bosnian, Portuguese, Yoruba, Russian, Farsi, Somali, and Spanish. Williams herself was born in Sierra Leone, a country that saw 50,000 people killed during a lengthy civil war that ended in 2002.
But in spite of its multicultural patient base and worldly staff, Williams says the strength of the clinic's diversity is in recognizing that regardless of their appearance or cultural background, many of Whittier Street's beneficiaries don't have the means to treat themselves better.
"I can't emphasize enough the importance of education to living healthy,'' she says, adding that Whittier "educates to prevent.''
Toward that end, Williams has created a prenatal care program for pregnant black women, who have the highest infant mortality rate in Boston. She has also launched an aggressive exercise program that works with city high schools, to help get black and Latino teenagers moving, since they're twice as likely to be obese than their white counterparts. And she's opened a diabetes clinic to treat and educate blacks and Latinos who have fallen victim to diabetes without knowing it.
"We're trying to educate people on how to take care of themselves. But a major hurdle has been their ability to follow through,'' she says. "We can teach you about healthy diet and what it means for staving off heart disease or cancer. But if you can't afford that proper diet, then that adds another layer to your potential health concerns. Our goal is to be a whole health option to people, to help them learn and to help them implement what we're teaching them. That is the only way we will close the health gap — not just the health care gap, but the health gap — in this country.''
— James H. Burnett III