Jobs
Harvard offers support to LGBT activists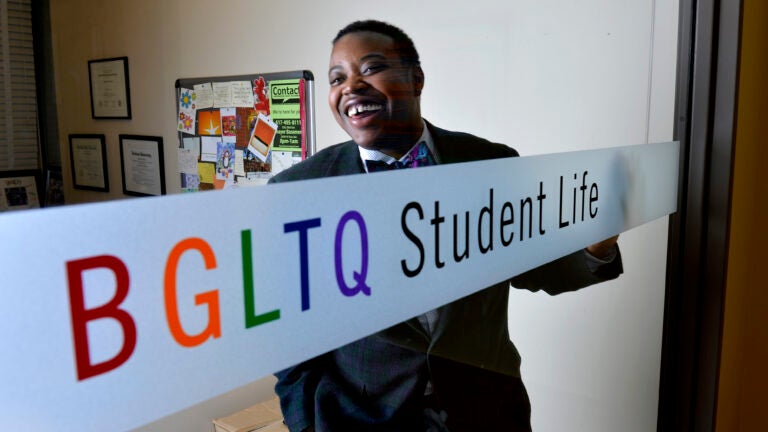 Even on a college campus as seemingly gay-friendly as Harvard University's, it's still easy to get lost. Where does a student go for advice on coming out to family? There's a group for that. What if a transgender student is having difficulties navigating her health care policy, or is looking for a queer-friendly Shabbat dinner? There are separate organizations to help with those issues, too. "Navigating those different groups can be a very daunting task, especially as a freshman,'' says Ivel Posada, a Harvard senior.
Administrators are hoping to connect the university's myriad offerings with its newly launched Office of BGLTQ Student Life at Harvard College, which was established last year. Short for bisexual, gay, lesbian, transgender, queer, and questioning, the BGLTQ Student Life office has provided a "one-stop shop'' for the university's disparate advocacy groups and resource centers. For the first time, students say, there is an administrator whose responsibility is to advocate for lesbian, gay, bisexual, and transgender students. Van Bailey, the office's director, is equal parts adviser, camp counselor, therapist, advocate, social coordinator, and campus figurehead.
Harvard seems to be making up for lost time: For years, students had called for an LGBT-specific administrative office, such as were commonplace at peer institutions.
"Harvard prides itself on its intransigence,'' says Posada, who is a copresident of Queer Students and Allies, a student-run group focused on promoting awareness about LGBT life on campus. "The powers that be . . . move very slowly and incrementally before instituting any kind of change.''
Marco Chan, a 2011 Harvard graduate who now serves as copresident of the Harvard Gender and Sexuality Caucus, an LGBT advocacy group of alumni and faculty, says that people make the mistake of believing that LGBT issues don't exist on a liberal campus. But, he points out, some students can see their academic pursuits quickly derailed by coming out to family, and on-campus harassment continues to exist.
Reports of LGBT-related hate crimes in fall 2010 — including an incident in which library books on gay and lesbian topics were defaced with urine — prompted students and alumni to intensify the push for an administrative department, Chan says.
A committee to investigate issues faced by gay and transgender students found that there were plenty of resources on campus, but little coordination — a situation that left many students confused or overwhelmed. It's an experience that Bailey says he knew first-hand from his undergraduate experiences and his previous job as assistant director for education at the University of California, San Diego.
"We needed to figure out a way in which we can get advice to students, as well as providing a centralized place for students to have a voice,'' Bailey says.
Previously, Harvard's only LGBT-dedicated community space was a cramped, windowless, basement room far from central campus with discarded Christmas lights and worn couches donated by graduating seniors. Now, they meet at the BGLTQ Student Life office, a swanky, airy space in Harvard Yard.
"This place feels like someplace you would recognize as an institution,'' Chan says.
One-third of the office's operating budget is dispensed to on-campus groups working on LGBT-related events and projects. And Bailey helps student activists communicate with administrative officials, a role that students say is of vital importance.
Bailey says he sees his role as facilitating debate and action, rather than serving as a spokesperson. "The great thing about student development and student leadership is to really try to help students know the power of their own voices,'' Bailey says.